My top 10 tips for running your first half marathon for beginners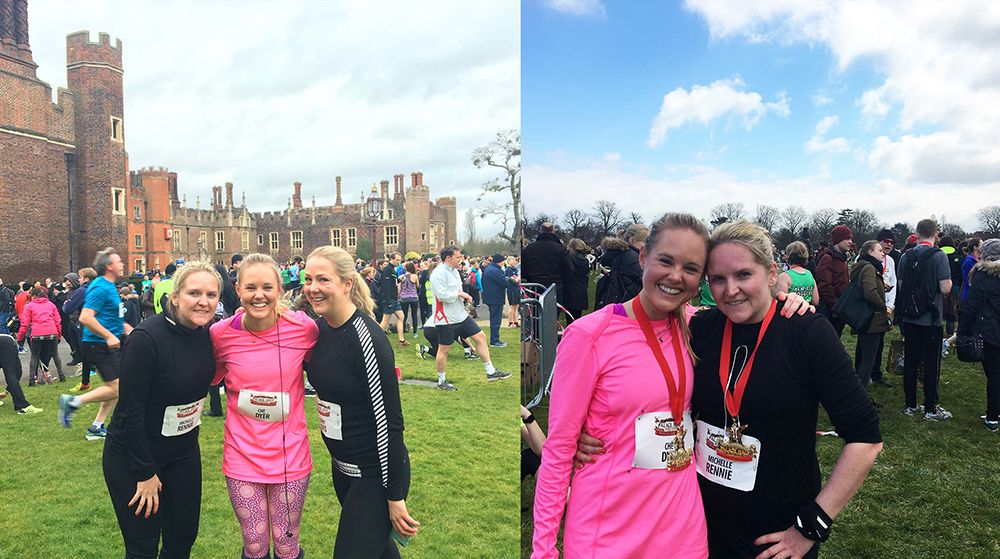 For those who didn't see the news last weekend – I ran my first half marathon on Sunday!
To be fair, I have "run" one other half marathon before – it was about 6 years ago with my mom. Although, there was a 'bit' of running, a lot of walking, a ton of swearing, a boatload of pain and let's just say, that by the end of it – my mom and I were NOT friends. So I'd say it doesn't really count. On Sunday though, for the first time ever – I ran 21km without stopping. SOMEBODY GIVE ME A MEDAL.
Oh wait, I already one.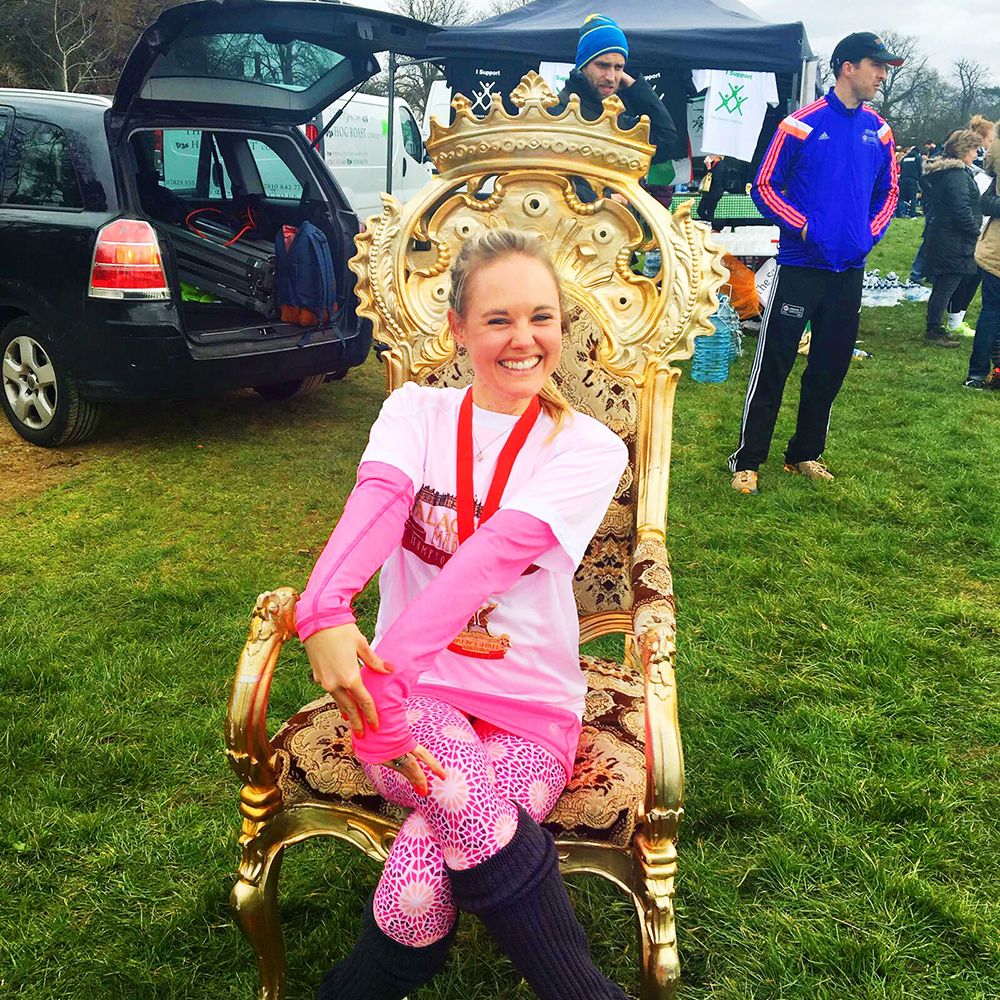 I thought (for those people who are NOT "natural" runners – ahem, me) I would share my journey from 0 – 21km with a few little tips I learnt along the way.
I signed up to the marathon (on a partly drunken night out) with 6.5 weeks to go. I had been thinking about signing up for a marathon for a while and having something to work towards and then when Shelly randomly mentioned at a party one night, "by the way I'm running the Palace Half Marathon"  – I was all like "WAIT, WHAT?!? SIGN ME UP!!!"
And so the next day, I signed up.
I began searching for a training schedule (with 6 weeks to go) and from my research I found that a good training schedule needs to include gradual increase in mileage, interval and sprint training, rest days, and varying speed training. I found this one via popsugar (It had all the things I knew to look out for, but mainly I liked it because it had the word "easy" in it).
So let me highlight my training schedule given that I had 6 weeks almost exactly till race day! Mixed in with this, every Monday, Wednesday, some Thursdays and a few private sessions here and there, I taught yoga. I also practiced yoga personally in these weeks and made sure to do yoga after my runs.
Week before training schedule commences (the week I signed up):
Thursday: Went for a 20 min run round the block. Felt not-so-great.
Week 1, 6 Weeks to go! Week 1 of Training Schedule:
Monday: 30 min jog (Yeah!! I'm doing it!! I'm running a marathon!!)
Tuesday: 20 min jog (AWESOME!! this is getting easier!)
Wednesday: Rest (I LOVE marathon training!!) 
Thursday: 20 min jog (Whoa, this is probably the most I've ever run in one week)
Friday: 30 minnnnuuu – CALF INJURY. (WTF. THIS IS THE WORST THING EVER!!! I HATE RUNNING!!)
Saturday: Crying. (supposed to run a 5 mile/8km)
Sunday: More crying.
Week 2, 4 weeks to go! Abandoned Training Schedule:
Monday: Resting the calf, and feeling bummed.
Tuesday: Still Resting calf injury
Wednesday: Consulted my physician (Warren) who suggested I rest up properly otherwise injury will just flare up again. (Taught yoga)
Thursday: Rest. Feeling like I hate this running thing.
Friday: 25 min jog (Tentative steps)
Saturday: Rest
Sunday: Rest
Week 3, 3 weeks to go! (Decided to revert back to training schedule week 1):
Monday: 30 min jog (Can't believe I'm fucking doing this again)
Tuesday: 20 min jog (Well at least my calf doesn't feel so bad)
Wednesday: Rest. (Damn, I like rest days)
Thursday: (Husband's birthday) 20 min jog. Went out for dinner (all the wine)
Friday: in spite of all the wine – 30 minute jog. No one got injured. Hooray. Husband's birthday party in the evening.
Left birthday party early (still after midnight, don't fret) so that I could do a 8km run on Saturday (yes you read that correctly).
Saturday: 8,4km run (I'm a machine!! Look at me running with all this alcohol in me)
Sunday: Rest
Week 4, 2 weeks to go! (Got sick)
Monday: 35 min run ( 5 min short of the training schedule) Woke up not feeling great. (Possibly all that running-with-alcohol) Taught a lot of yoga.
Tuesday: Woke up feeling really crap. Sore throat, blocked nose, headachy. Rested.
Wednesday: Rest. Feeling very sorry for myself. (Taught yoga, in spite of NOT feeling like it)
Thursday: Still feeling very sorry for myself. Took the day off work. Which is a really weird thing when you freelance.
Friday: Complained a lot. Several hundred times to Warren about how I now had to fit a 6 week training program into 2 weeks and all the irritating setbacks I've had!
Saturday: Crying.
Sunday: More crying
Week 5, 1 week to go! (Still feel like shit):
I'm not even going to document this week, because I did fuck all running, feeling very sorry for myself. Opted for carbo-loading instead. Which I've heard is also the thing to do. Lots of complaining and such.
Week 6, marathon Sunday!
Monday: Run a 5.21km. First run in ages (I have no idea what the fuck to do or how long to run because I'm so out of this schedule! SOBS. Logs run in Nike + app with the single word, "FUCK")
Tuesday: Feel completely lost, because it's one week to go and I haven't done any real mileage and now I have no proper schedule to follow. Decide to try run a 12km, on a whim. Get a massive knee pain at 10km, hobble home. Cry.
Wednesday: Feeling bummed, no running. Taught yoga. Booked a physio appointment.
Thursday: See physio, she does "ITB muscle release" on the offending knee-leg. (Ohhhmmmerrrgheeee WOMAN ARE YOU TRYING TO KILL ME?!) Straps knee + leg to offload offending muscle. (Make jokes with physio about my hairy knees. BECAUSE HAVE YOU EVER TRIED TO SHAVE A BONY KNEE?)
Friday: Toy with the idea of going for a run to test the knee. Decide against it.
Saturday: Feel fucking nervous. Go to a Patrick Beach 3 hour arm balance workshop with husband, which is probably not the right thing to do the day before a marathon. Ate a giant burrito with beans and rice and gaucamole and cheese. Because obviously.
Sunday RACE DAY: Feel even more fucking nervous. Warren re-straps offending knee. And then also straps the other one, just for luck.
So RACE DAY arrives and I decided that for the first 8km I would just run as tentatively as I possibly could – not really knowing how this knee is going to flare up (I've always had very bad knees and it was actually the thing that caused all the drama with my first "marathon"). I got through the first 8km (letting every granny pass me) but miraculously with no pain. Decided that if I could just get to 12km (which is the distance that caused the issue in the first place) without pain, then I would be ok. Get to 12km. See Warren on the sidelines cheering at this point – tell him I'm feeling awesome!! Don't stop for a chat, continue running. Next 3km get a bit tough. (Because 8km to go is still a fucking long way). Mind plays tricks on me and I think my knee might flare up again. But it doesn't. Still running quite slowly, monitoring. If I can just get to 16km…. Take two painkillers just in case at about 17km. See Warren again just after that. Decide that I feel good. Run the last 4km with ALL THE ENERGY! Finish in 2 hours and 19 minutes.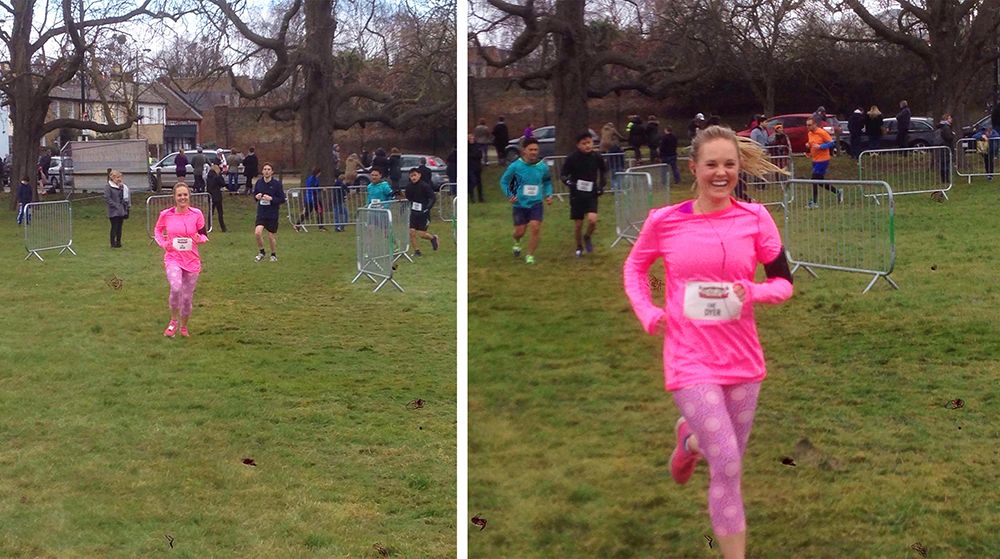 (At the finish line – have you ever seen anyone so happy to see the finish line?)
So. I did it. My entire goal for this marathon – was just to run the whole thing. I didn't have a time in mind or a time to beat, I just wanted to run without stopping – and I did. So I definitely feel very proud of myself!
So here are my top 10 tips for running your first half marathon for beginners:
Find a training schedule to follow. It needs to include a very gradual increase in distance, running at varying speeds, interval training and rest days. A training schedule will really help you feel like you know what you are doing, even if you don't.
Give yourself at LEAST an extra two weeks within the training schedule. I had wanted to enter this race feeling prepared, but given the set backs I had with my calf injury, getting sick and knee injury at the end – I didn't have enough time to follow the plan as I would have liked. Sometimes shit happens that you can't plan for – so give yourself a buffer of time for all those unexpected things!
Do not book yourself into a crazy arm balance workshop the day before your marathon. (That was not wise). (But also booked ages ago).
Eat a delicious protein packed meal the night before. We had burritos with beans and brown rice, loaded with guacamole and all the good stuff. Opted out of dessert that evening, because WE ALL KNOW WHAT SUGAR DOES.
Stay well hydrated, especially the day before! Warren was my champion water-boy on Saturday night!
Make a cool playlist for yourself! I just LOVED all the music I ran to! Some of it was from old school times and some modern and some from our wedding day! Also try some "operant conditioning" – as I was making my playlist I told Warren who was lying on the couch, "Ok! You have to cheer me on!"
Him: What, now?
Me: Yes! Then when I hear this song, I will think of your cheering!!
I mean, whatever works, right? Also – I would suggest not choosing songs with too much of a fast beat, it may make you incidentally run a bit too fast! Edit: another amazing tip I learnt was DO NOT START OFF TOO FAST! I read this over and over again and I listened to it. It can be quite tricky, because of the race buzz and all the people around you! Go at the pace you know you can maintain. It's a loooong way to go!
Definitely incorporate some conditioning work like yoga, to complement your training. I have absolutely NO doubt that I would not have even finished this race (with the lack of training I did) if it had not been for all the yoga I do. Although yoga is in no way as jarring as running, it definitely helps condition your body to move. Thanks yoga.
After the race, DO MORE YOGA. STRETCH. FOAM ROLL THE SHIT OUT OF YOURSELF. Also ask your husband nicely if he will give you a leg massage. Make no mistake, I was still on Monday (and Tuesday) but it was no where NEAR what I thought it would be – and I think all those things definitely helped!
Make (force) someone to come and support you on race day. It makes the world of difference to know that just around the corner, your friend/boyfriend/lover/husband/BF/dog/wife could be there cheering!
Book a yummy lunch! After the race, we had booked a pub lunch to celebrate – and it was really nice to have something to look forward to! Plus, you totally deserve ALL the fries. And all the wine. And all the pizza. And all the chocolate brownies. Really.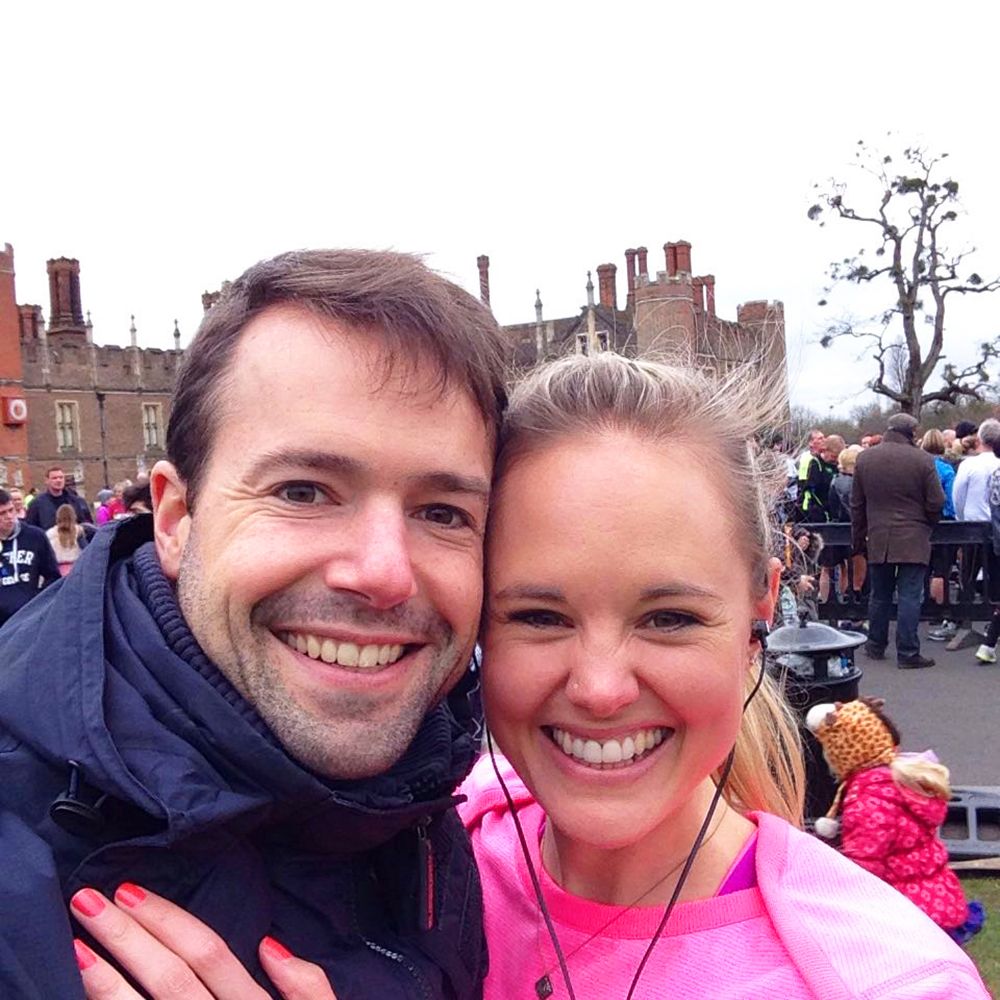 So grateful for all the love and support and leg massages and operant cheering from this guy!
Join me for the next one?
x