Get the Look: The 3 Yoga Looks to shop
As much as I'd love to tell you that I've transcended all earthly desires and wants for material possessions, the honest truth is, that nothing excites me more than the thought of new yoga gear. (Satya, after all). There is just something completely motivating about buying a new pair of yoga pants. Or, if you're anything like me, whenever I practice in a new yoga kit, my practice suddenly becomes just THAT much more epic… it's as if I've somehow managed to convince myself that I have to earn my bum into these new yoga pants I'm sporting. But maybe that's just me.
So today I'm super excited to share with you 3 of my Yoga Looks from Evolve Fit Wear (and there's an awesome give away at the end  – so stick around!)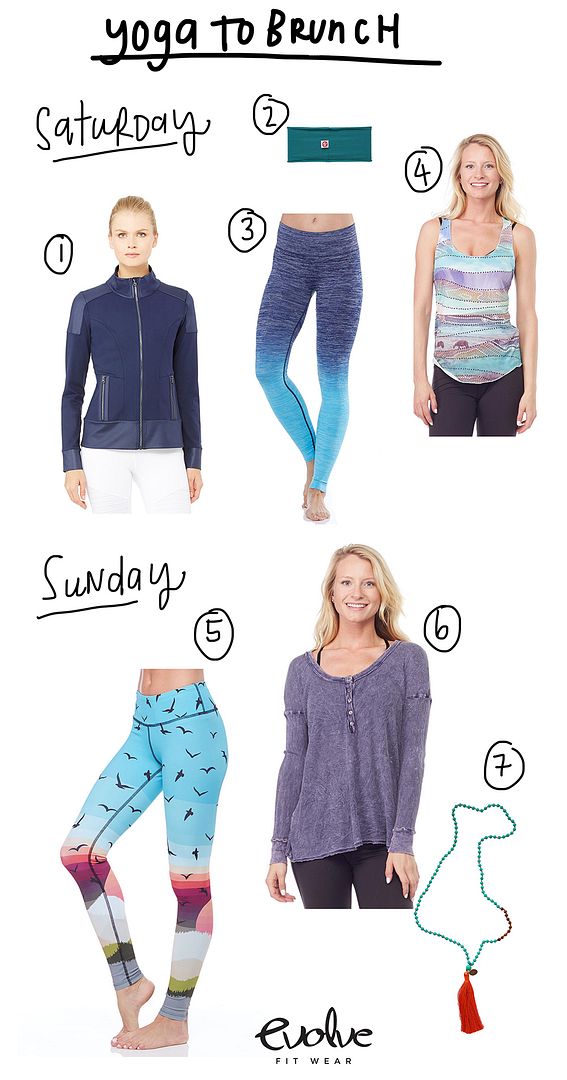 It's the weekend and you can't wait to get your Oms in at your local studio. Followed shortly thereafter with some green juices and chatter with the gurl gang. Here is my selection of gear that will take you straight from studio to side orders of pancakes.
YOGA TO BRUNCH:
It's Friday, and there's some local 'get together dinner' on the cards. But, it's your FAVOURITE yoga teacher's class and well, you've paid your membership so you're not going to waste it. This look is the perfect thing to get your Friday night yoga-endorphins in and then throw on your styled jacket and head straight out to dinner. Granted, you may need an extra squirt or two of perfume and you may arrive 15 minutes late – but my guess is you won't even miss a thing.
YOGA TO DINNER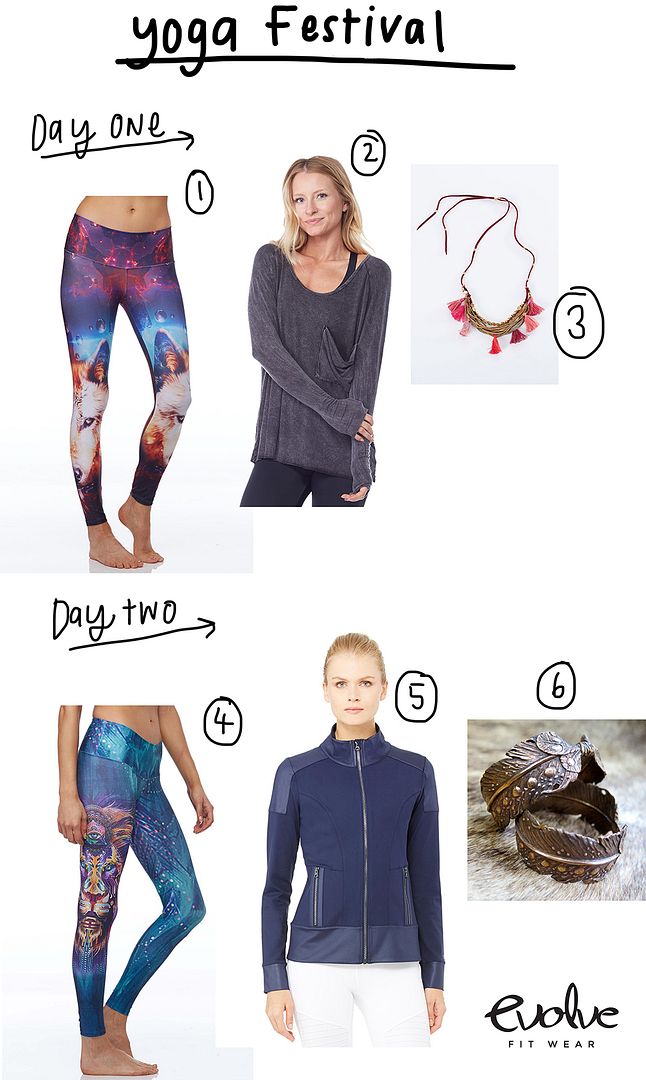 The Yoga Festival is the time for things to amp up! Bring out your brightest yoga pants and your favourite malas! These two looks are great for practicing yoga, chilling, slurping smoothies and just generally getting in the relaxed festive vibe!
YOGA FESTIVAL
So those are the yoga looks to love! Evolve Fit Wear has such an awesome range of yoga clothes and brands – (it was actually quite tricky selecting only a few outfits!) AND! For one lucky winner they are giving away a $50 voucher to their online store!
To enter: Head over to Evolve Fit Wear and have a browse at their epic range! Leave a comment on this post below telling me what your favourite item is and where you would wear it!
You can also follow Evolve Fit Wear and indieYogaLife on Instagram
Evolve Fit Wear Ship internationally – so it is open to all!
Competition will close Sunday 13th March and the winners will be decided at Rando and announced on Monday 14th March.