DIY yoga tank top (quick and easy!)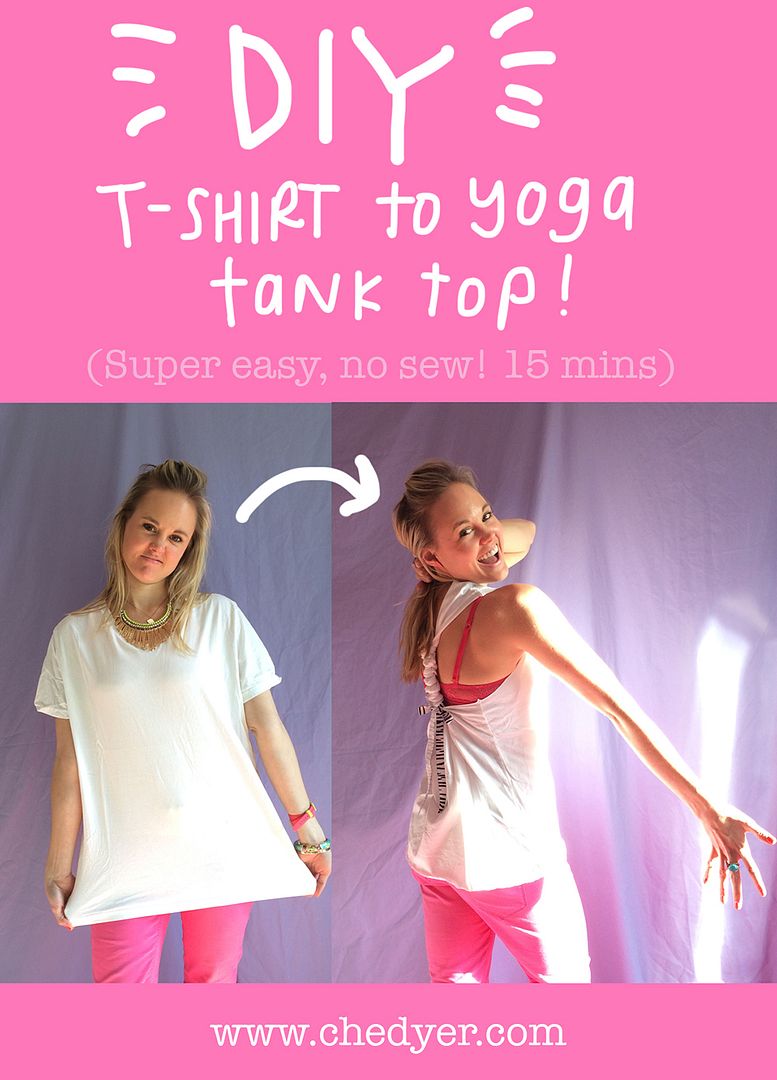 I wanted to share a SUPER quick and SUPER easy DIY tutorial for turning an old baggy T-shirt into a yoga tank top! This DIY will literally take you 15 minutes and all you need is an old T-shirt (size doesn't matter- so you can totally steal one from your husband's cupboard) and a pair of scissors! I used a zebra-print ribbon that I had lying around the house to tie on at the end, but you don't need it to make the tank at all!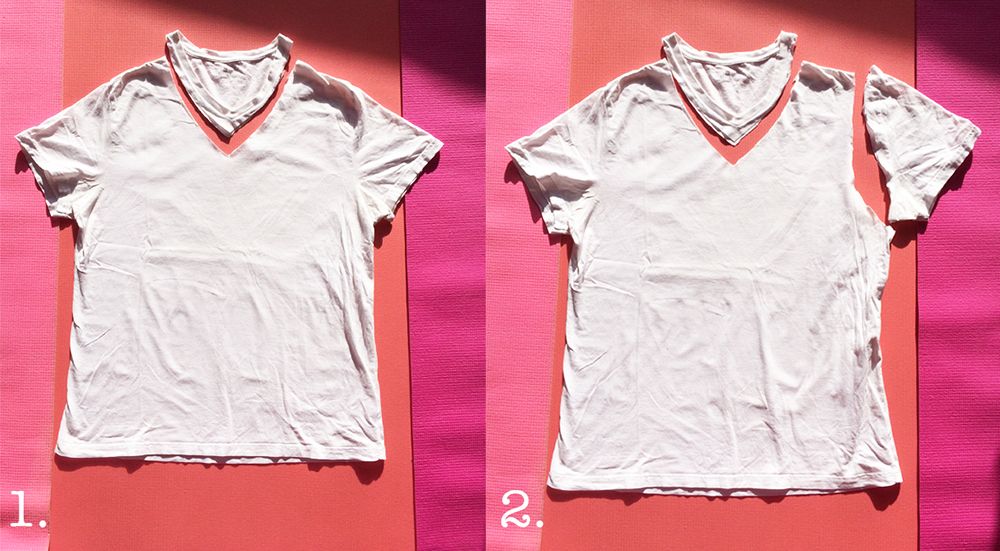 1. Lay your shirt out and cut out the neck (front and back). You could choose to cut either a round shape or a V shape. I did a V-shape to follow the existing line of the shirt – but you could do either!
2. Cut out the sleeves. Don't make these too wide to start – you can always cut more, but you can't put it back on once it's cut! How far you start the cut underneath the arm pit will determine how open the sides of your tank top are – so bear that in mind when you cut! You could opt to have a really wide open tank – but I cut quite a tight semi circle around the sleeve.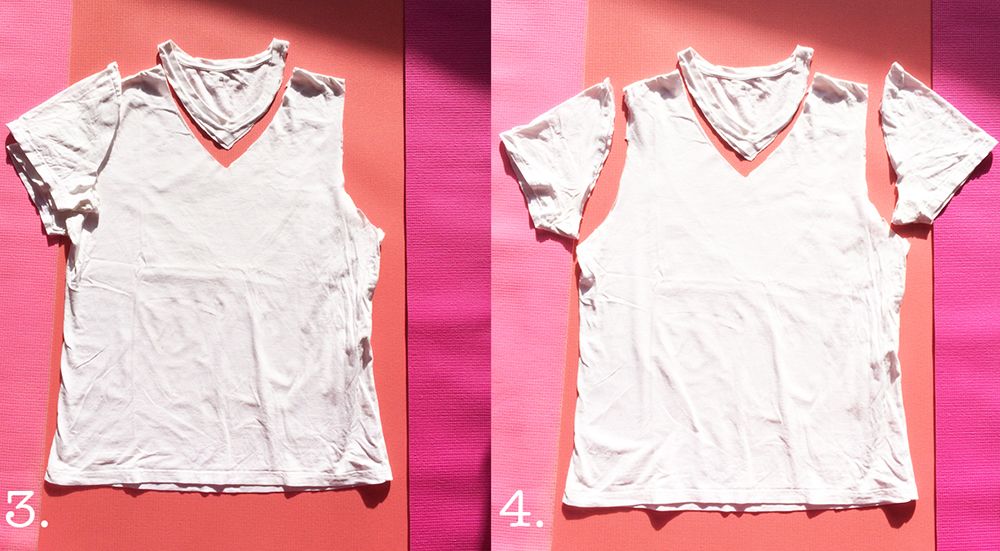 3. Lay the sleeve that you have just cut over the other sleeve. This will help you get both sleeves as symmetrical as possible. Mine definitely aren't exactly symmetrical – but it's really not that much of a problem! It's a DIY yoga tank top that is designed to be sweated in – so don't sweat it!
4. Cut the second sleeve off your T shirt.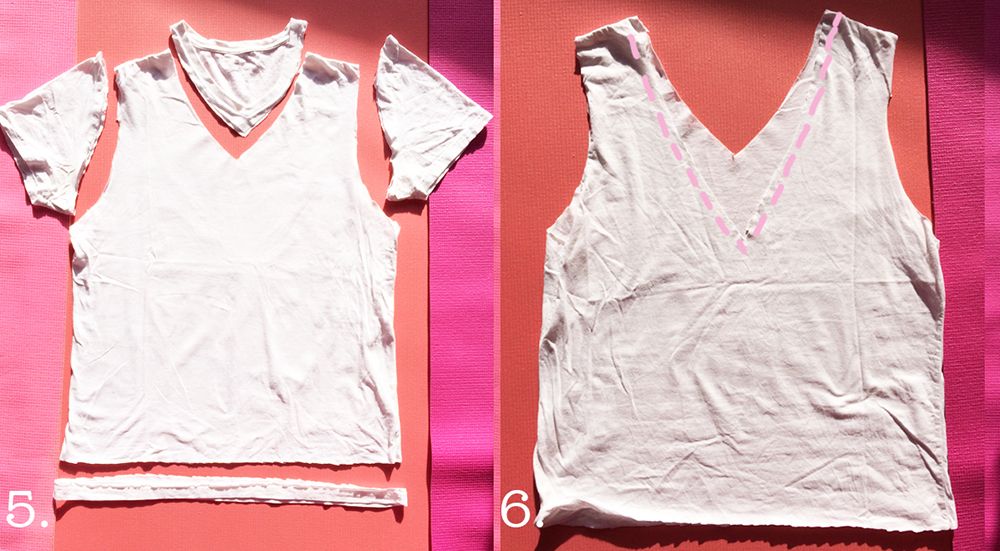 5. Cut a long strip (front and back) off the bottom of your shirt. If you wanted to make a DIY yoga crop top, then you could cut it much higher up! You will end up with a circle of material – cut this so that you have one long strip.
6. Turn the T-shirt over and cut a deeper V in the back of the shirt. (Cut into the back side only).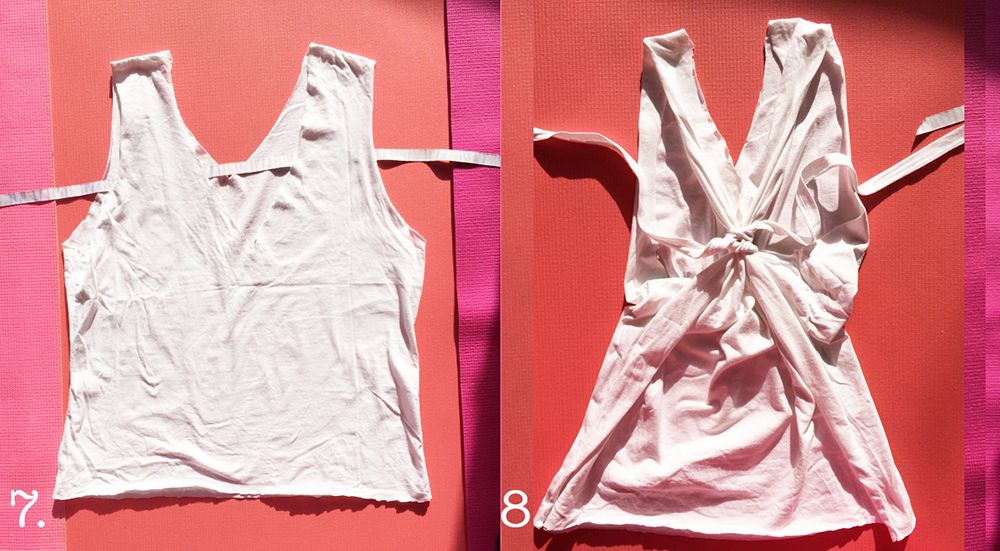 7. Thread the strip of T-shirt material (the one you cut off the bottom of your shirt) through the back of your shirt in through the arm holes. (I've threaded the zebra ribbon through in this pic just so that it's easier to see)
8. Bring the strip down to the bottom of the V and then tie a knot. I wrapped both ends of the strip around the sleeves on the inside and then back to the outside and then tied another knot. I continued doing this up the length of the T-shirt arms until the strip of T-shirt material was finished. As I reached the end of the strip of material, I threaded the ends back into the knots. You could also wrap the strip, or secure it with a different coloured ribbon or bow of some kind! To finish it off, I tied a bow using some zebra print ribbon I had at home!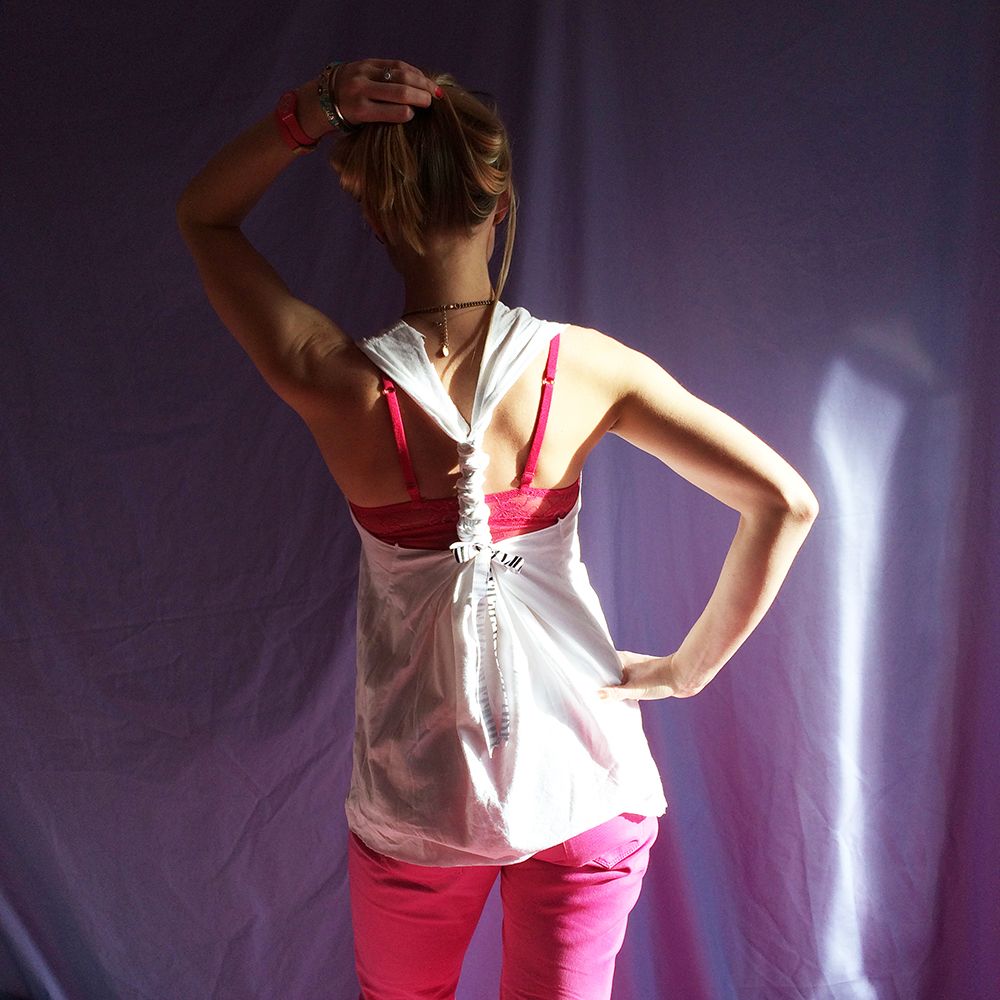 I don't really like practicing yoga in shirts that are loose and baggy because of how they ride up when doing inversions, but I was honestly pleasantly surprised how tight this (once baggy) T-shirt feels! The knotting at the back of the shirt makes it feel actually quite tight and secure!
I think the whole thing would look actually really cool with some ombre-dip-dying -(ya know, so that it really looks DIY'ed) so I might try that at another stage!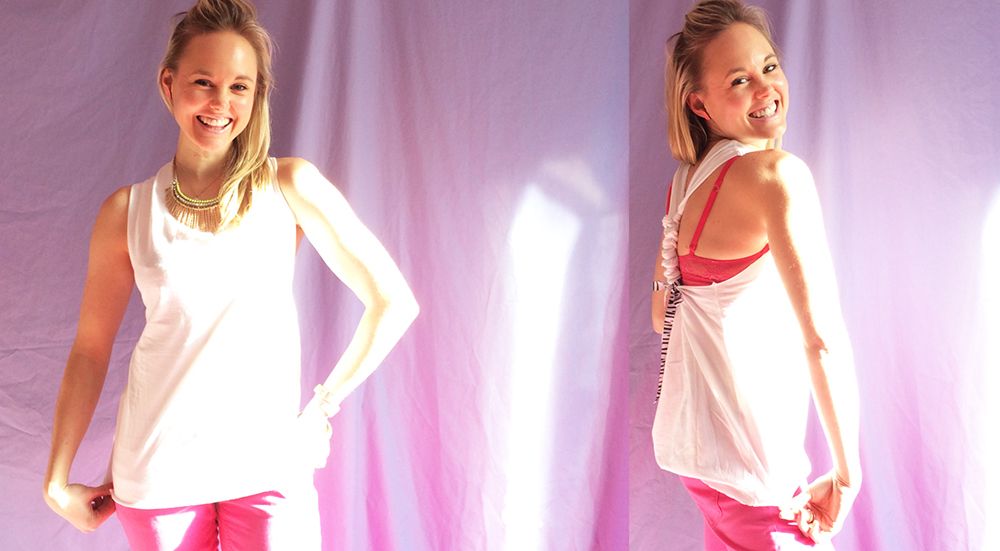 I have another T-shirt DIY thing that I want to try out soon, but I think it would work better on T-shirting material that is slightly more stretchy, will give it a go when I next do a cupboard clean out!
Yoga DIY Tank tops –
Because Lululemon, who?