5 things I've learnt from my first year as a yoga teacher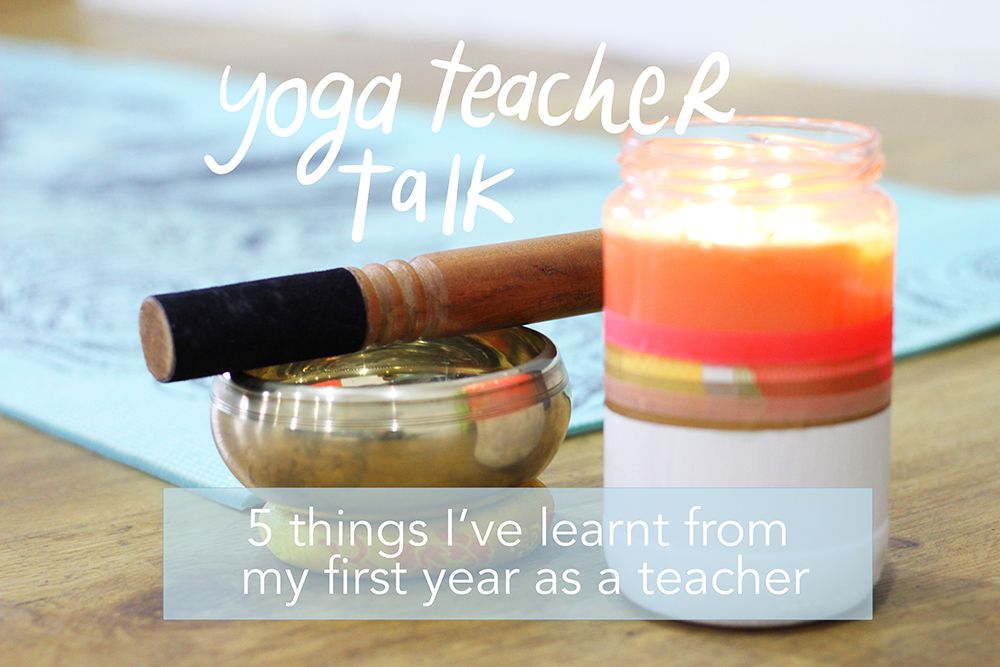 In March of this year it was one year since I graduated as a new yoga teacher. In that time, (and even before actually graduating) I taught free classes in the garden and then on graduating, I have hosted yoga and Prosecco brunches, I have set up beginners yoga courses, and have taught more advanced yoga courses. I have covered classes in multiple yoga studios, corporate offices, community halls, Sweaty Betty stores and outdoor events. I have taught kids yoga classes and organised Christmas Flows with mince pies and mulled wine. I have taught private sessions in and around London and shared my knowledge and inspiration to the best of my ability. I have hosted and organised a weekend long yoga retreat, I have my first arm balance workshop coming up in June and at the end of June I am heading off to Tuscany to teach at my first international retreat hosted by Anna Marsh.
In the year and a half that I have been teaching so far I have learnt so much and I know that it is only the very tip of the iceberg of all the learning that is to come. But in any case, I thought I would share 5 things that I have learnt this far:

1. Finding the correct level to pitch a class is challenging
This will grow and change as your own yoga practice grows and changes, but it is something that I still struggle with. The style of class that you will gravitate towards teaching will usually be the style most suited to your own style of practice. Personally I prefer a more dynamic, sweaty flow (although this can change, depending on my mood/the season/the time of day etc), and as such, my practice has progressed physically. Through this physical progression I have had amazing 'break-throughs' (at the risk of sounding cliché) on a mental and emotional level and that is something that I hope to initiate in the yogis that practice with me. I LIKE to give physical challenges to the students that come to me because I believe that we are physically capable of SO much more than we think we are and I want students who practice with me to feel encouraged to explore that.

On the opposite end of that scale, you are possibly likely to end up in a class where you have five students who have the strength, stability and flexibility to move into more progressive poses and another three students who just want to GET THERE, regardless of where their body (strength, flexibility, support) is at right now. This can be an extremely challenging thing to manage – particularly if you are starting out and don't have as much of an opportunity to separate classes into a beginner and an open level.
My advice: is to continually remind students to listen to their own bodies, to move with integrity and honesty in where they are at and to continually remind them that the "goal" of yoga is not the asana – it is just a tool to help us explore what is going on in all those layers underneath.
(Similarly it can be challenging if you have a group of students who have been with you for some time and have learnt and developed with you and you want to share more theory and philosophy and learning with them and then someone new drops into the class. Should you revert back to the fundamentals of the breath and breathing techniques (which you have already covered to the rest) for the new person or should you continue on with the more deeper philosophies you want to share?)

2. There will be times when you just don't know what to do and you will feel out your depth
On graduating from your yoga teacher training you will have some knowledge of the body's anatomy and the the structure and function of muscles within certain poses. And then you will get to a yoga class, with real people, real bodies and real energies and realise that you know very little. Students may approach you with various injuries/sprains/pains etc and you may not know how to help them best right away.
My advice: Know right now that your yoga teacher training is just the very beginning of a lifetime of learning. You are not a doctor (unless maybe you are), and it's ok not to know everything, as long as you are committed to continual learning. (svadhyaya!) Many times things that you are taught as a 'general cover all' in a yoga teacher training are actually slightly different if you speak to physios/doctors/medical professionals. It is good to always keep your finger on the pulse of new debate and topics of conversation in this area. Stay current and dedicated to best serving your students.

3. Being a yoga teacher and filling classes of your own takes a certain amount of hustle
Teaching yoga and "being a yoga teacher" as an occupation are slightly different. Relying on teaching yoga to bring in an income definitely requires a certain amount of hustle. Particularly if this is the first time you are entering into the field of freelance entrepreneurship. You will need to hustle to find venues, to find clients, to market yourself, to create marketing material, to continuously keep people coming back to your classes and it can be hard work! You have to wear ALL the hats on your own and it can be tough.
My Advice: Learn to separate yourself as "the yoga teacher" and "the yoga business". Dedicate at least an hour (or two!) a week to "the yoga business" – how are you getting new clients? What marketing are you putting into action? Who are you approaching? How are you getting your name out there? What else could you be doing? Is there some little bit of fear that is holding you back from something? Tap into that.

4. Doing yoga and being a yoga teacher are two COMPLETELY different things.
I would guess the story generally goes something like this: you arrive to your regular yoga class, have an amazing session and after a long indulgent savasana you sit up, gaze at your yoga-teacher in a starry-eyed-savasana-haze and think, "DAMN. What a life it must be to feel like this ALL. THE. TIME." And within a few weeks you've signed up to do your yoga teacher training. Fast forward 200 hours and you're teaching a yoga class – you are not at all focused on your breath, you are focused on making sure the guy at the back of the room is not torquing his knee into oblivion, simultaneously pulling back a hypermobile woman, whilst still trying to keep the flow of the class running as you adjust the volume of the music and try keep your eye on the clock. It is a very different experience doing yoga and teaching yoga – make no mistake.
My advice: Keep investing in your own practice to keep your love of yoga alive. When you suddenly start teaching multiple classes your perspective of yoga can shift from "this amazing thing you once knew" to "the-business-end-stress-of-how-am-I-going-to-pay-rent". Keep coming back to the reason why you decided to do your training in the first place.

5. Find a system that works for you, and STICK to it.
I would say this was probably my biggest learning curve when it came to starting my own classes. I had a class pass policy that I was following with a 6 week beginners course with class passes paid up-front for a certain 6 week program carried over specific dates. It worked really well in the beginning – the classes were full and since it ran week to week with specific themes for each week, unfortunately if you missed a class, you missed out. Needless to say, very few people missed classes. I then began receiving emails from people to say that they would love to join a 6 week course, but that they were away for 2 of the weeks – could they carry over the classes? And then what about the person to mail me to tell me he/she is not feeling very well? Or the person who thought they might be (maybe) coming down with a little something on this sunny evening? Or the person who just didn't really feel like practicing today? Could they transfer over their classes? This is a very tricky area and it can be very difficult when dealing with people face to face on this – but you also have overheads to cover to make ends meet. I am still learning.
My advice: find a system that works for you and STICK to it. Lay out all possible scenarios and have an answer for them before they arise. Sometimes you do (unfortunately) need to be a little bit hard so that people know to value your time and their own yoga practice. If you are running your own classes – you need to almost think of it like a gym. If you buy a membership to a gym for a month and don't go – you wouldn't exactly email the gym and ask them to please transfer it over to next month.
So those are five little things that I have learnt over this last year and a half. There are so many more things that I've learnt that are not on this list – the energy of people in a yoga class, the dynamic of a class, sequencing, class structuring, venue hiring, marketing – I'm going to be starting a section on this blog titled "Yoga Teacher Talk" where I will just be sharing my journey as a yoga teacher for those who are interested! I am also in the (slow) process of bringing over some personal content from indieberries.com (my cartoon/lifestyle blog) onto the "off the mat" category on this site –  so that everything sits together in a neat little hub. (Or so I hope, in my mind haha)

For any new yoga teachers who are interested in working with me to create a branding package for your yoga teaching  – pop me a message [che.strawberries@gmail.com].
I am only taking on two people at the moment so that we can really hone in on exactly what you want and need for your yogi-business.