Unique wedding ideas: Wedding Hangover Pack DIY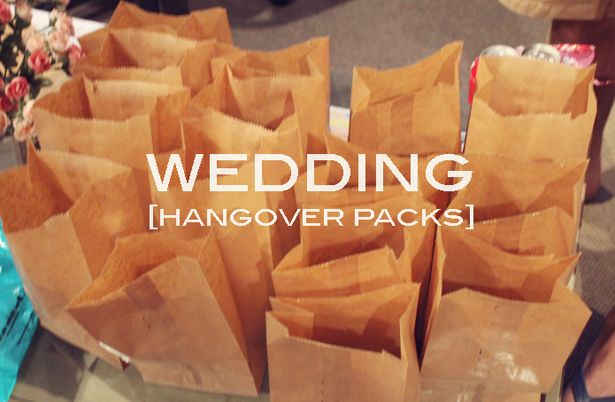 In the last little while I have been receiving quite a few inquiries about the bespoke wedding guestbooks I create. Which has made me realise that there are a WHOLE lot of readers who are currently engaged/getting married/planning on getting married (pretty soon) or who have very good friends who are getting married. So I thought I would share a few more of the fun things we incorporated into our wedding – because it's always good to have a whack of ideas! And this can be used not only for weddings but as a really fun "table decor" idea for ANY festive celebration!
If you have seen a few of our wedding pics you may have noticed that there were a whole lot of people come the party end of the night who were decked out in "fancy" sunglasses. Right from guests to brides to bridesmaids to flower girls to young guns and old friends. They were an absolute SMASH hit!
On each of the tables at our wedding we included a "Hangover Pack" kitted out with all the essentials to cure a hangover – cans of Coca Cola, Snickers bars, Sunglasses, Strong Headache tablets, Rehydrate sachets, bags of chips, Gum. I packaged all the goodies up into brown paper bags  –
Of course, I roped the bridesmaids into helping – because let's face it: another word for bridesmaids is brideslaves.
(that's my mom next to me, although she does look young enough to be a bridesmaid)
We sealed the bags off with washi tape (of course we did) in different gold, bronzes and coppers with pops of bright colour to go with the Moroccan-esque theme. We wanted the bags to be a kind of ice breaker – especially if there were any tables which had people which may not necessarily know eachother. The idea was that the MC would announce early on in the evening that on the count of 3 everyone at the table would point to the person that they thought would most need the hangover pack in the morning. The person with the most fingers pointing at them would get to open and keep the hangover pack!
One of the table settings – (since we lost our photos) am so grateful to the bridesmaids who went around snapping pics of the tables the day before!
I then made a poem to attach to each of the brown paper bags –
The Dyer Wedding – what a massive celebration!
Good food, good wine and good vibrations!
A night of indulgence and much intoxication
gives the morning after heavy contemplation –
"How many did I have?" "Wow, my head is thick!"
A litre of water would do the trick!"
Ah the hangover, that beastly thing –
all 'cause the Dyers exchanged some rings.
It's our fault – this we know,
next time maybe tea and go?
Tomorrow, we're sorry for your throbbing heads
And the painful desire to stay in bed
So, as our apology to you –
A little brown bag to make you feel brand new.
With shades to kill the light of day
and pills to keep the pains at bay.
Rehydrate, Warr's favourite trick
And something to nibble is Ché's pick –
To one guest here, we're humbly offering
Our best tips to quel your suffering
Thanks for coming to share our "I DO's"
It means the world – so here's CHEERS TO YOU!
Party like a Rockstar – we've got the morning covered.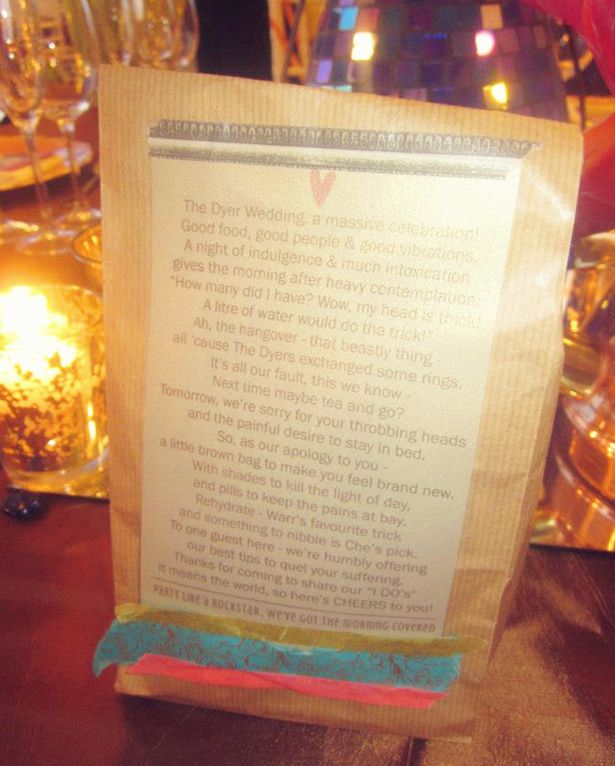 The next morning so many of our guests came up to the Main House at Netherwood to say goodbye to us – loads of them sporting dark glasses they'd nabbed, nursing cans of "red ambulance" and packets of salty chips with expressions saying, "those headache tablets literally saved my life this morning". It was too awesome.
Aaah. Memories.
xoxo