Tips for hosting your first yoga retreat

I'm sitting here in my pyjamas (at 9:23am on a Monday) with a slightly sore throat after one of the most beautiful weekends I could have ever imagined. I wanted to just jot down some of my thoughts on the past weekend and the first yoga retreat I've hosted, while it's still fresh in my memory. (Although to be honest, I've already had to message Holly to remind myself what we had for dinner on Saturday evening – aubergine ratatouille with quinoa in case you were wondering).
Where even to begin?!
I think I should probably begin with the amazing group of people that came to share this weekend with us. They brought such amazing energy and openness to the entire weekend and it's made me so grateful. There are lots of things that could potentially go wrong when you mix 16 different people and personalities together and to be honest, I anticipated a few road bumps. Yet everything was completely smooth sailing. Which (quite frankly) absolutely floored me. Yes, the weather could have been slightly less "gale-force-ish" and the mud could have been sightly less slippery, but in terms of everything else, I didn't expect things to run as smoothly as they did and I think it is largely due to the group of people who shared it with us and I am extremely grateful.
Gayles Retreat Centre is absolutely amazing. It is completely out in the country, surrounded by huge open fields, free range chickens, beautifully manicured gardens + water features and obviously Princess the horse. There is something so peaceful about that space that you just can't describe. When I commented to Ros, the owner of the centre, about how amazed I was that everything just ran so smoothly, she replied with something along the lines of, "When people are close to nature, they feel gratitude and when people feel gratitude, they have no other choice but to feel joy and contentment."

So what's it like to host a yoga retreat?
In one word: Incredible.
In two words: Incredibly exhausting.
I had the most amazing time sharing my knowledge and teaching the people who came to share this weekend with us. Meeting these new people and teaching them all was my favourite thing about the entire weekend. I will say though, I don't know how yoga teachers manage a retreat on their own. I think without having Holly co-hosting with me, I would feel even more depleted right now! Teaching a yoga class draws a LOT of energy out of you, and then in the "free time" it's about making yourself available for questions and posture break-down and chatting with people who have had certain experiences that have risen up out of the practice. It's also the time to make sure that things for the next activity/yoga class/ workshop are all well prepared. It is full on. There is no "free time" on the yoga teachers schedule at a yoga retreat. I think that without someone else to help hold the space, it would be nearly impossible to take a few moments to run through your sequencing or class plans or teaching points before teaching. Gayles was amazing at making sure that we didn't ever need to worry about the meals or any other kind of housekeeping admin. And their food was absolutely delicious!
On Saturday afternoon, we created Mala beads that the yogis could take home with them – we used the Malas in the meditation the following morning which was centred on positive affirmations. I led the Sunday morning class on positive affirmations and had asked everyone to come to seated and take their mala beads infusing the breath with their mantra as they moved along the chain of 108 beads. At one point, I looked up to check how far everyone was, and to see this sea of people holding these mala's they had created, positively affirming themselves was such a powerful moment for me. So much so that in fact, I had a big ol' tear on my mat.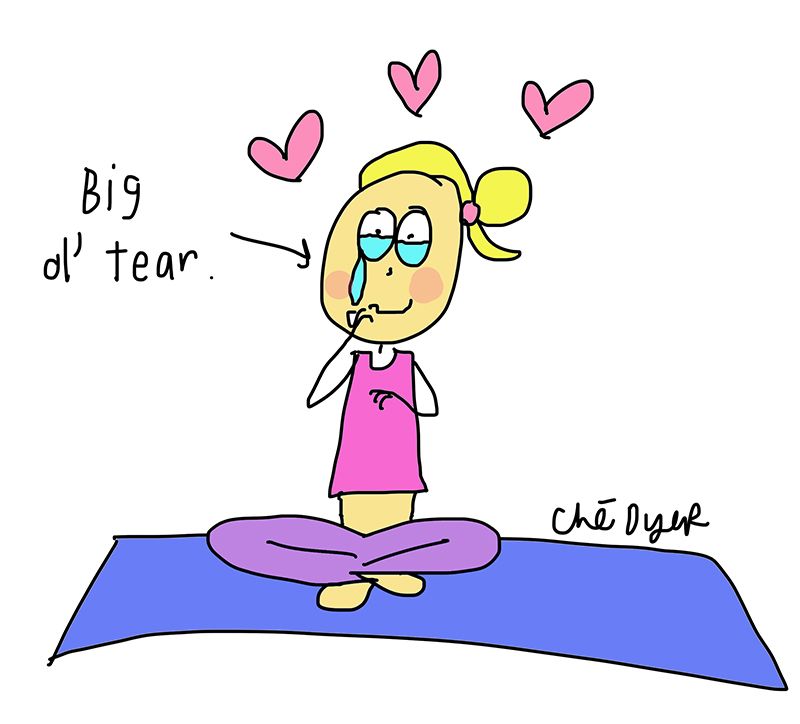 And subsequently had to find something else to distract myself (taking off my socks, FYI) so that I didn't compound myself into a blubbering mess. lol.
What would I do differently next time?
I believe that for our first yoga retreat things went absolutely the best they ever could. But of course there are SO many things that we have learnt and grown from this, that I almost can't wait to organise the next retreat so that we can implement new things that have come up for us. Thought I would share some of the things here.
Adding in a (more challenging) asana workshop.


On the retreat, we had a complete variety of yoga practitioners, ranging from those who have practiced yoga for years, to those who have maybe been to one or two classes. From some of the feedback we received, I think it would have been a good idea to include an arm balance workshop or an inversion workshop for those who wanted. Rather than only working through them in our class flows. Although our schedule was pretty full on, we did have a few periods of free time, and I had assumed that in this free time, yogis would approach us with their particular questions and we would be breaking down postures and workshopping them a little bit for those who wanted. This happened a little bit, but I did expect more! I think having a set workshop time for this would have helped! Having said that though, the purpose of the weekend was to recharge before the craziness of Christmas. The focus was on nourishing the body and mind and we included a bit more restorative yoga with less focus on the dynamic "power" practices so I do think that the classes we did offer were in line with our intention and were good for the season. I'd love to do a more "power" retreat in the summer – with loads of arm balance workshops and sweaty power play.

Making better use of the fact that we had two teachers.


Before coming on the retreat, Holly and I decided that while the one person taught, the other would practice in the class. We did this intentionally to try build ourselves as part of the community of the weekend – so that people would feel like we were all learning, sharing and practicing together. We mentioned at the beginning of the weekend how we can all look to each other as teachers, and this fed into our reasoning for partaking in the classes – that the teachers also become the students. Looking back, I think it would have been more useful for us to have two teachers adjusting in the classes. I would reconsider this in the future.
Dorm Rooms
Gayles Retreat centre is absolutely magical, there is something so peaceful about the place. It is however a dorm room situation, which I think is not suited to all people and I can fully understand that. The problem we largely encountered when searching for places to host the retreat, is that many of the places offering single room accommodation have super high accommodation costs, and being our first, I am not sure that we were comfortable charging that much more for our retreat. After going through the feedback though, we have realised that this is something that is quite valuable to people – having their own space, to be and perhaps reflect. It would be interesting to find out what people would pay for private accommodation, because it does add quite a big difference to the basic costs. This is definitely something that I would do more research on going forward, and perhaps find a venue that offers both dorm style and premium accommodation for those who want.

Create a specific cancellation policy


This is the business-end of the retreat stuff, and whilst we had a non-refundable deposit we didn't have a clear cancellation policy drawn out. As it happened, the night before the retreat Friday I received two emails from girls who didn't think they could make it. Whilst we didn't have a formal cancellation policy drawn up, Gayles had already invoiced us for all the food and accommodation at this stage, which means if we had fully refunded these two at this stage we would be costing ourselves money. One girl was unfortunately still unable to make it, the other arrived, broken rib and all! (Kudos Liv!) In future, a cancellation policy for cancelling the week of the retreat and corresponding refunds, needs to be made clear.

Free time – 


This is a tricky one, because some people mentioned they would have liked more free time, others mentioned that they loved that we had so many different activities. I think the free time does feed into whether or not people have their own space (i.e.: non-dorm room) to be "free" in. I think it may have been quite useful to have 1-to-1 slots where everyone could book a time to chat with one of us, that way we could have gotten the chance to chat to everyone individually and assess the things they are needing and help out where possible. The main thing I have learnt, is that it is honestly impossible to please everyone all of the time.

Longer retreat!


This is something that came up a few times in our feedback! For our first retreat I felt comfortable having it over a weekend, but I could definitely see the benefit of hosting a retreat over a longer time period, that way we can really start to understand the needs of our students and get a better idea of their bodies, what they are working with and their personal goals. It would also allow us more time to be able to break down postures, have workshops, have more group activities and generally have more fun!
As I was walking back home from the Station on Sunday evening, filled with happiness and absolute love for this entire weekend and how well it had gone, it was quite tricky for me (being the person I am) to not get stuck on all the things we still could have done. Holly and I literally poured our hearts and souls into this weekend and hopefully it showed for those who shared it with us. But even so, it was quite hard for me, walking up the hill in the rain to not think about all the OTHER things we could ALSO have done.
Just in that moment that I was beginning to let myself be overridden with all the things we COULD have done – this literally stopped me dead in my tracks –
A little bit of love from the universe to say,
"Well done for your first yoga retreat – it was beautiful."
xo