Exercise Programs versus Yoga Practice
Last week I received a comment on this blog post from Christine – she had such a good question about my views on exercise programs versus yoga that I wanted to dedicate an entire blog post to it!
The post linked above is to the workouts and exercise program that I followed in the lead up to our wedding – it was intense but yes – I got some uber results. (GOOD THING WE HAVE SO MANY WEDDING PHOTOS TO DOCUMENT MY BAD-ASS ASS at the time. lol.)
Anywhoo – before I delve into the ins and outs of this – I wanted to put out a little disclaimer: I am not a weight loss coach or a personal trainer and the things I will share below are only MY views on the topic and MY personal experience with both. There will be many people who agree with my views and many people who disagree and you are welcome to leave a comment below (or start up a conversation on the Ché Dyer Yoga Facebook page). I am a yoga teacher, and whilst I don't promote "general weight loss" I do promote the concept of a fit healthy lifestyle and pushing yourself to be the best you can be – in whatever form that WORKS BEST FOR YOU. I would also like to add that the idea of  a physical "yoga" practice was never created as an exercise program or weight loss regime – but it will provide you with those things, if that is what you are seeking from it.
The first thing I want to say is that Exercise programs work. I can tell you that, because I have followed them and have seen (and experienced) the results first hand. I have followed various exercise programs on-and-off including Jillian Michaels 30 day shred, The P90x workouts and yes, I have even jumped on the Kayla Itsines Bikini Body Wagon (I did 7 of the 12 weeks and then Christmas and skiing holiday hit. lol).
Many of these exercise programs are pretty intense and they all include a combination of cardio, weight training and abs.
You may also notice that every single one of the workout programs I have mentioned above – ALL have a set time frame. 30 days for Jillian, 90 days for the P90x program, 12 weeks for Kayla. For some people this level of workout intensity IS a daily way of life and that's awesome but for MANY of the other average Joe's (myself included) this kind of workout regime is pretty difficult to maintain indefinitely, which is why I believe so many people are able to stick to it, because there appears to BE A DEFINITE END IN SIGHT (What happens at the end of the program I guess is largely dependent on personal results, personality and any shift in lifestyle that you may have experienced). Having said that, if you have a specific time frame or event that you are looking to tone up for such as a wedding (I don't necessarily promote losing weight for a wedding – but I do believe in feeling like your BEST SELF as you walk down the aisle!) then a workout program like this may be a good way of kick starting your goals – (if you love burpees, obviously).
Yoga, (although not originally designed as an "exercise program") will also give you these kinds of results if that is what you are after – BUT there is one major difference that I have found between the two which is generally this: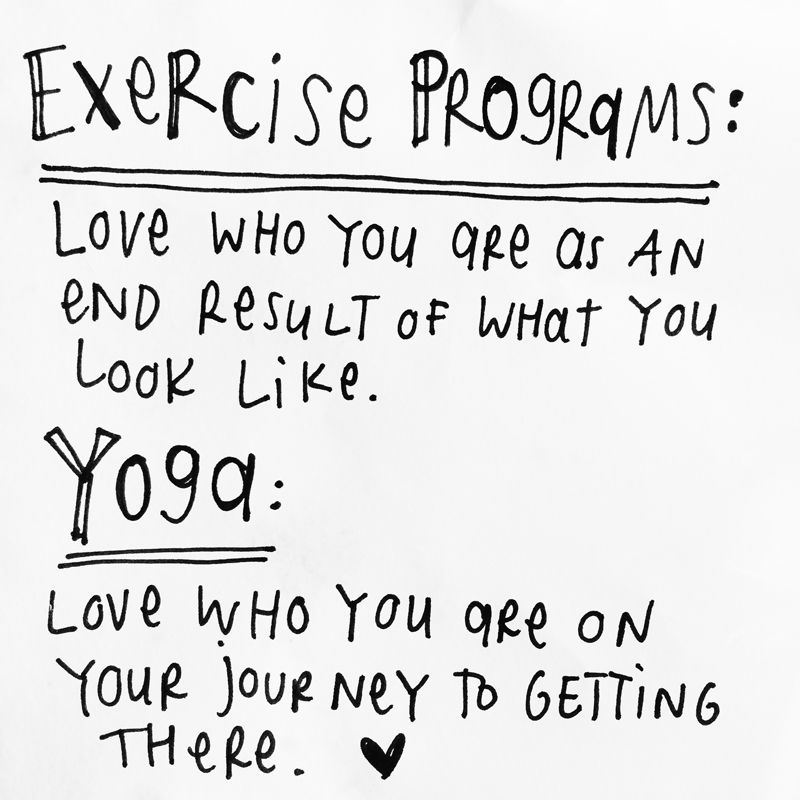 I think the most obvious indication of this type of thinking can be seen in the types of images that we see on social media relating to these two different approaches to health and fitness. Kayla Itsines is an easy example to use since she often posts "progress shots" of the women who are following her exercise program –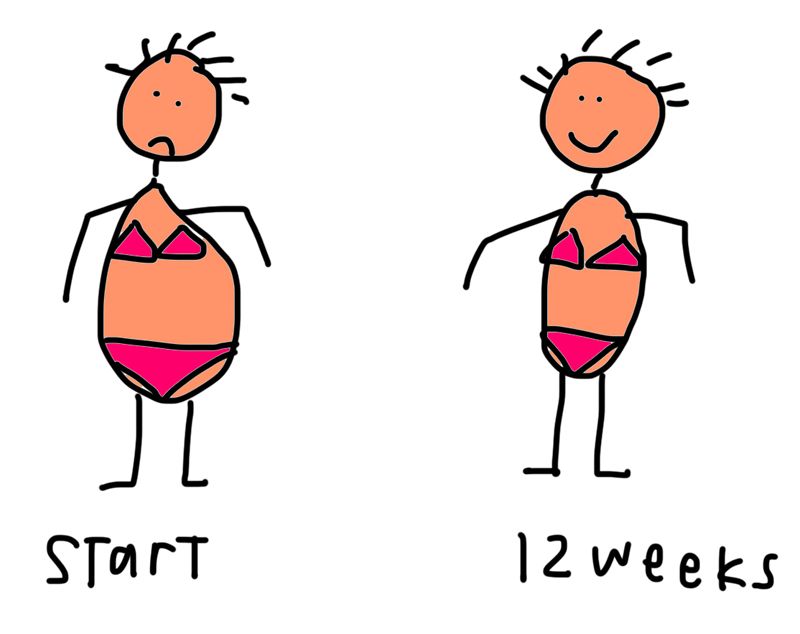 Usually a picture of someone at "Week 0" and then that same person at "Week 12" – a few kilograms lighter, leaner and with more muscle definition – which is of course obviously amazing! There is however always a risk when the transformation is based on this kind of aesthetic results driven picture – are we then finding true contentment with our bodies? Or are we just content with how our bodies look at the end of 12 weeks? Since if you have some muscle definition, you can always have MORE muscle definition, when you have lost some weight, you can always lose more weight and on it goes – just HOPEFULLY along that never-ending scale you find happiness somewhere. I am in no way knocking these programs because believe me, they work. Hopefully throughout those 12 weeks there is also an inner shift that occurs as a result of the aesthetic change.
Similarly, when you search for yoga "progress shots" on social media – you are more likely to find images of "what I could do last week" compared with "what I can do this week" – which I believe is a way more self-empowering measure. The transformation within yoga comes from the inside first, which leads to a sense of motivation for physical change. THIS kind of transformation (I believe) is WAY more sustainable than the first. In yoga there is no such thing as "12 weeks of yoga" or "90 days of yoga" in fact, one of the biggest yoga hashtags on instagram happens to be #yogaeverydamnday. Yep, EVERY day – because it is TOTALLY maintainable. It is an entire lifestyle. One that will not only give you a 6 pack (if you choose that) but one that will give you a whole bunch more.
Many people will argue that daily intense exercise or fitness programs like I have mentioned can also be a lifestyle – and I agree that they can – but for many people I think that the idea of yoga every day is slightly more sustainable long term than one thousand burpees, squats, dead lifts and mountain climbers. (Speaking from experience I went directly from "wedding abs" to "honeymoon flab" since as soon as I knocked off the intense exercise regime I was on – (and added a truck load of honeymoon feasting) it all came inching back – so it really does depend on YOUR personal preference and what is manageable for YOU and YOUR body. For me, it's yoga. Hands down.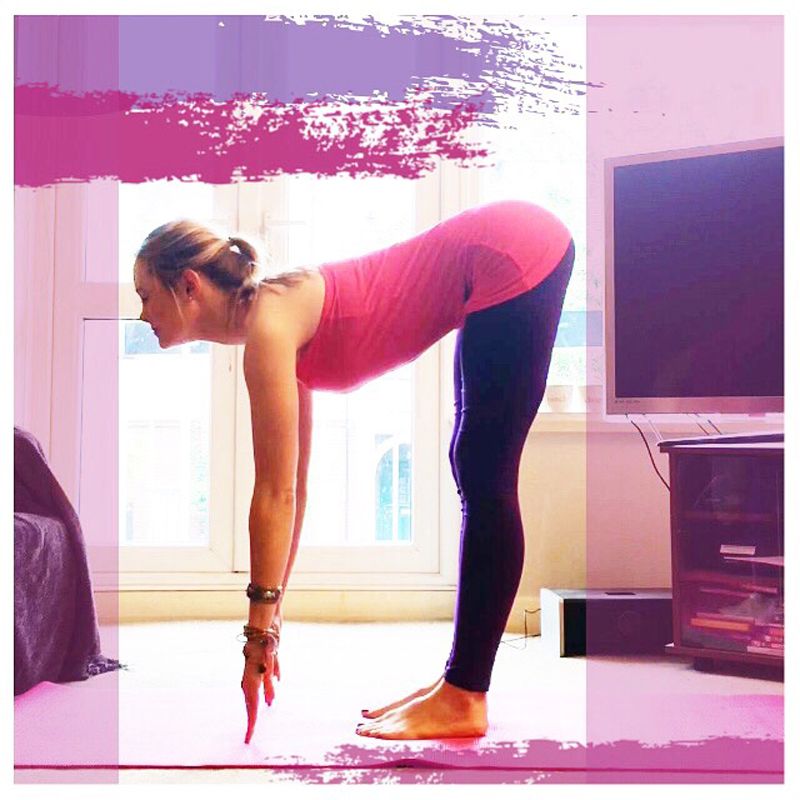 I wanted to explain below the reasons WHY I prefer yoga to "exercising" in the more body-tone sense.
1. Yoga is a kind of "functional" fitness.
The "strength training" that is done with yoga uses the resistance and weight of the body. Poses that are classified as "arm balances" usually use the arms to support the weight of the body. So whilst doing 50 biceps curls with a 5 kg weight will sculpt your arms, so will hoisting your  (x) kg ass off the ground using your arms and core, except the yoga version provides a kind of "functional" way of doing it – using the body to create resistance for the body, moving through postures in a functional way rather than just "building muscle". There is something extremely motivating to know that the muscles you have developed can actually manoeuvre you through a tight little hole – it takes an incredible amount of control, resistance and body awareness.
2. You don't need anything to do it.
One of the main things that I love about yoga is that you don't need ANYTHING to do it. Kayla's program prides itself on being a program that you can do without the need for a gym membership – which I agree you can do. You do however need to buy a set of weights (and a skipping rope and a Bosu ball and probably an exercise bench) – I fell off the Kayla wagon at week 7 when we went skiing in France – because it seemed like a pretty balmy thing to try and pack 3kg dumbells into my suitcase. (There was also one of the exercises in the early weeks of Kayla that required two benches side by side. I don't know about you, but I don't have two exercise benches just lying around. (In fact, since our current furniture is pretty "vintage" I don't even have two chairs that would have substituted – so this pissed me off a bit! ha!).  Many of the other exercise programs that I have done also require weights. Yoga doesn't need any fancy equipment your body is "your weights"- as long as you don't have a slippery surface – you don't even need a yoga mat – which makes it a REALLY easy form of "exercise" to do wherever you are, every single day.
3. There is SO much more built into yoga
Yoga was never intended as a body sculpting regime although it can most definitely be used as such. With a dedicated daily practice over time, you will definitely notice greater definition, more tone, more flexibility and for sure more strength. BUT with yoga, there is a WHOLE lot more that is built into the package. A greater sense of presence, a sense of mindfulness, greater body awareness, a centring of the mind, slowing down of mental hyperactivity, and a greater degree of inner calm and acceptance. And hey, if I can get all those things as an ADDED bonus while I'm toning my butt – then – of course yes.
4. It's FREAKEN FUN.
I won't lie – doing yoga makes me feel like an ABSolute kid again. Remember trying to do handstands and cartwheels in the garden in the sunshine? That's exactly it. And when you enter into it with a sense of exploration and fun and genuine curiosity of where the body can take you – it makes every single practice session unbelievably fun. Did you see how I put the word ABS in ABSolute? Because if you've ever tried to any of the prep work for handstands you will know that it takes a HUGE whack of abs. Oh what's that? You didn't notice that you were doing the equivalent of 200 crunches? Oh, you must have been too busy having fun trying to get into handstand.
5. It makes me EXCITED to practice
I did 7 weeks of Kayla Itsines's program (granted I never finished the entire thing), but even at week 7 when I was feeling pretty fit and healthy, there wasn't TOO much in me that was really ever "excited" about doing 500 burpees (Burpees are THE DEVIL), but there is something about yoga that makes me SO excited to get on my mat. Excited to see where my body is at, to work with where I am right now, to see if I am closer to doing that thing that I couldn't do yesterday. It makes me want to take my mat with me where ever I go, to do yoga where ever I can, to get on my mat –  EVERY. SINGLE. DAY. There is always something to improve in the yoga practice.  Yes, there are things to improve in exercise programs but it is ALL to do with numbers: number of reps, number of weights, number of circuits per seconds etc. Yoga is about ditching the numbers and working only with the body and the mind. Practicing makes me WANT to eat healthier, WANT to get fitter, WANT to go for runs, WANT to use my body to all it's capabilities. Bottom line, it just makes me SUPER excited – but I will say that the sense of excitement is largely down to personal preference and if seeing if you can do 100 burpees in 30 seconds fills your heart with excitement – THEN YOU SHOULD TOTALLY DO THAT.
(above: trust me, this takes shoulder strength, core strength, arm strength, legs engagement, concentration and extreme body awareness)
I have had a 6 day a week yoga practice for quite some time now and compared to the exercising I did before our wedding – I can definitely say that my overall body tone and shape is MUCH more defined now than it was when I was following the workouts. Yes, when I was following workouts I developed some muscle in my arms – but my arms now have so much greater definition in such a greater variety of muscle groups. There is only so many ways you can lift a dumbell – but there are SUCH a variety of (fun) arm balances that use very differing muscle groups. And regardless of what I weigh, I love my body MORE with yoga, because there is a genuine sense of "WOW, this body can do some pretty amazing things".
If you are looking at yoga as a form of physical toning up/shaping then you need to be aware of the various types of yoga – since (THE BEAUTY OF YOGA) is that it supports a HUGE array of physical needs and you need to pick the one that is right for you and your goals. (MAKE NO MISTAKE: LYING IN SAVASANA FOR AN HOUR WILL NOT GET YOU RIPPED)
Below is a VERY ROUGH interpretation of the intensity of various yoga styles – bear in mind that yoga classes that are guided by a teacher are LARGELY dependent on the specific teacher – so definitely find a teacher that works best for you!
If you are looking to yoga as an exercise form classes such as "power yoga" or dynamic flow will be good – you want a class with lots of Vinyasa's and double dip Caturanga's and a greater emphasis on the standing postures and arm balances rather than the seated ones. These classes will generally be a bit faster paced whilst on the other end of the scale restorative or yin yoga classes hold poses for much longer and spend a greater amount of time in seated postures.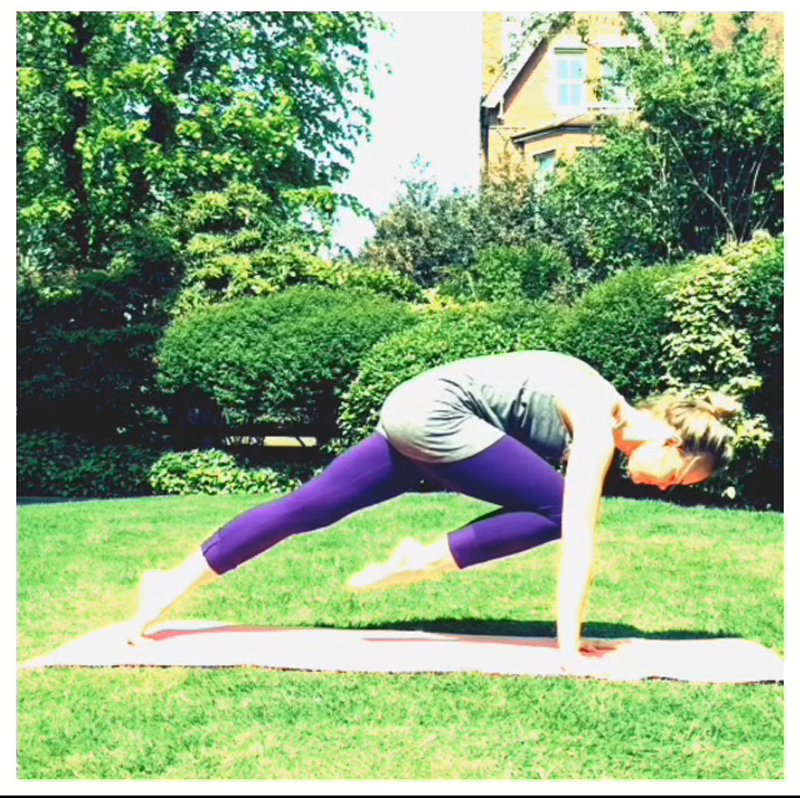 I am a huge advocate of "home yoga" and there are great free resources that are available online for you to follow at home. Another really good option would be to find a yoga teacher for a private one-to-one session (many would be more than happy to!), where you can discuss your specific goals and she/he can guide you and show you various postures that would benefit your specific needs.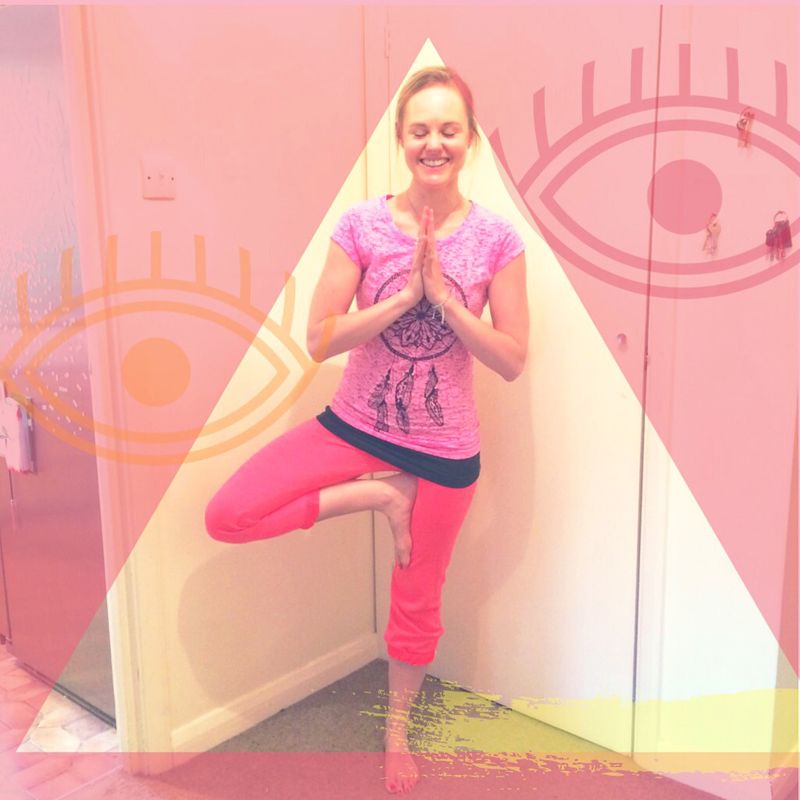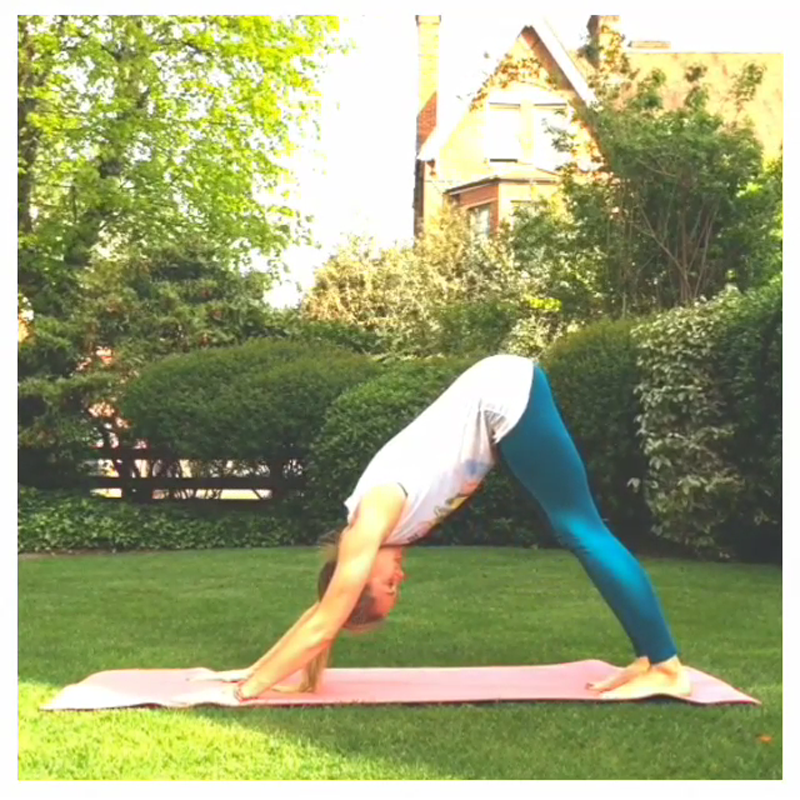 So, whilst I am a huge "CAMP YOGA" I think there are benefits for exercise programs too. If you have a specific time frame or event that you are looking to tone up for (wedding etc) then a workout program is a good way of kick starting your goals. If, on the other hand you want a complete lifestyle overhaul so that you never really have to "lose weight for an event" and you just basically become "that chick with the abs" then I think yoga is the way! Every person is different though and I do think that finding a form of exercise that makes YOU excited is the best way of maintaining it long term. Perhaps the best way is to include a mix of both disciplines into your workout mix!
I'd love to hear your thoughts ideas on this! I think it's such an interesting topic! Please leave a comment below or drop a line on the FB page!