Wedding Dress Adventures: Belgium
It's been on my travel bucket list for a while now to see the big festivals all over the world. This past July Warr and I and a bunch of awesome mates headed off to Belgium for Tomorrowland – one of the biggest music and dance festivals in the world. It was incredible and I don't think I have ever been to any festival/concert/show/exhibition/fair/market/arena that is so well organised with so much attention to detail. (Think Tomorrowland sunnies, daily newspapers, fairies handing out wishes, cog-work stages, dedicated deodorant-sprayers hanging outside the loos to give you a quick spritz!!) But more on that another time.
Let me interrupt myself quickly.
Remember how we lost all our weddng photos? Remember how I said I'm on a mission to have the world's most well-traveled, well photographed wedding dress….
WELL, IT'S HAPPENING.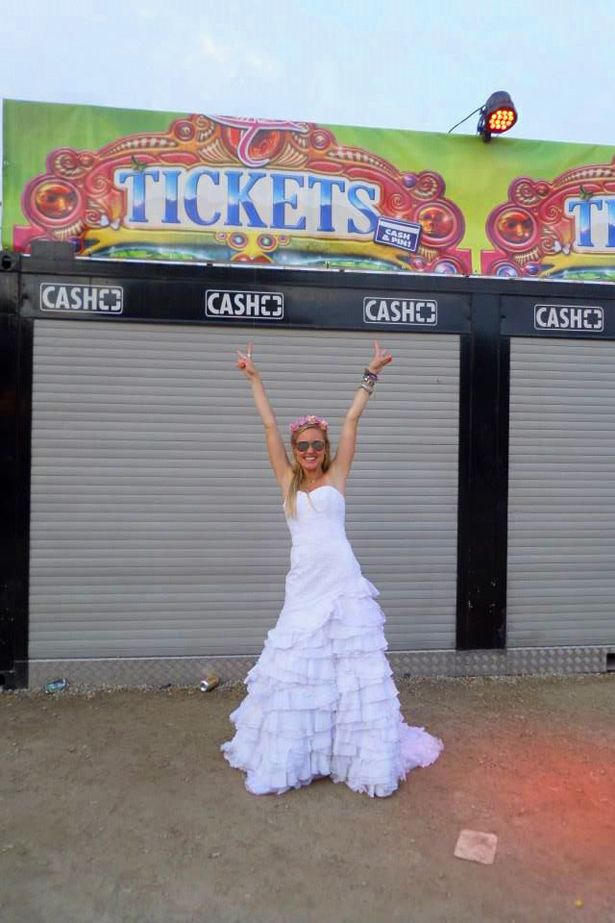 In the afternoon on the last day of this 3 day festival, Warr and I crept off from our gang in the slight rain-shower to the locker we had hired. When we arrived at the lockers – we realised that half of Tomorrowland had taken shelter in the locker area waiting for the rain to pass. Husband and I decided to grab some Falafels and a drink in the rain to wait for it to pass. When the sun started peeking it's way back out – we hurried back over to the lockers where (most) of the people had started to clear out.
Then out came the gigantic dress bag that I had crammed into my luggage all the way from London (which I brought all the way from South Africa) and Warren proceed to help me get into my amazing wedding dress.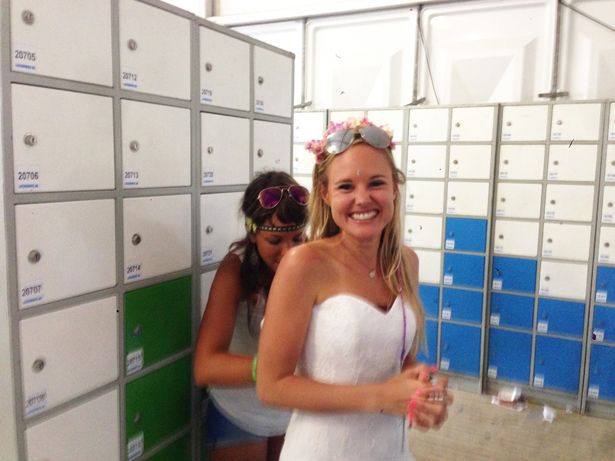 (how excited am i in this picture?!)
2 seconds into this plan – with me lurking around the lockers in a bikini and tube top and Warren with a bunch of strings and zips in his hands, we realised that Warren actually has NO idea how to get a woman into a wedding dress, so we enlisted the help of two girls who were sitting nearby, very intrigued and watching the whole debacle with MUCH curiosity.
"Excuse me.
Could you please help me get into my wedding dress?
He has no idea what he is doing."
They absolutely loved it, cried a little over our sad wedding story when we told them, and even snapped their own pics as a little keepsake of helping out "the bride" on her "big day".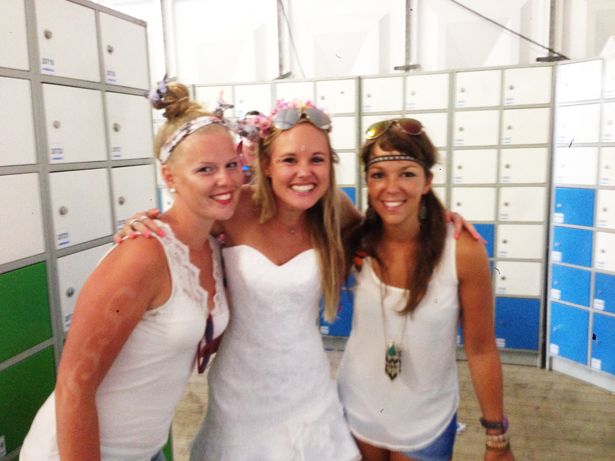 Thanks yo!
Honorary bridesmaids, if you will.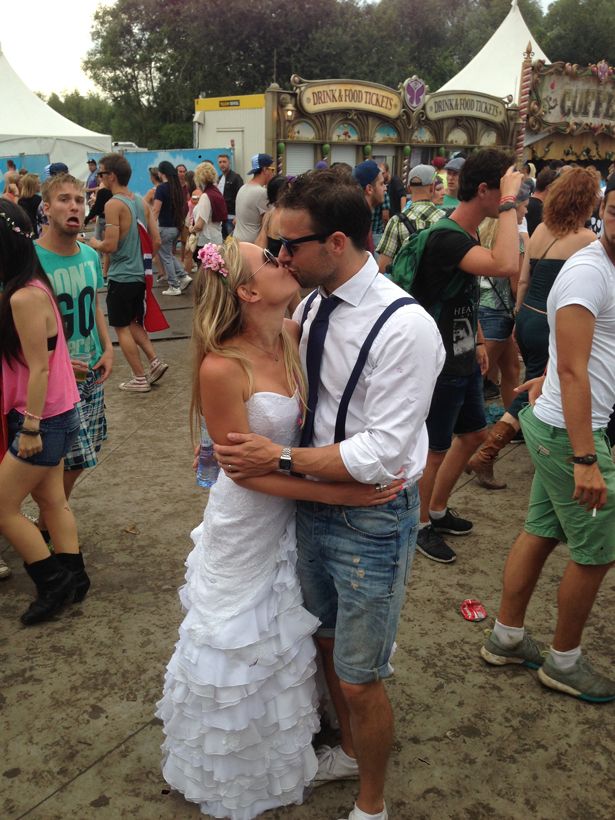 (lol guy on the left!)
And so – we traipsed around Tomorrowland dressed (REALLY) in our very finest.
SO. MUCH. FUN.
I can't even begin to tell you how much fun we had! People came up to us – asking if they could be our bridal party, people asking how much we would charge for them to have their picture taken with us, people asking if we were actually married at Tomorrowland (NO). People asking us why were were dressing up in our wedding clothes again. People wishing us well for a happy marriage and a wonderful life! When Warren rushed off at once point to go make a quick wee, leaving me waiting alone, in a wedding dress, at a festival… Let me just say – ladies who are looking for love? You can guarantee yourself several proposals, all you need is a festival and a wedding dress.
Eventually we decided (at the suggestion of our favourite Falafel stall-guy) to make a sign explaining our lost wedding photos-situation (he even gave us one of his empty Falafel plates to write it on) and suggested we also include my twitter and instagram handle so that people could send photos to us! Genius. (We did even manage to get a few! See here! and HERE – all the way from Greece!)
OH YES.
And then we were interviewed on National Belguim TV.
(thanks to Shelly for these epic pics of our Belguim TV debut!!)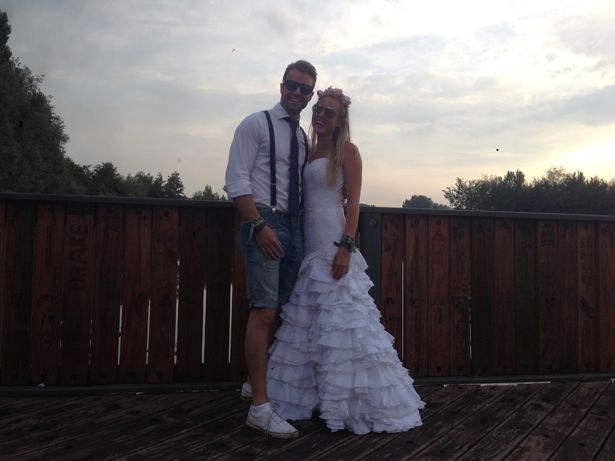 Next on our travels, we stopped on the Bridge of Tomorrow – where we came across a fellow festival go-er who happened to be a professional wedding photographer and gave us full direction of where to stand and what to do!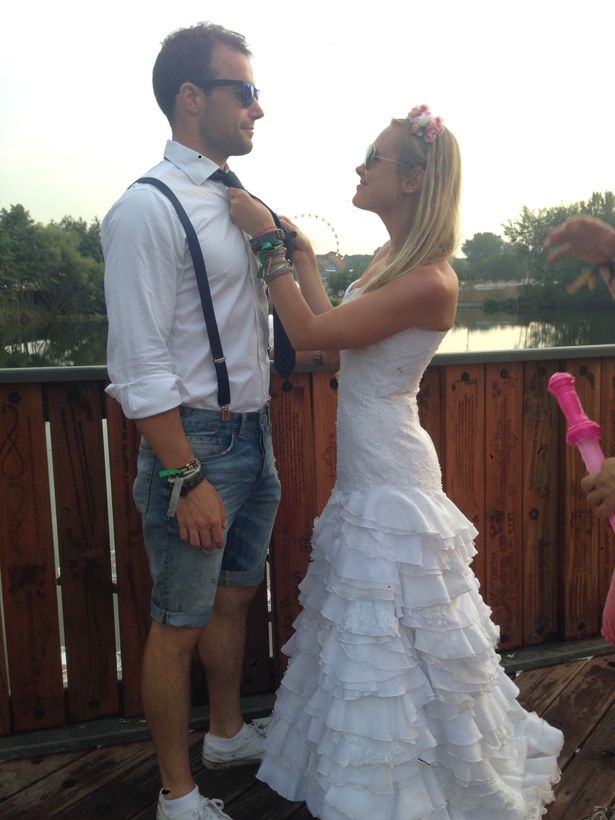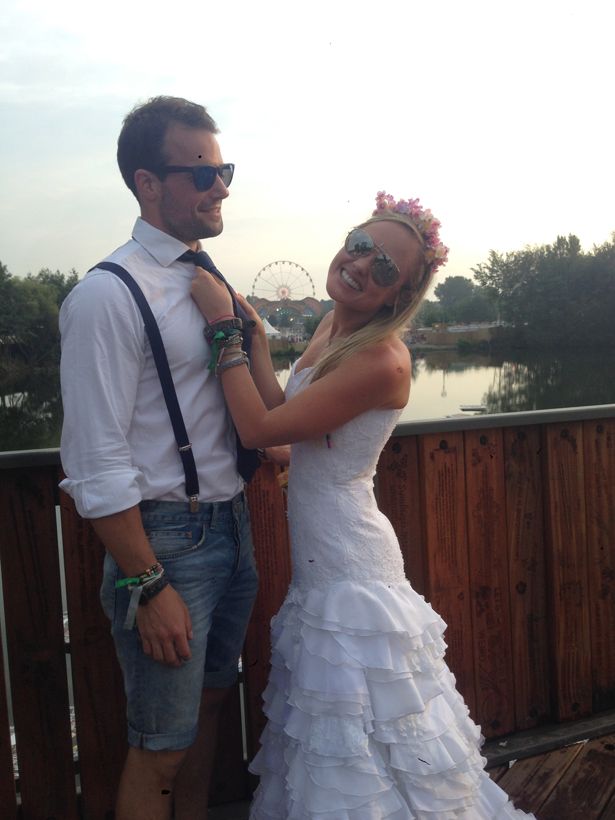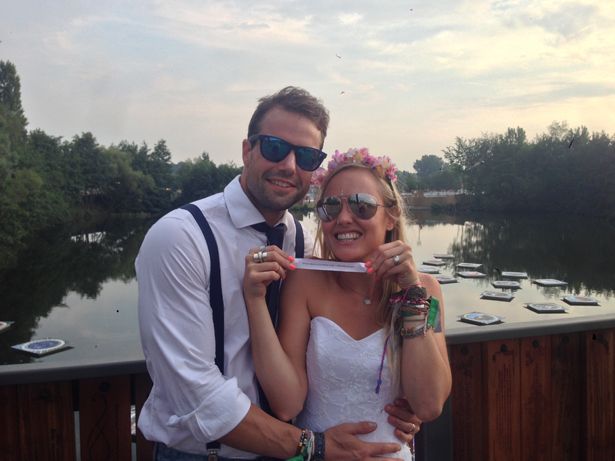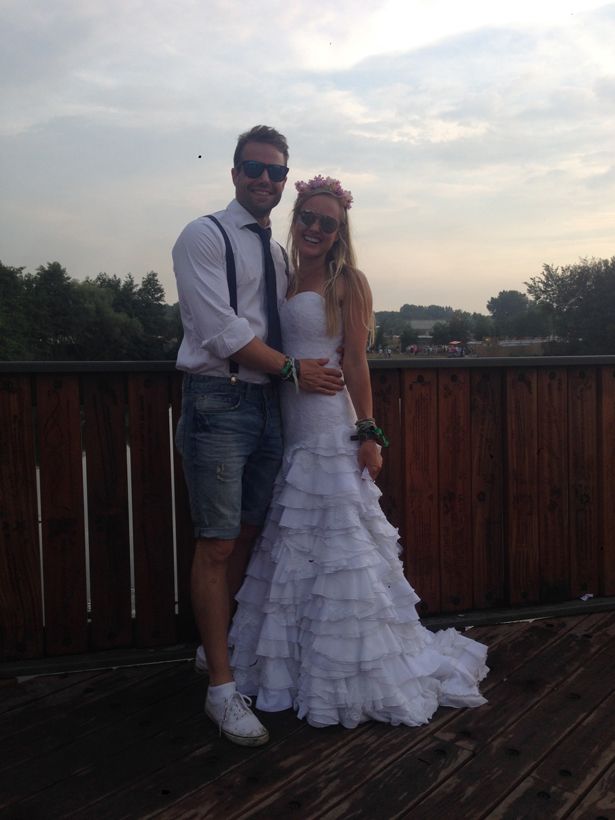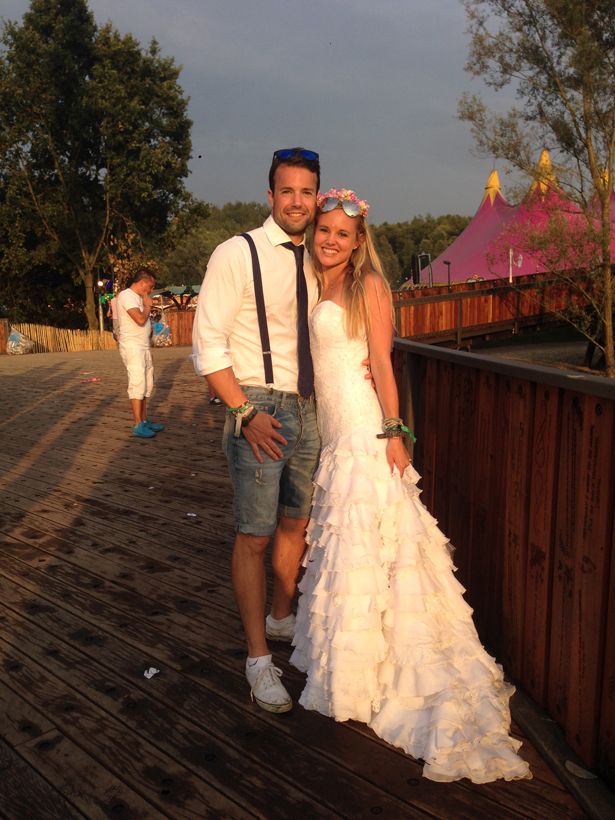 These were just snapped by "professional photographer man" on Warren's iPhone. He was so sad to hear our wedding photo story – and he was SO upset that he didn't have his professional camera on him to take more photos for us!
But never fear – the next person we met on our ADVENTURES was working for The Netherlands Party Guide Photo Site, carrying a massive SLR, desperate to get some photos of us –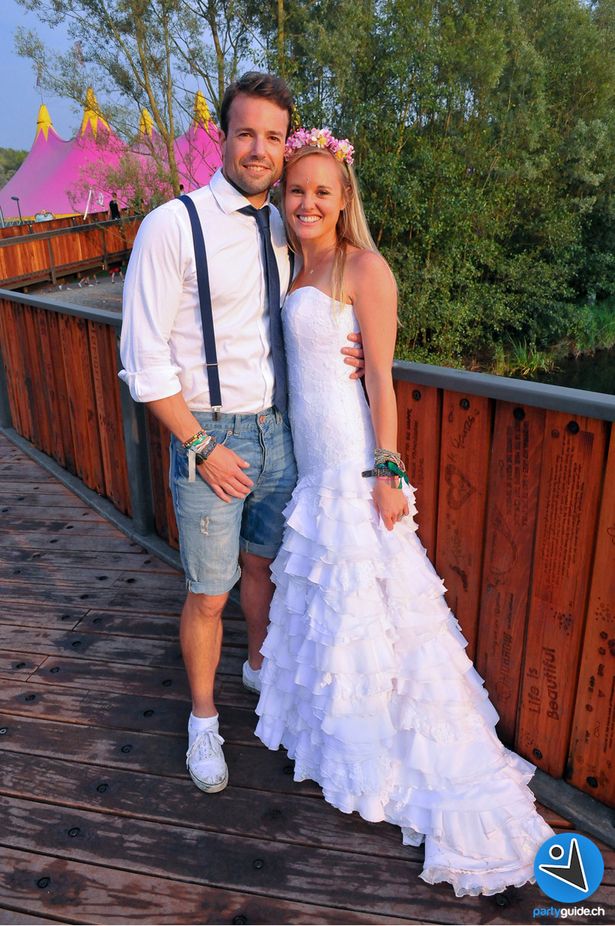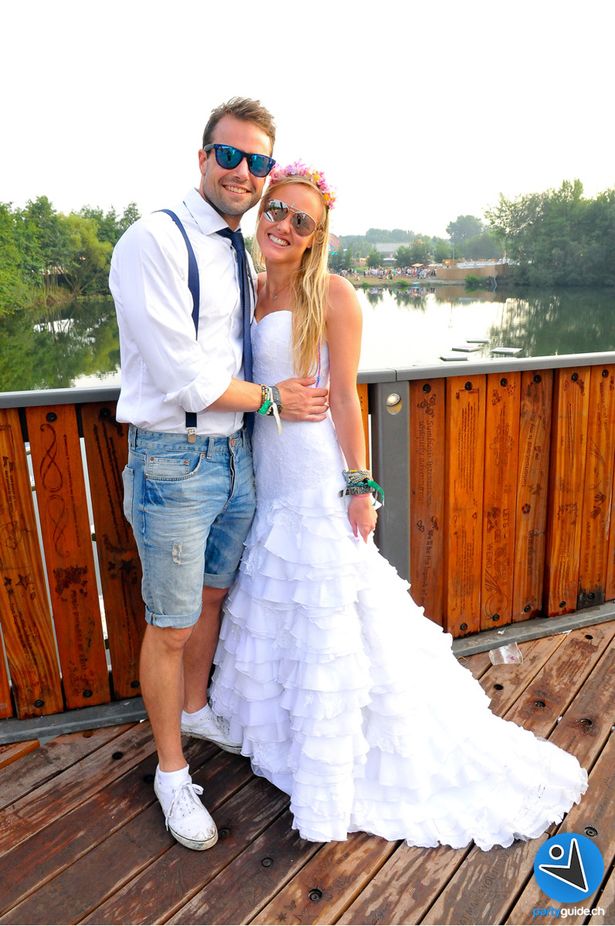 Such a glorious day!
We partied our way through many more excited people, people wanting to join our bridal party and strangers wanting to take photos of us  –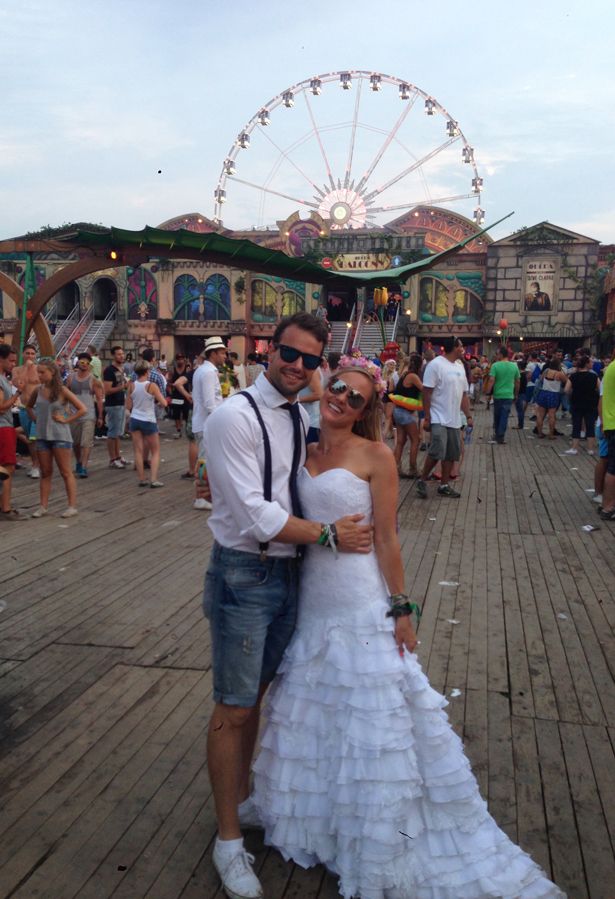 and strangers wanting to take photos with us –
(These are warren's new groomsmen – Larry, Barry, Harry and Gulio.
As you can see, they are all wearing ties.)
#formalwear
Eventually we made it back to our own wedding party to celebrate –
Let me add (speaking from experience) –
partying in your wedding dress at a festival is like…
the VERY best fun you can have.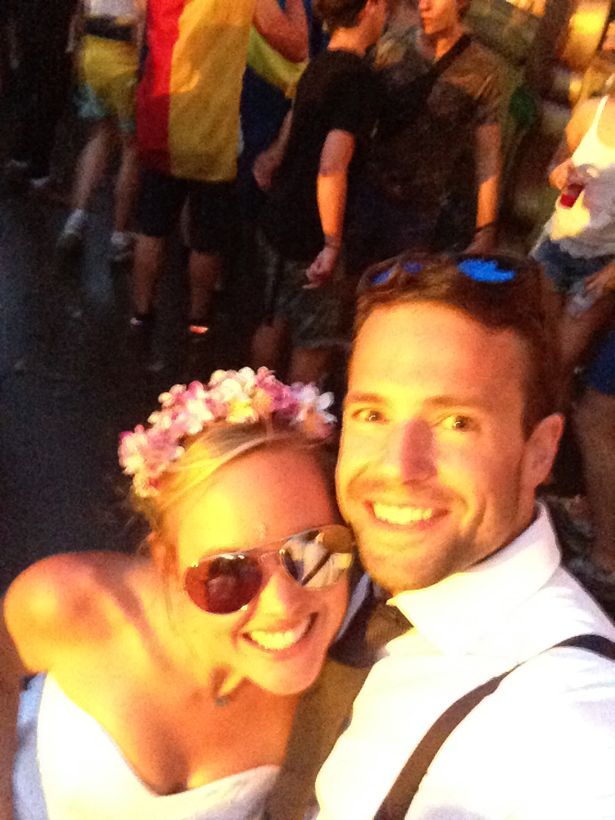 And you guys!!!
remember this photo from our wedding day –

Shelly had the absolute brainwave to snap this photo at Tomorrowland –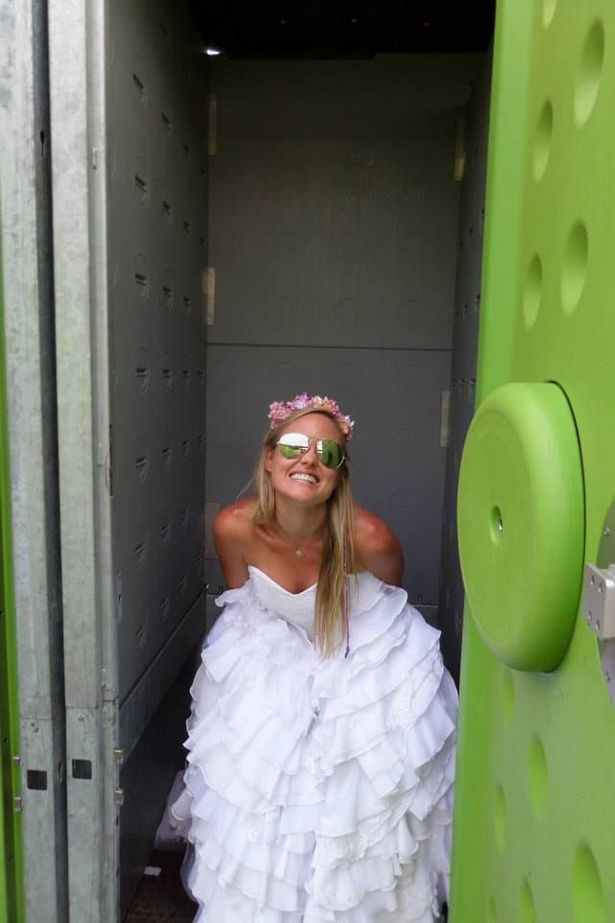 Totally not as hygenic as Netherwood lavatries,
but…
I LOVE IT.


(thanks Shel-dog! xo)
Oh, and Tomorrowland – thanks for organising the most epic fireworks display for us to celebrate our post-nuptial nuptial.
You really shouldn't have.
* * * * * *
And so… the adventures of the traveling wedding dress begins!
…because life's too short to keep your wedding dress white.
Glastonbury anyone?
* * * * *
follow along –
Instagram || Instagram (Yoga account)
PS – For those interested, my wedding dress was designed and created by Maryke from Maryke Designs – I absolutely LOVE it!!