Happy January (although it's already nearly over)! And New Year! I've been wanting to write a post on this for a little while now as it's something that I have been speaking about a lot in my yoga classes over the past few weeks: creating a personal mantra or guiding theme for the year. If the word mantra has suddenly got you feeling that this post may be "too hippy" for you –
I'd encourage you to read on anyway, because you've arrived here for some reason and I've had SO much success with this approach for 2016 – that I thought I would share it and hopefully it can be of some use to you!
At the beginning of 2016, I decided to create a personal mantra for myself. A mantra is a group of sounds/ words/ phrases that you deem to be sacred which are repeated time and again. More "traditional" mantras may not even be words at all but rather parts of sounds or syllables. "Aum" or "Om" repeated at the beginning or end of a yoga practice is an example of a more "traditional" mantra – it's not a "word" per se – but it is sacred and (to grossly oversimplify) represents an essence of universal consciousness. Whatever mantra you choose, choose something that works for you. It could even be to choose one word as a guide for the year.
I decided to focus on the theme of abundance as this is something I wanted to take note of, appreciate and cultivate more of in my year.
From that theme I formulated 3 different sentences with slightly different focuses on the different areas of my life. I then created the following mantra:
I trust in abundance.
I trust in the abundance of powerful connections and rich opportunities.
I trust in the abundance of spiritual growth and personal development.
I trust in the abundance of material wealth and personal riches.
I attract all these things into my life through being open – allowing a current of love to flow freely through me.
All these things manifest themselves strongly into my life in 2016 as I offer them back out to the world. 
I then wrote that down. Yes, actual pen and paper wrote it down –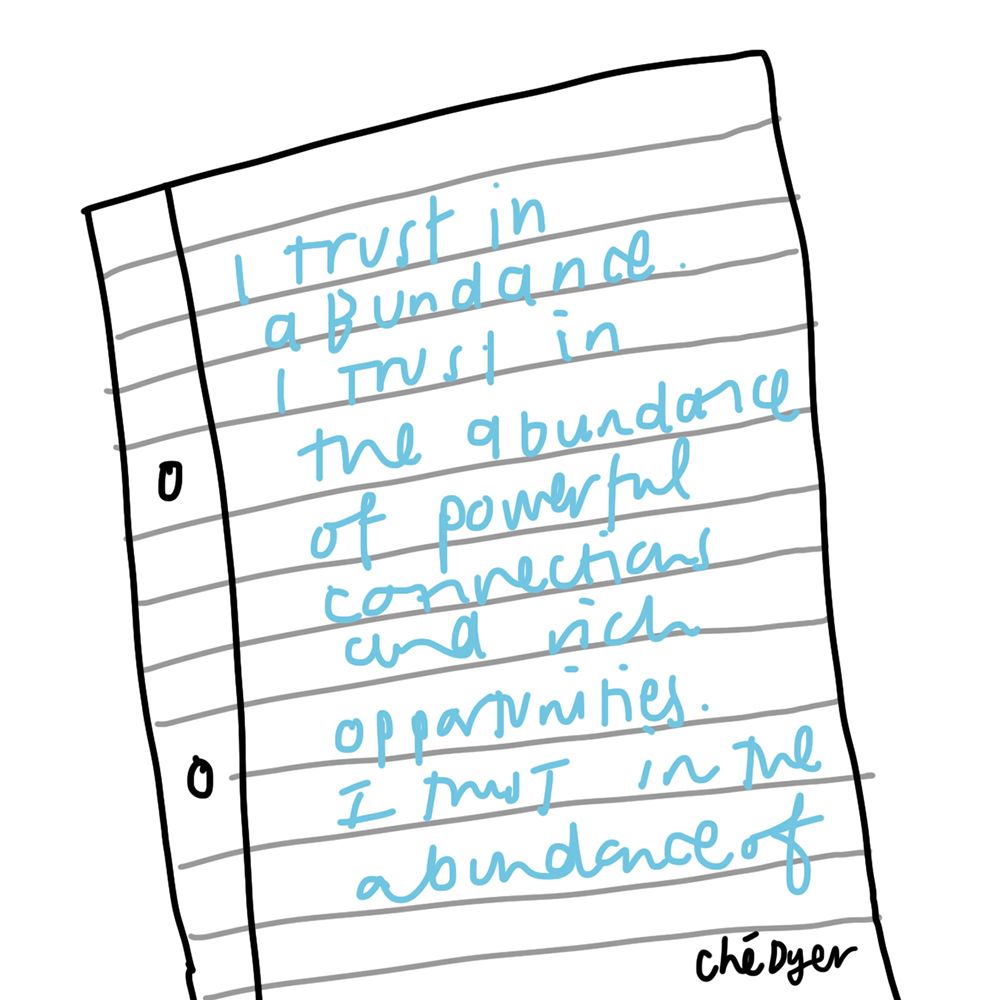 In fact, to be honest, I wrote it down several times. And I also shared it to instagram.
I then learnt it off by heart.
(Note: Even writing that out now above, came straight from my head).
I then began the year by repeating that mantra to myself every day. I started by saying it out loud.
(AND YES – YOU WILL FEEL WILDLY RIDICULOUS DOING THIS)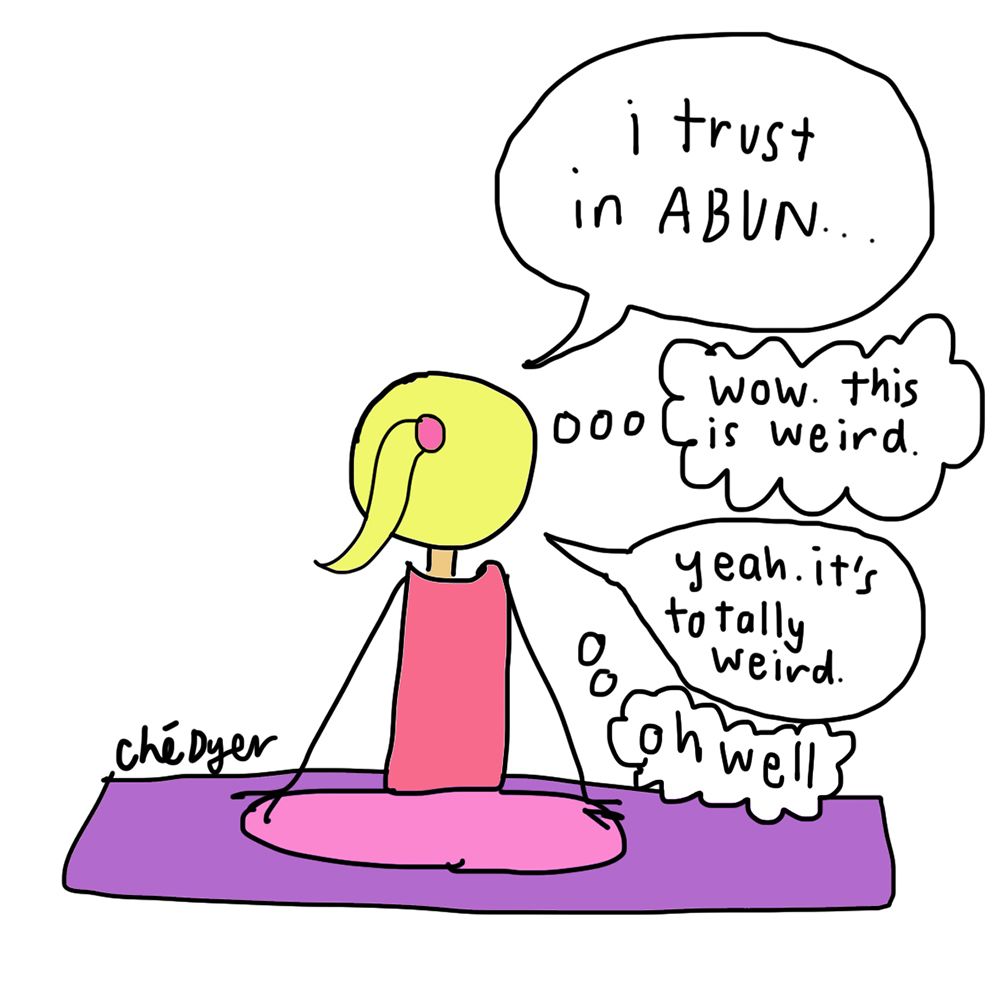 For the first week or so I repeated it out loud to myself every morning before I practiced yoga/exercising. After that I began saying it to myself whispered under my breath (yes, you will still feel strange doing this), and then I moved to saying it in my head. (As a side note: isn't it strange that words we say OUT LOUD to ourselves are "crazy-person-esque" but the exact same words we tell ourselves in our minds are somehow normalised) At the beginning of the year I repeated it to myself almost every day, or even as I was walking to the train station or catching a bus. (Obviously in public I was not saying it out loud like a lunatic – they put people away for that shit, see above).  As the year went on, I didn't feel the need to say it in a "controlled" environment every day but revisited it every few weeks or months.
What happened in 2016 for me:
Rich opportunities and powerful connections:
Somewhere along the path of 2016 I reconnected with Anna Marsh – an amazing women's functional nutritionist and mindset coach (Although I'd be more apt to title her as "women's goal-smashing cheerleader"). She invited me to teach on a yoga + mindset + wellness retreat in Tuscany in 2016 with her coaching clients. It was such an incredible time that we are now going to Bali in July this year! (There are a few spots left if you'd like to join us!). Other opportunities have flooded in – from being offered nights at a luxury game reserve, to new private clients, to permanent studio classes, to ending up on the Ellen show. I have also connected with an awesome guy (thanks to a long time blog reader) who is helping me with my marketing for my yoga guide.
Personal Growth and Spiritual Development:
This year has been a MASSIVE one for both personal and business growth for me. I signed up to see a business coach who guided me through creating structure for my business and launching my first guide. I went to loads more workshops on anatomy, physiology, biomechanics, hypermobility and I began investigating further teacher training in India (more on that to follow). I've read so many incredible books over the course of last year, created systems, structures and invested in my self and my business and if I look back to the start of 2016 to where I am now I can really say it was a year of abundant growth – much of which is pretty difficult to actually put a finger on.
Material Wealth and personal Riches:
Whether it is due to seeing a business coach, investing in an accounting system, through more wedding guestbook bookings coming from having done the National Wedding Show, launching products on Thortful and YogaMatters, a good year with Not on the High Street, or through new yogis coming my way, my income this year has just about doubled. There is also something massive on the horizon for us in this arena and will share more on that when we are ready!
Through the classes that I teach and the work I do, I try to add value to the people I come into contact with. I aim to give personal and spiritual growth to those who come to my classes and provide opportunity for connection and community both online and off. I aim to help people's yoga businesses grow and bring them wealth by helping create strong branding and advice. And in this way to reflect my mantra and intention for 2016, I have offered everything back out into the world. I may not be the best at everything in the entire world, but everything I do, I do with love.
 If I reflect back on this year all I can think about is how wildly ABUNDANT it was.
To clarify this, I don't at all believe that me saying this mantra or continually returning back to this theme suddenly magically made all these things appear in my life. (Ie: If you sit down every morning and say "I'm going to win the lotto" you will most definitely be horribly disappointed). But here is the thing and a little bit of science – because doesn't the cynic in us love a little SCIENCE: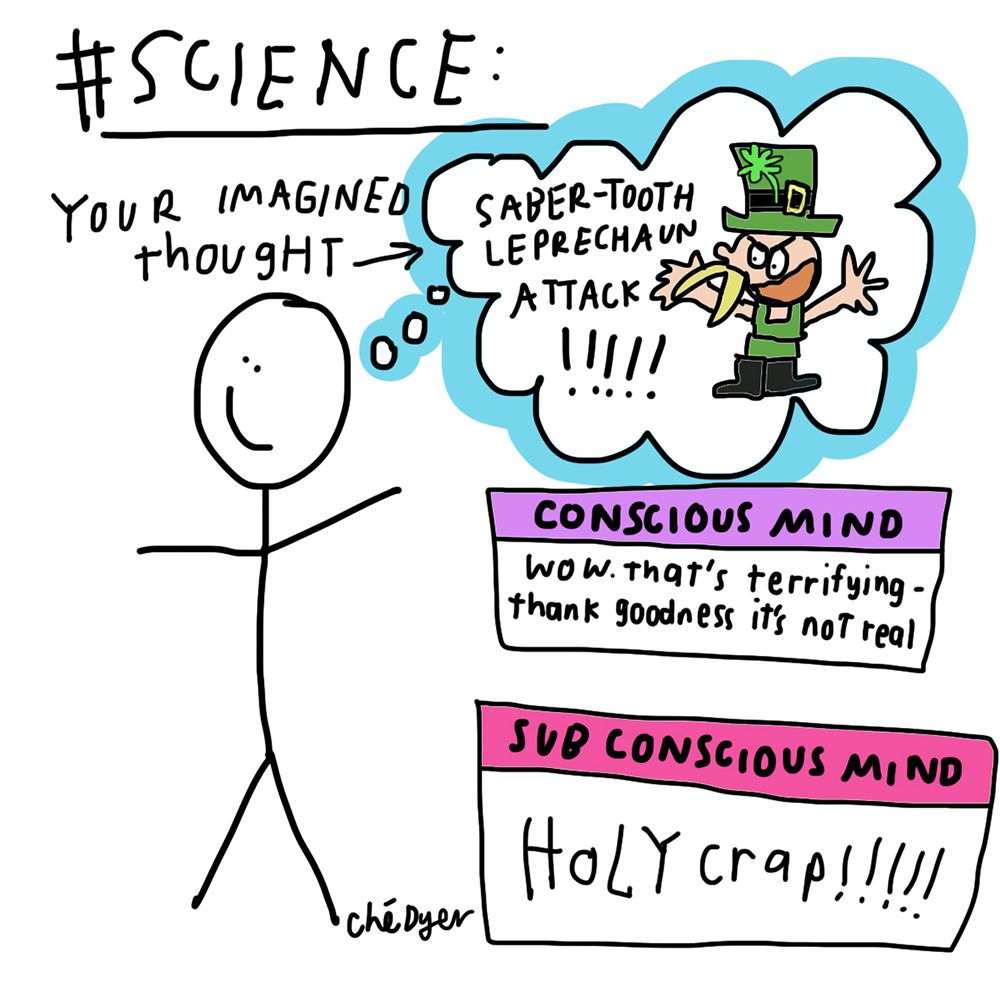 To unpack this little graphic above – the subconscious mind can not perceive the difference between what is real and what is imagined. (This is science). A really good example of this is feeling emotional (happy/sad/excited/frightened) during a movie – of course, the conscious mind knows it is a made up story, but we still feel a reaction to it since the subconscious mind has no way of determining that it is not an actual real event. Similarly, if you repeatedly tell yourself "I am quite a pathetic loser" – maybe a teeny tiny part of your conscious mind knows that it's not reallly true – but your subconscious mind has NO idea. In exactly the same way if you repeatedly tell yourself, "I am successful, amazing things come my way!" – your subconscious mind automatically treats it as truth – because that is all it knows. Our entire life is shaped by the things we do or the things we don't do; and the things we do – our actions, behaviours, habits are formed from the things we inherently think and believe: cue subconscious mind.
There are many ways to term this: growth mindset, self-fulfilling prophecy, the law of attraction, The Secret, power of positive thinking, subconscious awareness – it's ALL the same thing. It doesn't mean that your situation will necessarily change, but your mindset to that situation will shift and that is where the power is. Adopting a new frame of mind gives you the opportunity to be open to new opportunities that you may not have seen otherwise. It's our perception of a situation which creates it as positive or negative, not the situation itself. And sometimes we actually need to remove or reframe that perception to be more aware of what is actually already present. In other words, having this mantra to return to throughout the year – in some parts may have caused me to act in subconscious ways to manifest more abundance but actually more likely, it forced me to take note of how my life is actually already pretty freaken abundant as it is.
And to close that circle with a lovely little bow on top – when we give gratitude for what already IS in our lives, it creates space for more of it. And that is the subconscious mind at work! 🙂
I haven't yet formalised my theme or mantra for this year – I've been thinking on it for a little while and deep down I know it should be focused on something like "organisation". Although "organisation" is pretty un-glamorous so the conscious-mind part of me is still trying to resist it in favour of something more spectacular like ADVENTURE, or LOVE or EXPLORE.
Hmm… we'll see who wins this battle… I'll keep you posted. 😉
If anyone has ever used a theme/mantra/ word for the year – I'd love to hear what you thought of it and if you've decided to do it again!