Wedding Dress Adventures Paris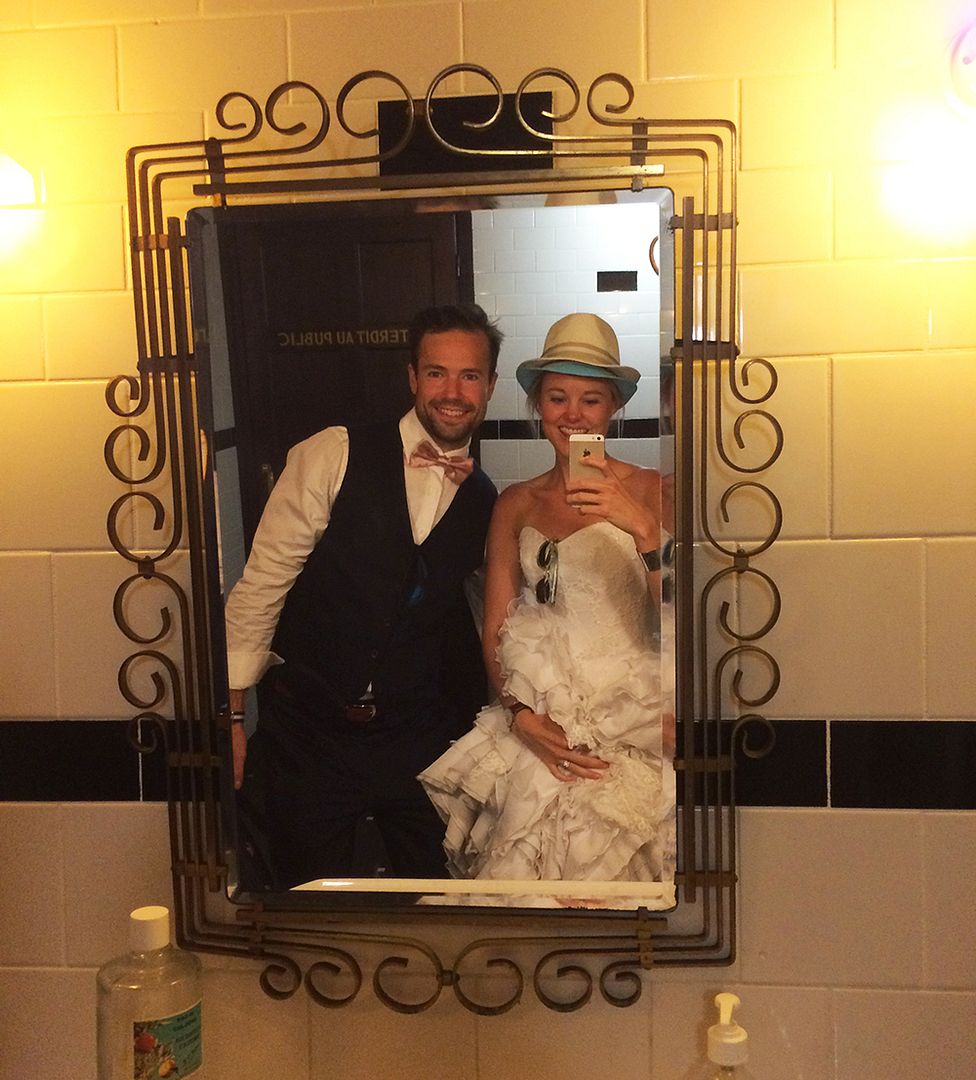 So, we gave up drinking for 3 months (and saved a mountain of money) which prompted us to take a quick reward-pop over to Paris for a long weekend! Needless to say, we had to bring our wedding kit along to add to the Wedding Dress Adventures! (You can follow along on instagram here).
It's always super tricky trying to find a place A) big enough B) close enough to the main attractions and C) willing enough to let two strangers get into their wedding kit for no apparent reason. Plus there's usually an added language barrier thrown into the mix! We had scouted out a good picture taking location the day before and then on the next day (which was gloriously bright and sunny) – we trekked out, wedding kit in tow, trying to find a place to change.
We searched for a while until we found a tiny little back alley pub and tried to convince them to let us use their bathroom to change into our wedding gear. This was all done in hilarious broken English and eventually one Parisian waitress figured out what we were trying to do and showed us to the downstairs toilets. Since Warren has to help me get into my wedding dress, I basically just changed in the entry-way between the staff kitchen and the toilets. (Classy, I know).  The kitchen staff kept coming down the stairs and looking at us in an extremely bizarre way. Oh well. haha. We snapped the pic above right after getting all our kit on!
We emerged from the toilets like a Cinderella story in all our finery – to trot across the road to the Eiffel tower –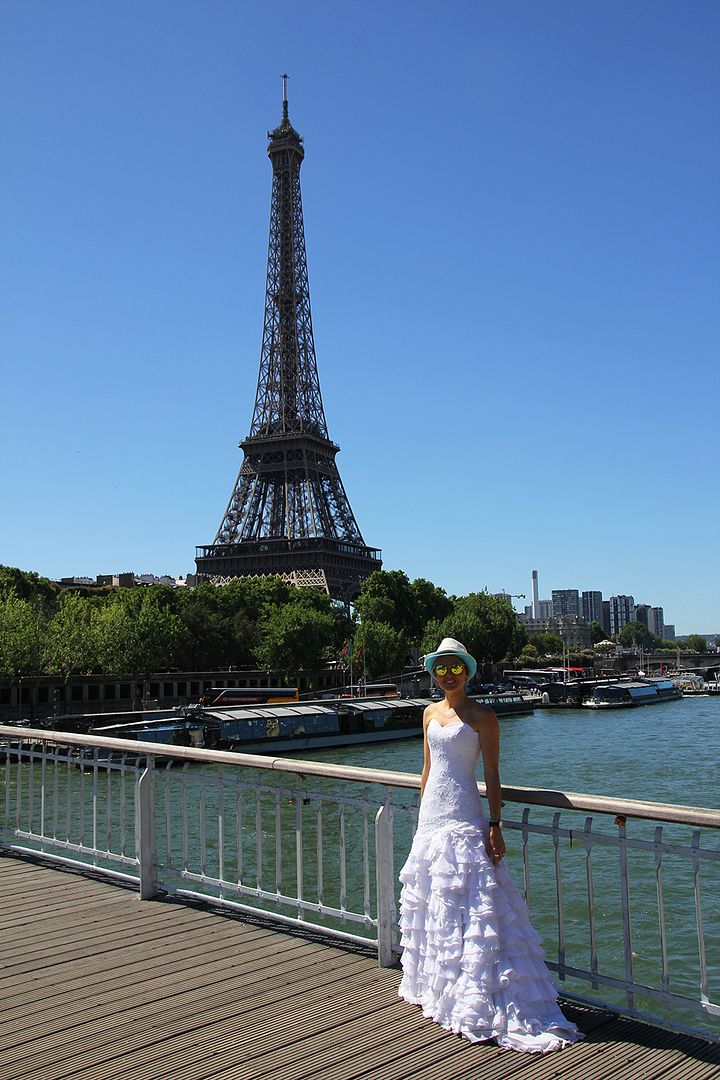 Warren spent a few moments making sure the camera was set up right before we enlisted (begged) the help of a stranger to take a photo of us.
Some random strangers are really good at taking photos for us (thank you!) and others, I don't think quite get it…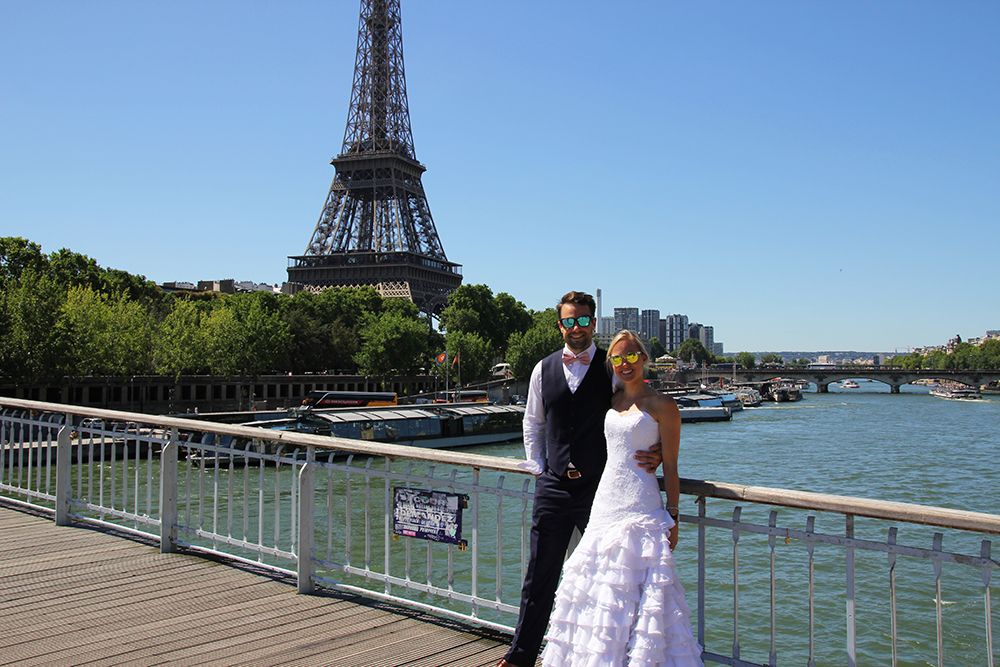 I mean, when you're standing in your wedding kit next to the Eiffel tower, having flown all the way to Paris to see it, you would think that someone would try get the whole thing in. lol
We politely said "thank you very much" and then hung around waiting for someone else to come passed –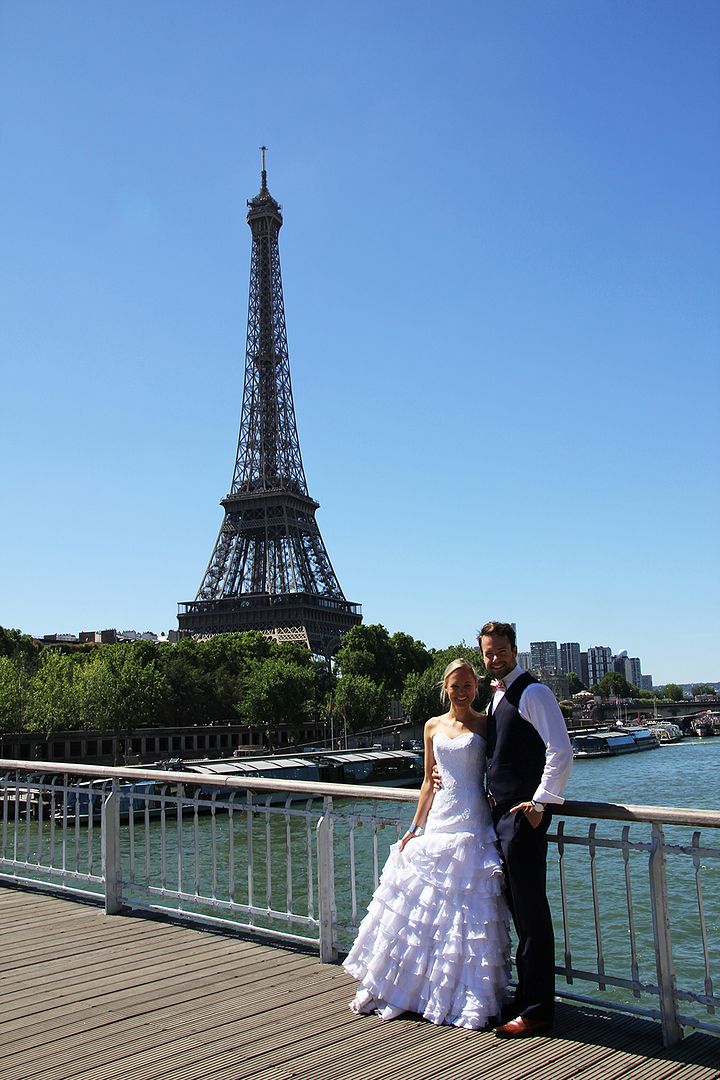 BINGO!
We also decided to take a few selfies – ya know, (with our record of losing photos…) just in case.
We started walking up the street, towards the next view point we had spotted and asked another stranger to take a snap for us. We were also then stopped by 3 Asian tourists who asked to have their picture taken with us. We said yes (of course) but really – we are going to have to start charging for these soon, as it happened in Sydney too! haha!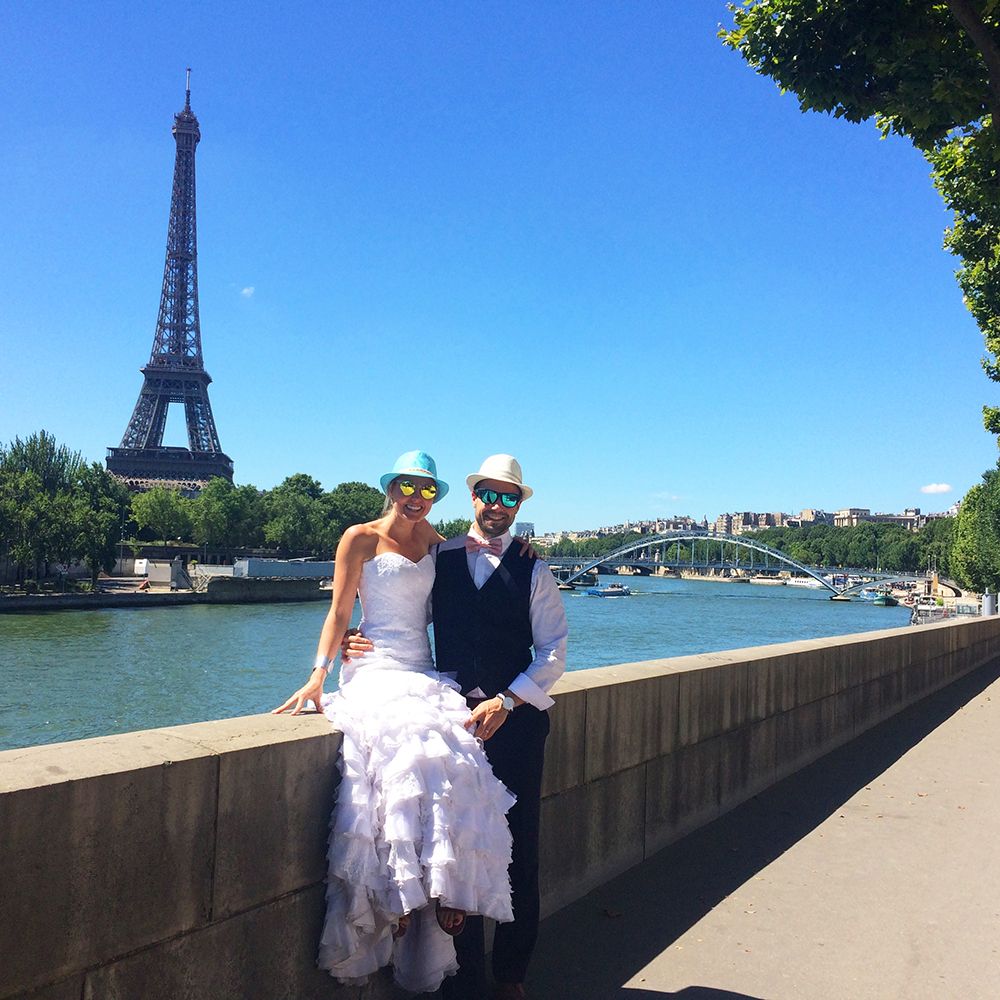 At this point Warren was hot and bothered we debated whether or not we should walk up to The Arc de Triomphe and get a snap there too. One of us was not keen to walk in the heat (not me), so we got lured into a fancy transportation system. Our guide was determined to charge us a super inflated price compared to what we had seen yesterday, since he had the Lamborghini, but luckily we got a good deal in the end with it being our wedding day and all.
It was a super fun (and breezy – I nearly lost my hat!) ride up toThe Arc de Triomphe in the back of our Lamborghini! –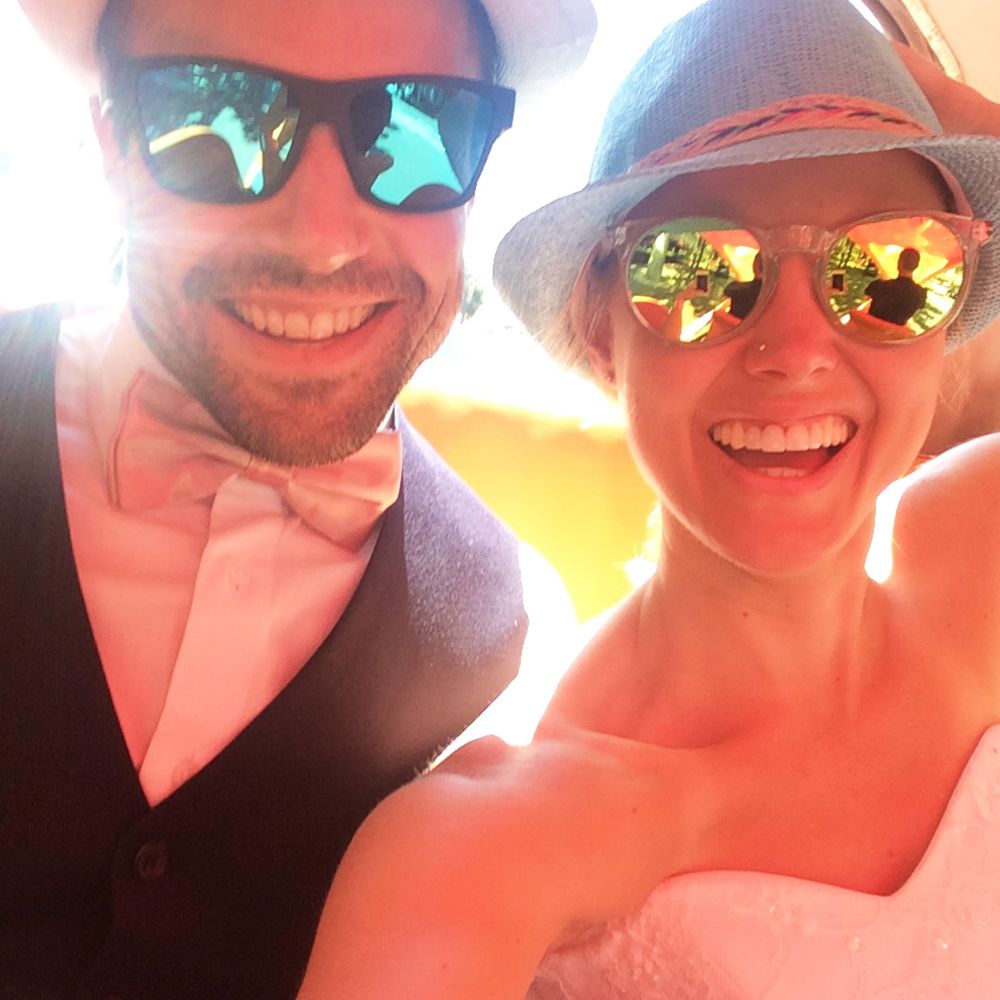 AtThe Arc de Triomphe our driver popped out and offered to take some snaps for us!
I'll be honest, at one point we were really worried he was going to run off with our Camera – but he did take a few rather artistic shots! Thanks Lamborghini-guy!
Then our Lamborghini-guy pedalled off into the sunset leaving us lovebirds to marvel at each other in the Parisian sunshine –
We snuck across the road and started trying to take some selfies in the middle (I have a hilarious one where my hair is blowing right into Warren's face looking like he has a blonde moustache) Someone crossing the street saw our plight and offered to help!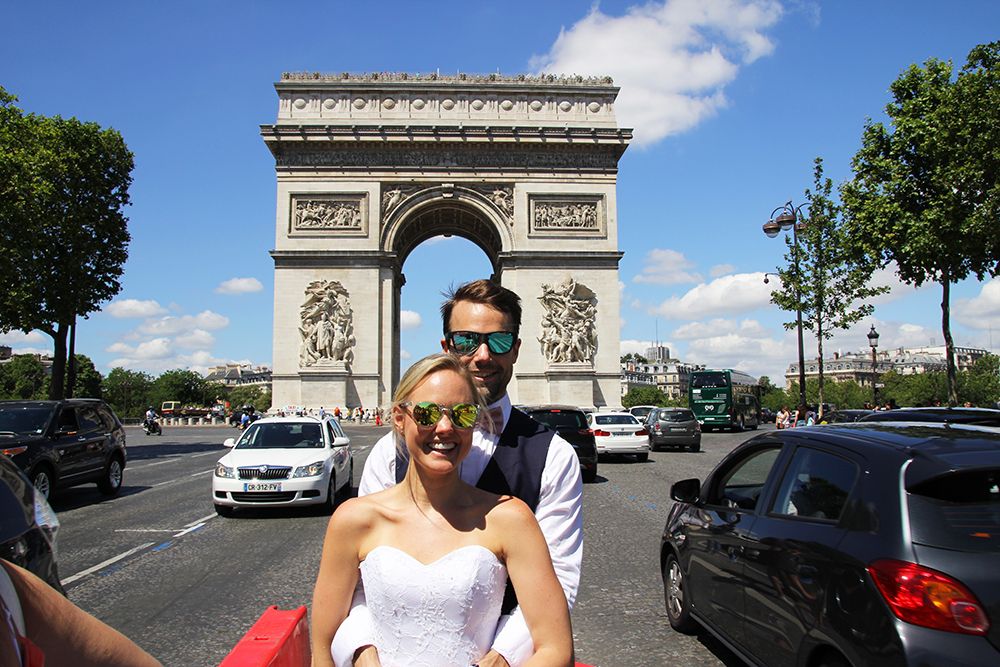 Since we had now travelled quite far away from the bar we had originally changed in – and having succeeded in our Paris photo-mission, we now needed to scout a new place to get back into our regular-rags. So we trekked around the Champs Elysees (bearing in mind that mid-afternoon on a Sunday, it was pretty freaken crowded) BUT – It's totally normal to walk around in your wedding dress in Paris, don't worry.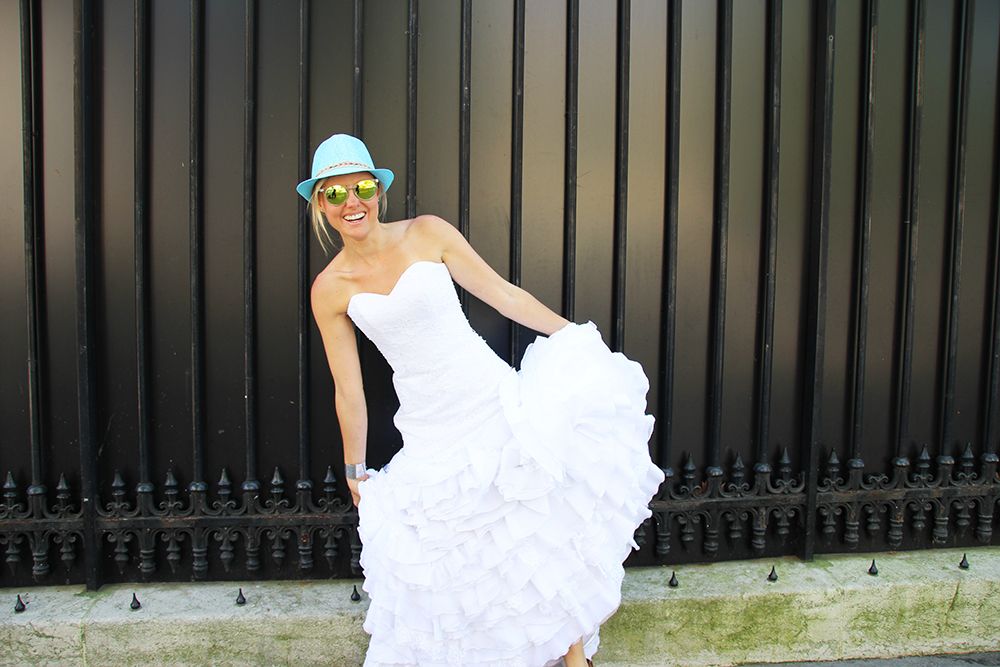 After walking for a few blocks and seeing every restaurant/bar/pub/shop super crowded and full we eventually decided that we needed some place quieter to change… After walking for a further few minutes, we were almost at the point of attempting to change right out in the open down a quiet street (which would have been extremely difficult to explain to the French Po-Po had they caught us semi-naked getting out of our wedding kit). Eventually after a bit more searching we found a gorgeous little pub down a less busy street overlookingThe Arc de Triomphe –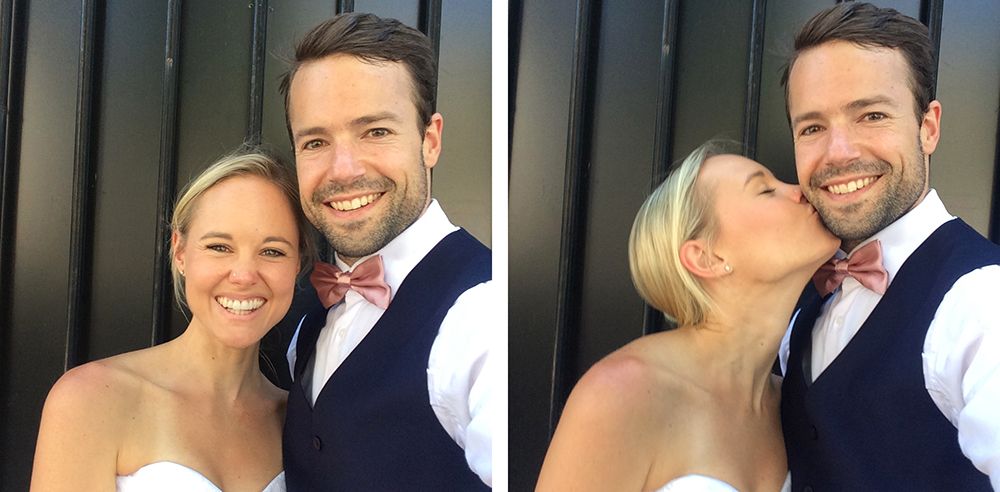 We hustled inside, asked if "the bride and groom" (lol) could please use their bathroom – ("oui!"), so we headed in, climbed out our kit and celebrated with a drink in the sunshine and a big ol' platter of fromage!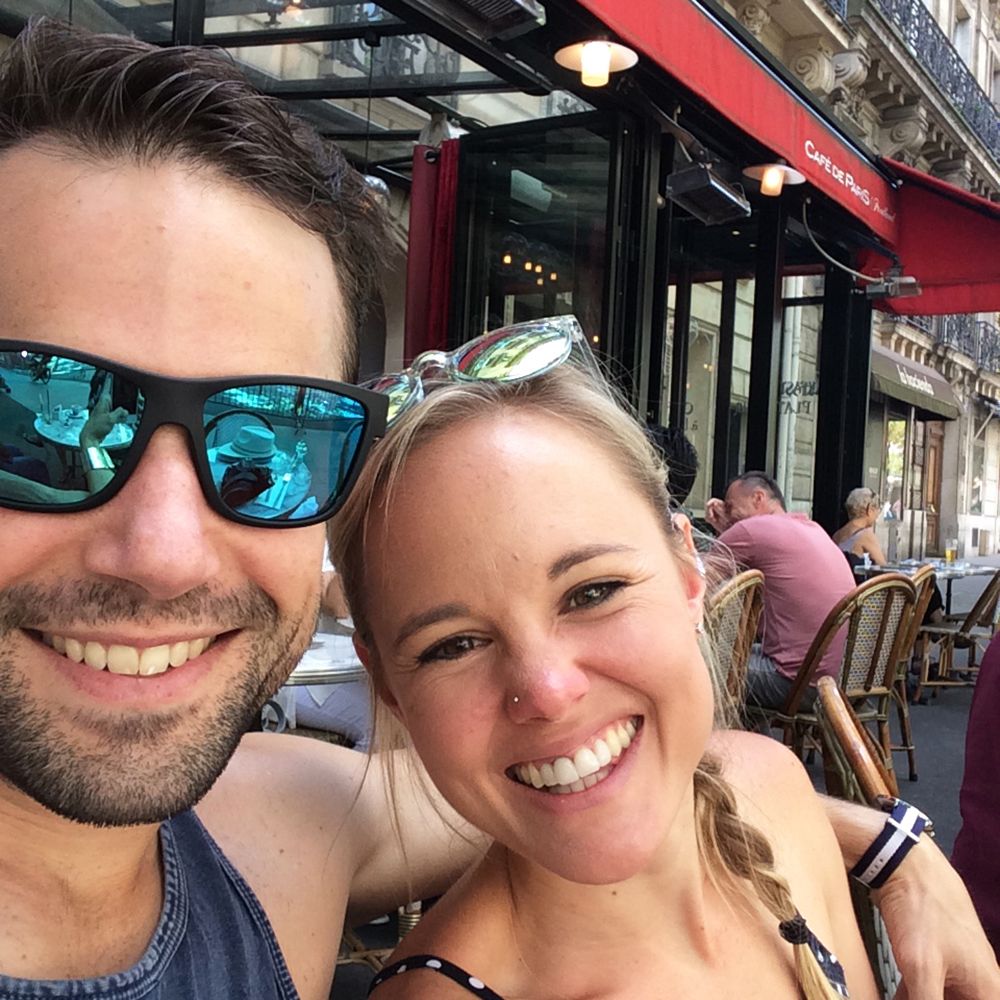 We decided to end our "wedding day" by heading into Shakespeare and Co for an ice-cream (YUM!) and then hitting up the most awesome rooftop bar Le Perchoir as recommended to me by the Parisian @CamillePou on instagram! (Merci!)
SO much sunshine (#sunburn) and so many delicious cocktails! (probably one too many). And some yummy veggie wraps and pizza slices – all to tide us over for the most glorious sunset over the Paris skyline –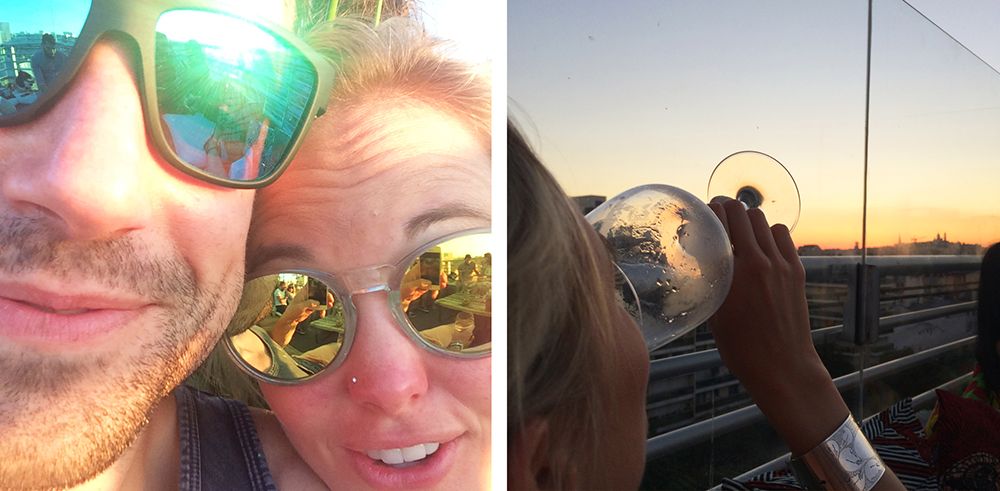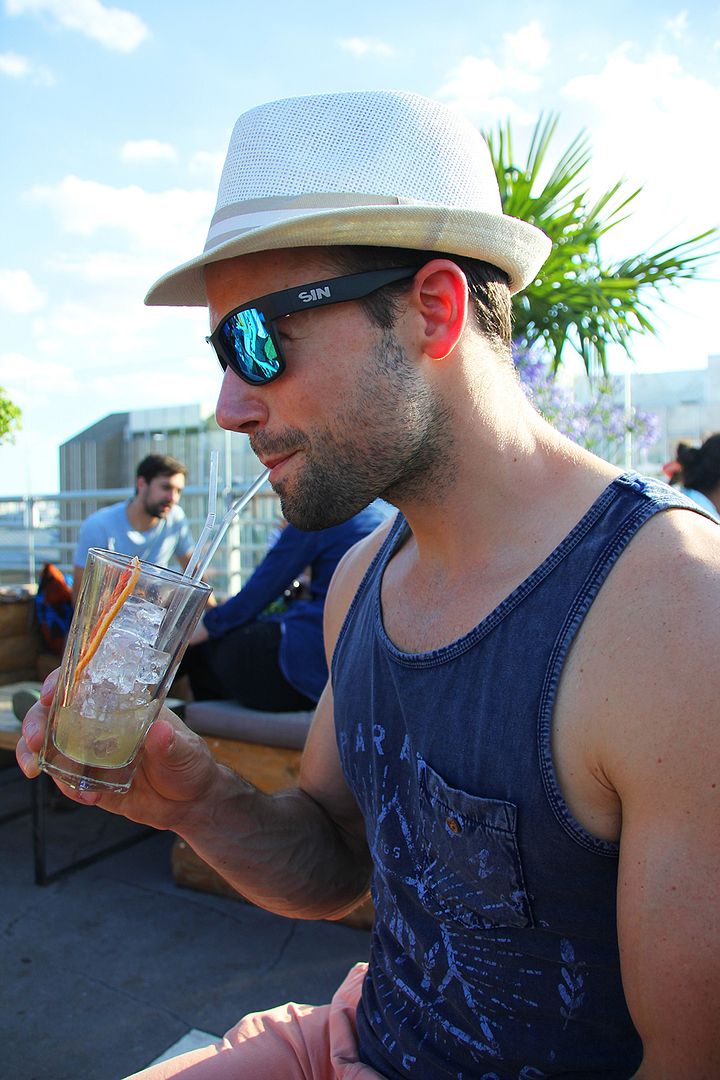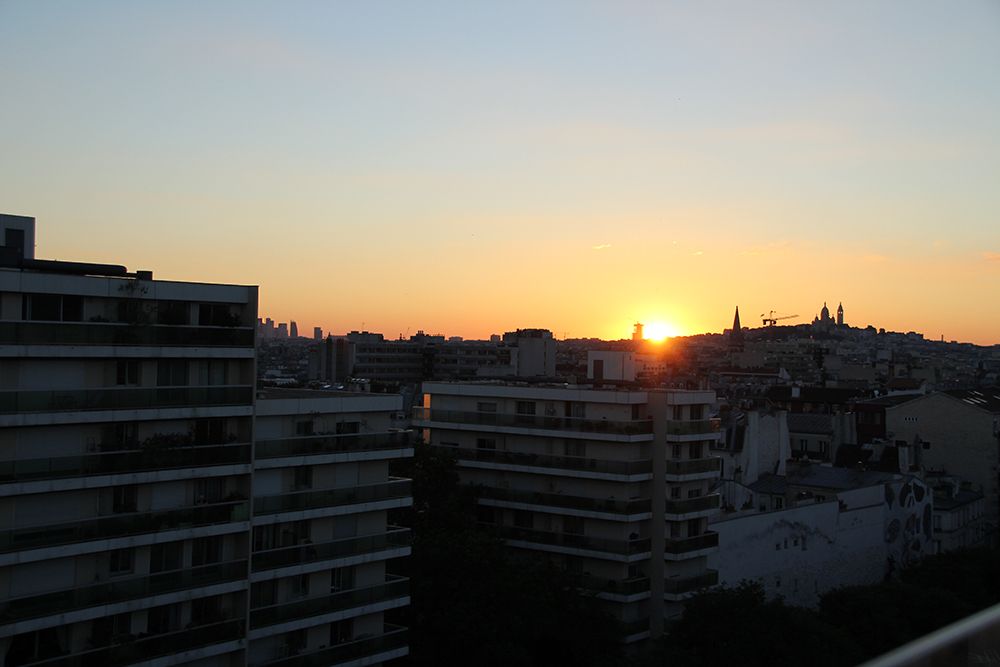 Such an amazing sunset to end off an amazing day! And another adventure to add to the wedding dress travels!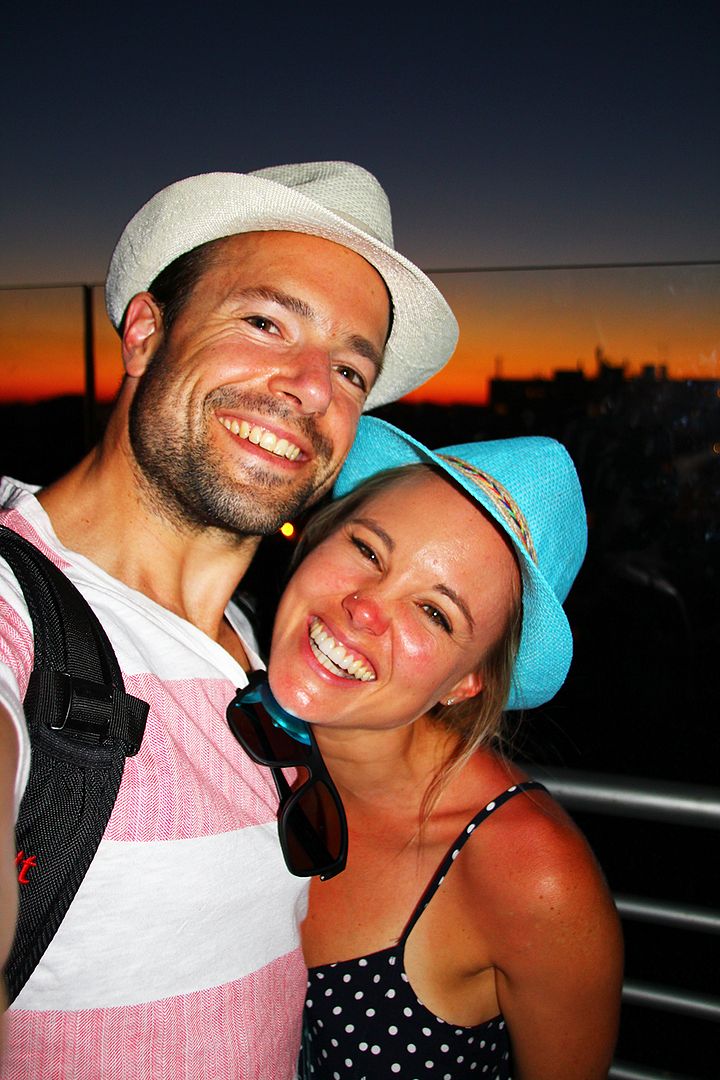 Thanks for being my hot Parisian-lover Mr Dyer… I'm looking forward to the next adventure already…
xo