Wedding Dress Adventures, India March 2017
I'm so super excited to bring you another edition of the WEDDING DRESS ADVENTURES! Half way through my yoga teacher training in Goa india – The Warr messaged (in the intermittent wifi) to tell me that he had booked flights to come and visit me at the end of training! I was having a bit of an emotional week on the training – so it was the best surprise knowing that he would be joining me in India for a little bit! Given the history of our wedding dress adventure story – of course we HAD to fit in another few snaps!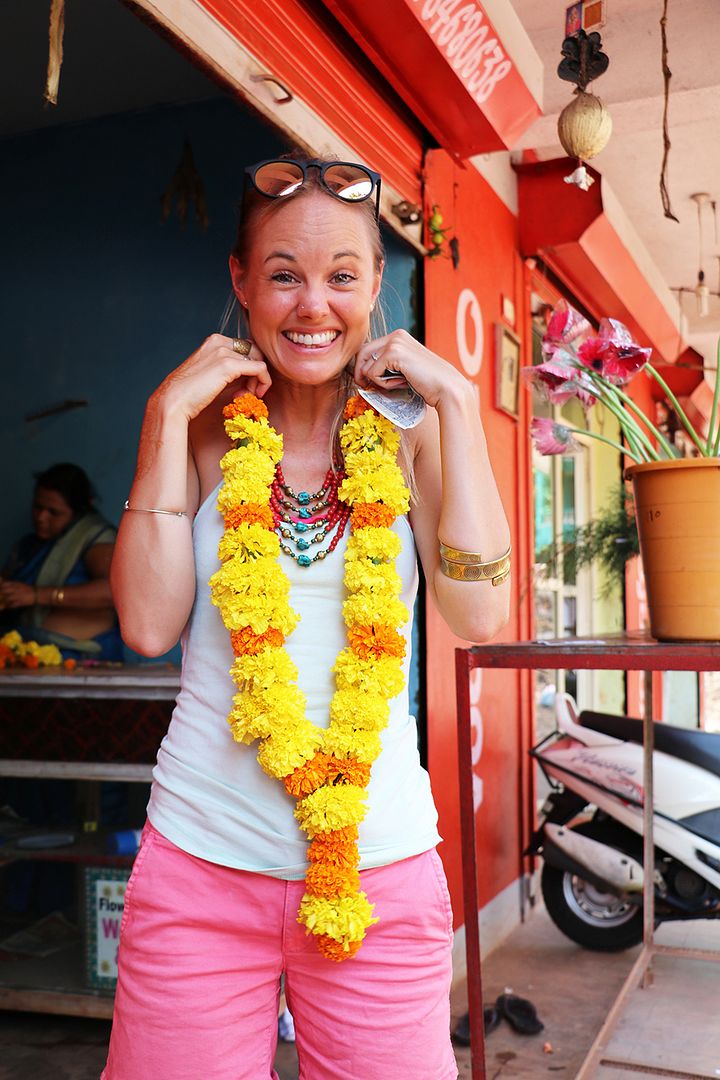 On the day of our "Indian wedding" – I went across the road to a little kiosk shop to order some flower wreaths to wear around our necks. We had received some flower garlands at the end of our graduation from the training and I had actually saved them (hanging up in the shower) to try and use them – not knowing where I would be able to find anything like that in Goa! After a little bit of research (thanks Jack) I found that we could get some made right across the road for about 50 rupees- bargain! So that's the first place we headed! Fresh flower wreaths on your wedding day, a definite must!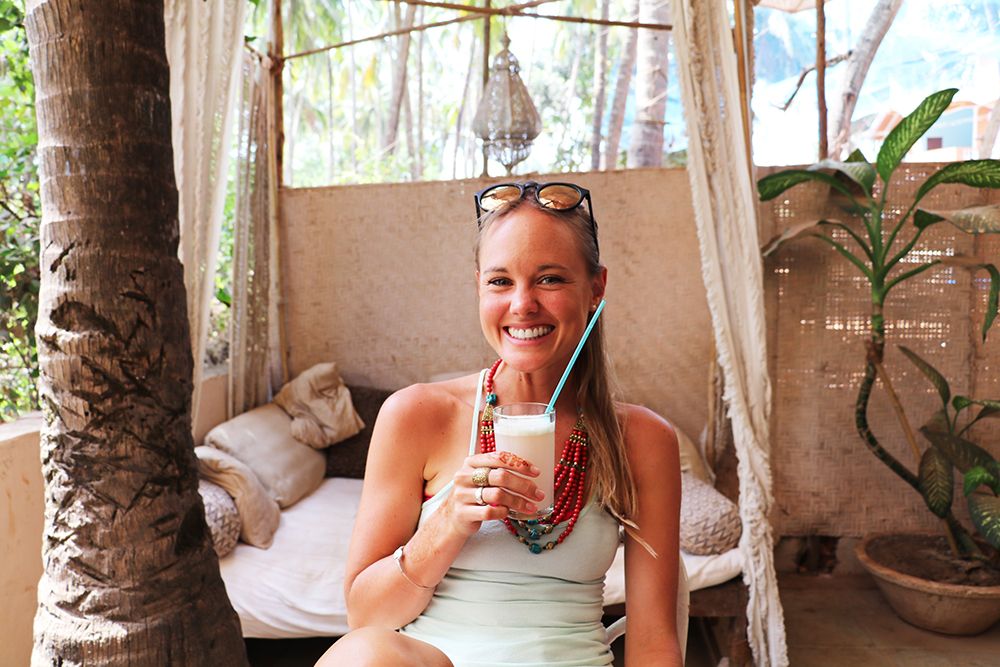 Next we needed to fuel up on some breakfast at a local organic cafe… bride needs her breakfast ya' know! We met some of "the team" at the breakfast spot and loaded up on smoothies, green juices and pancakes. One of the most challenging things about 'snapping wedding photos around the world' – is the issue of where to change into our wedding kit (mainly the awkwardness of trying to change into a giant wedding dress (which I can't get into on my own) when we are out and about) – like that one time we had to try and convince a Parisian bar owner round the corner from the Eiffel Tower in broken english that we would like to use his bathroom (together) to change into a wedding dress. (what?). (He was VERY puzzled to see an ordinary couple go into his dingy bathroom and then a bridal couple step out, I digress.)
This time we were getting ready in STYLE!! For the indian edition I had a whole gang of gorgeous bridesmaids – who were all wearing indian princess dresses which we had bought/loaned each other for the grand occasion! We got ready in Marley and Mollie's new room on the beach – which was the most retro-kitsch-stylish place I've ever changed with it's purple satin valance and all. (In fact, something about this does really remind me of the decor at our actual wedding – which was Moroccan, copper/gold/bright coloured -themed! haha!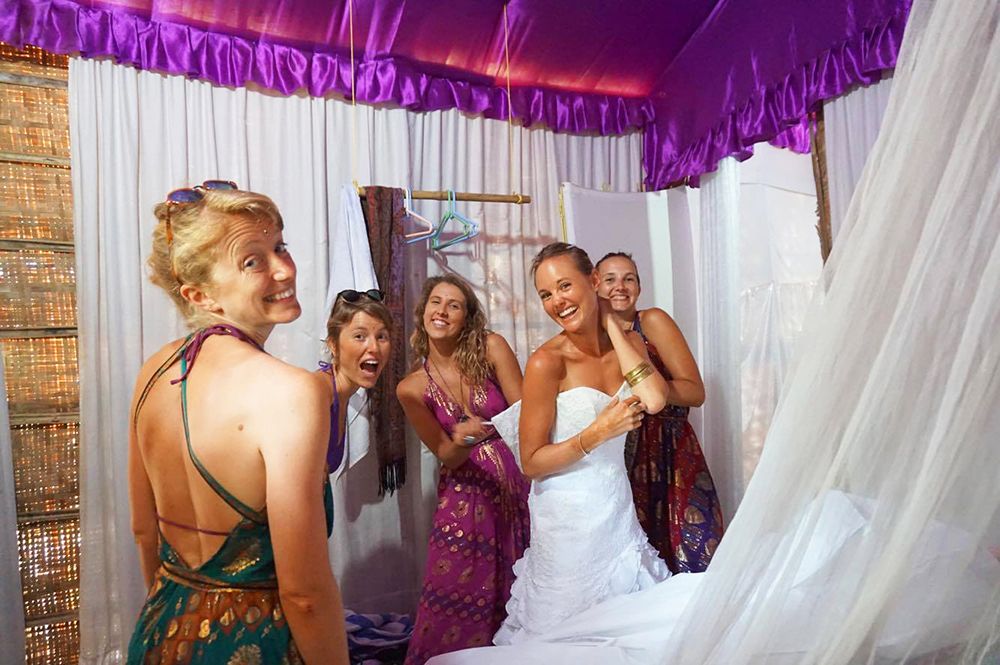 It was DEFINITELY very cool getting ready with all the girls who were possibly even more  as much, into it as I was!!! We did all our make-up, put bindis on and got all the bridal-princesses ready. (Note: by "make-up", I mean – "whatever will stick on your face before sliding off in the heat-wave" so… not much. lol).

And then my gorgeous Indian princess bridesmaid led me down to my handsome groom!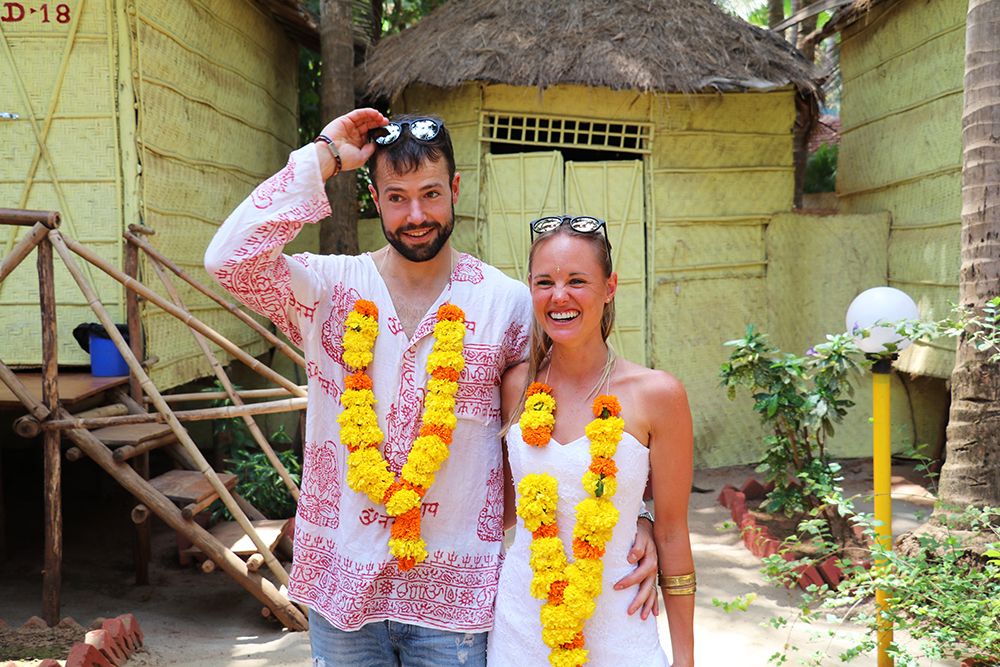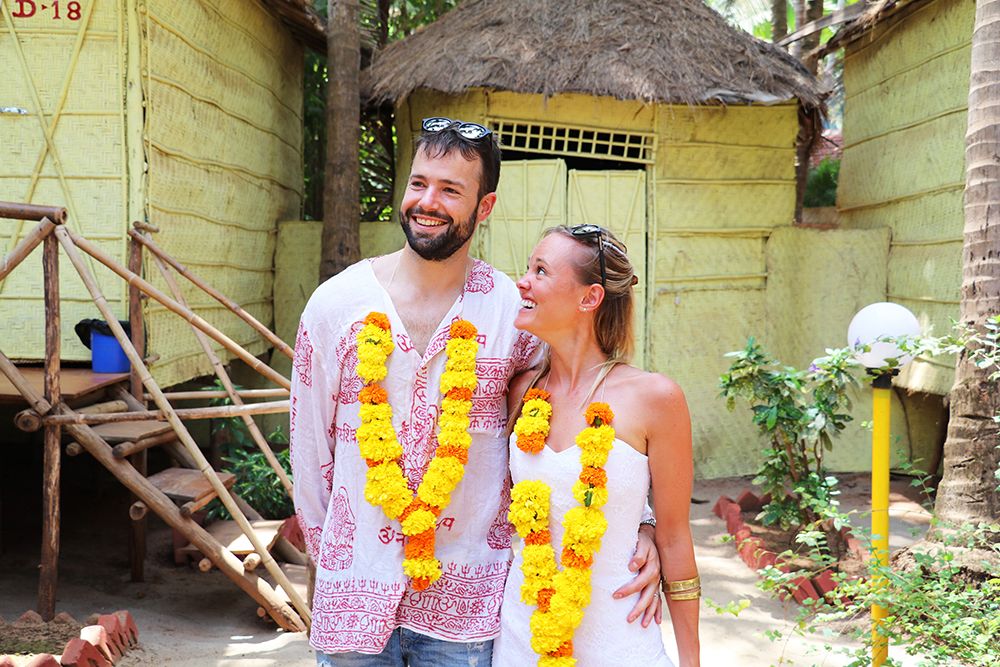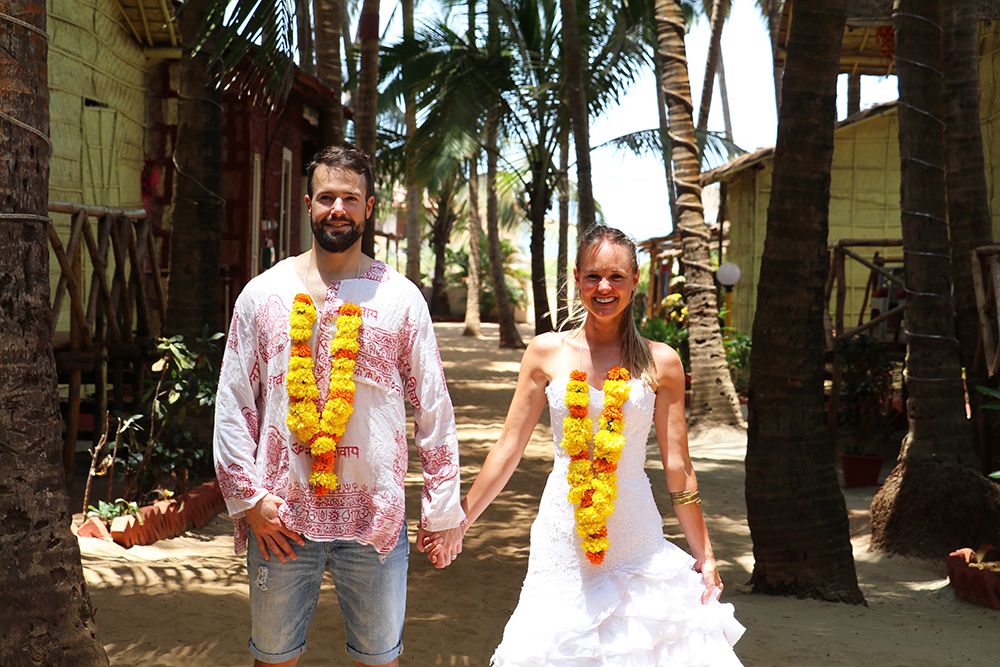 We decided to have a few "bridal party" shots outside the beach huts  –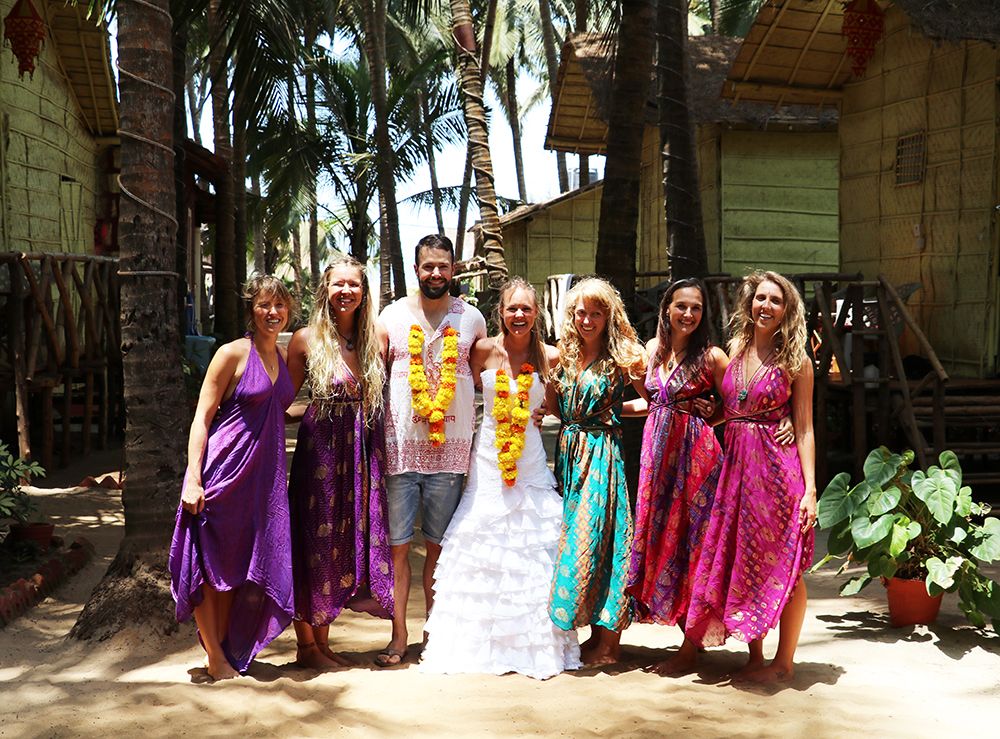 …and in fact the more I look at these gorgeous bright mish-mashed colours, the more I realise how IDENTICAL they are to the colours that were at our actual wedding day. SO perfect!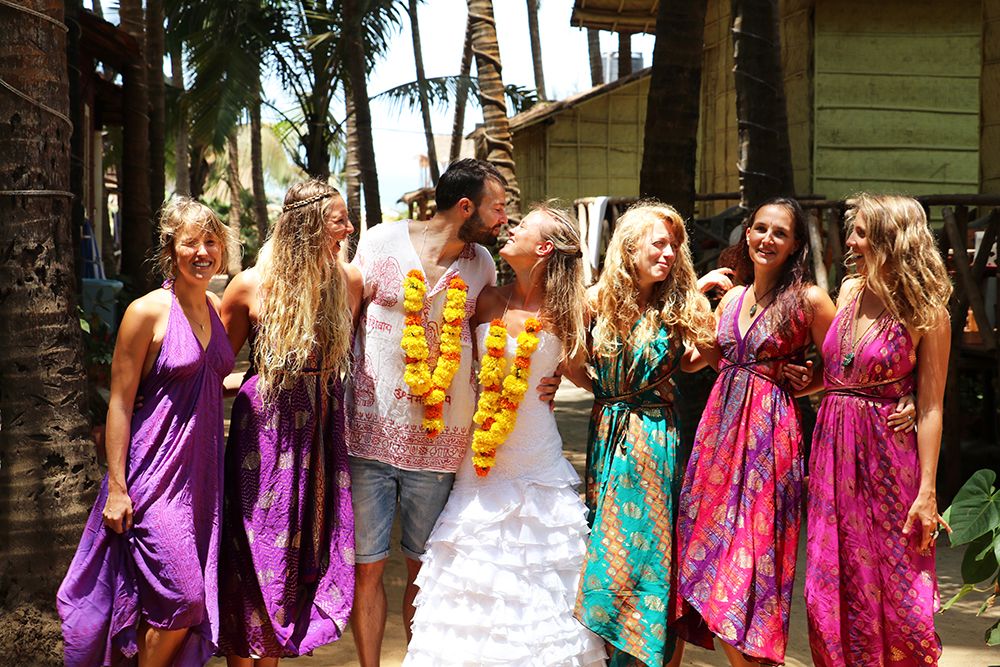 And of course when you surround yourself with a bridal-team of epic yogis there is BOUND to be some yoga posing!!
Next we decided to head off to the beach!
Being the yogis that we are – we had somewhere (around week 2 of training) ditched all our shoes. This is great for navigating everyday life, but definitely NOT so great at navigating blistering hot indian beach sand in the boiling midday sun. I have a GREAT video of this exact moment and it is punctuated with a LOT of crazy yelping, wild screaming, epic dashing and bursts of swearing!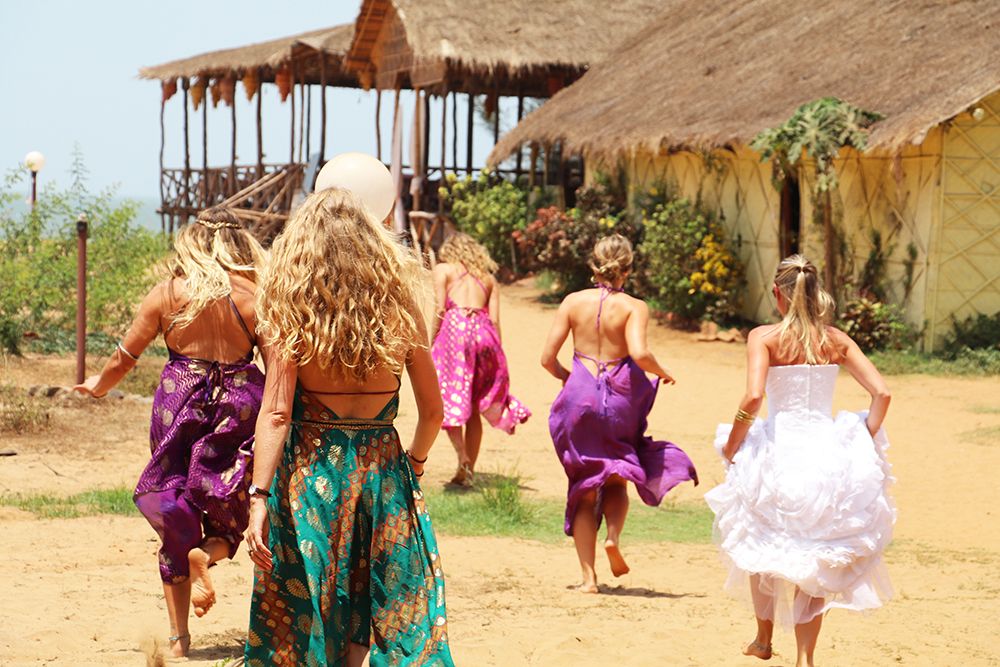 My feet were on FIRE so much from the sand that I ducked into the nearest door I could find – which happened to be the Dunes kitchen. Thankfully they could see our shoeless-plight and (being in a wedding dress and all) they happily let us sneak through their kitchen to avoid our feet-frying –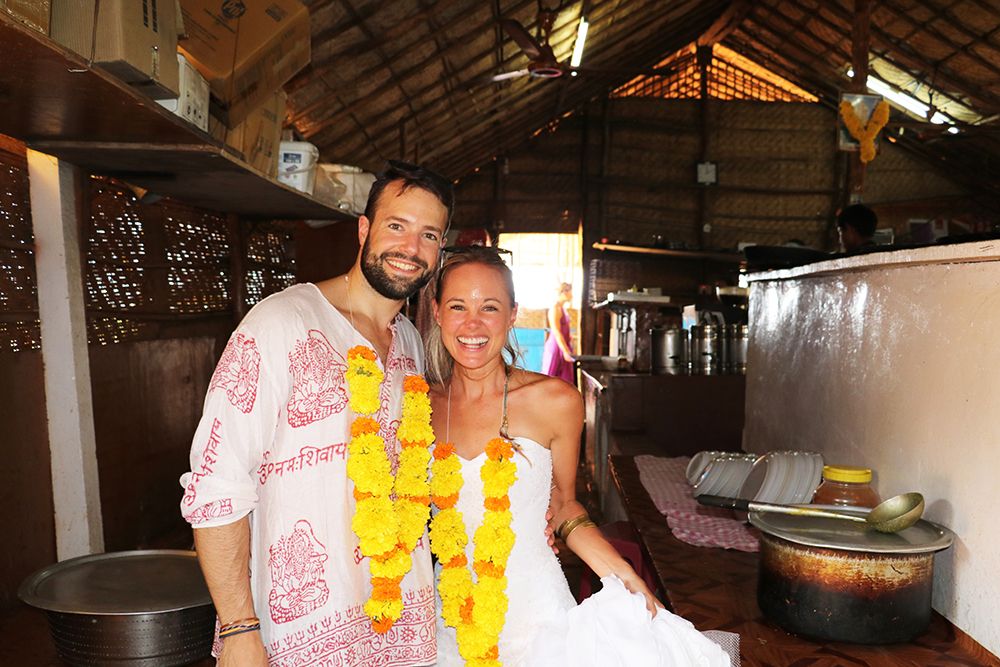 Since we had just paraded through the kitchen we owed it to Dunes to have quick stop overlooking the beach!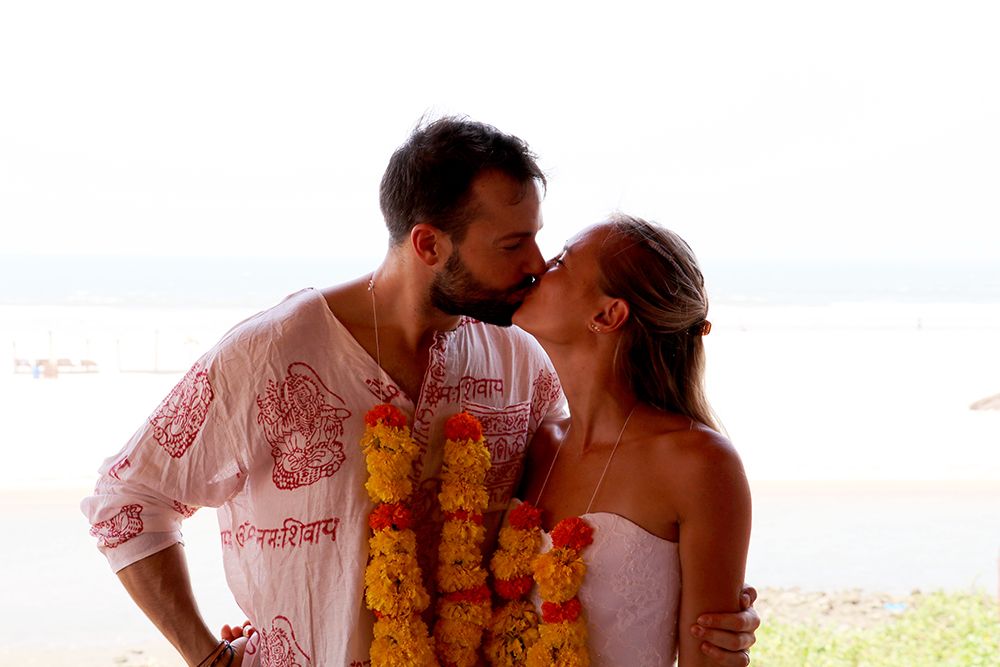 Soon we were back ready for action –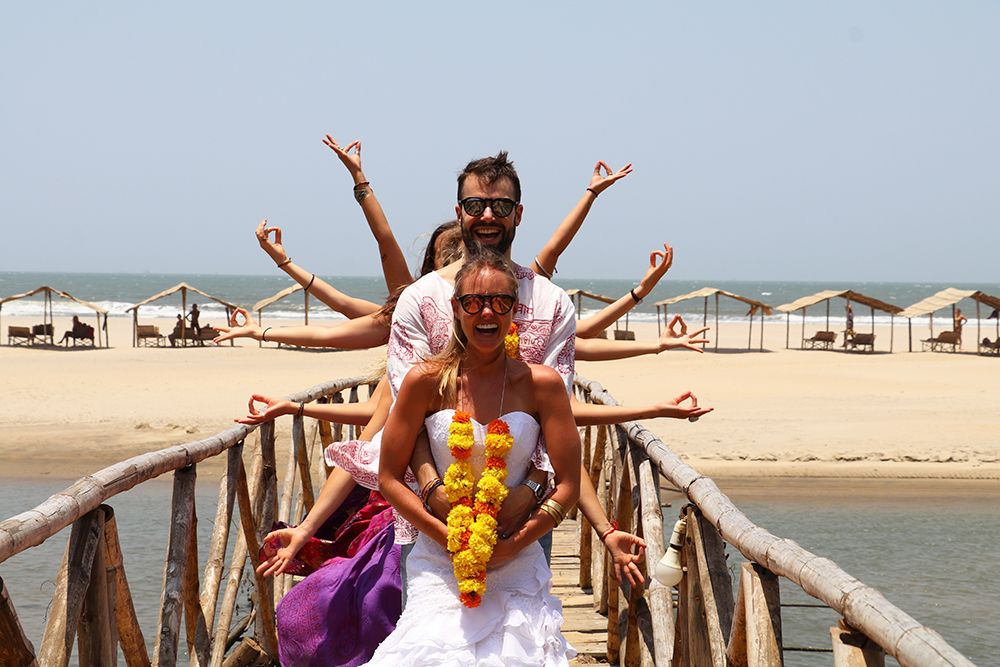 At this point I would add that we had quite the entourage. Dan, who had unwittingly (and possibly un-requested-ly) been assigned the role of professional-photographer and Simon who had landed the ever-coveted role of second shooter.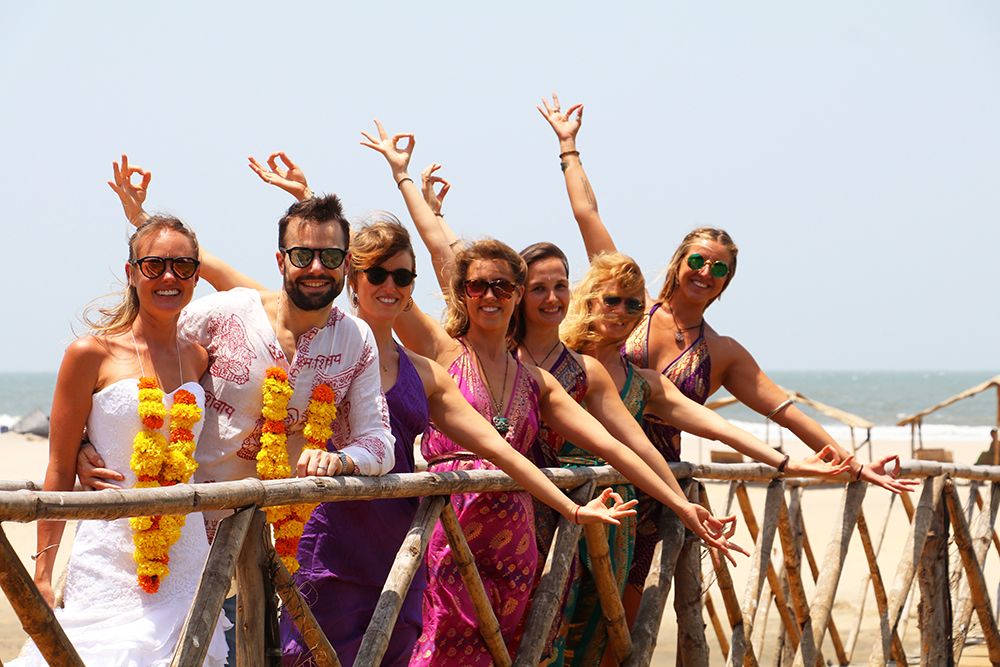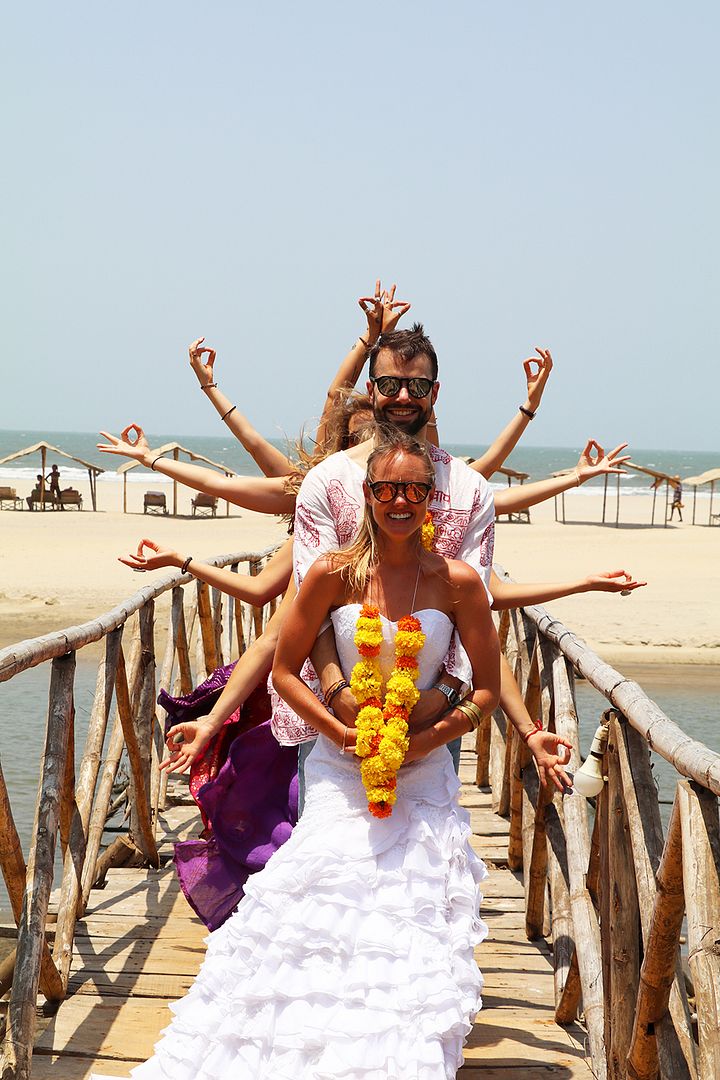 and of course – my favourite photo of all: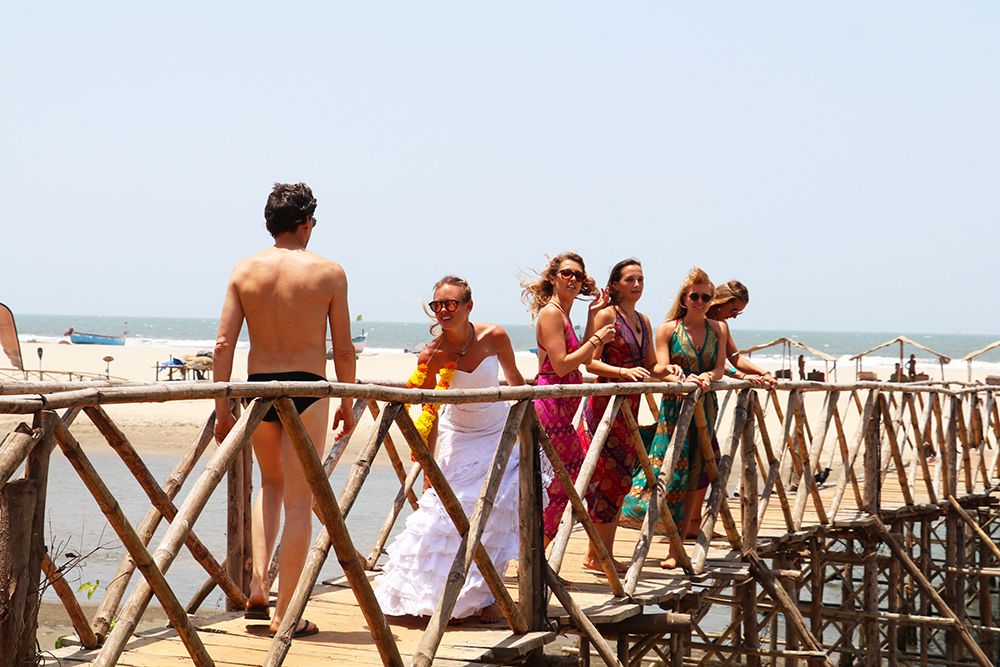 Of course it's natural to see a dude in a speedo surrounded by a group of indian princess bridesmaids and an india bride hanging out on the beach in the middle of Goa. Act casual.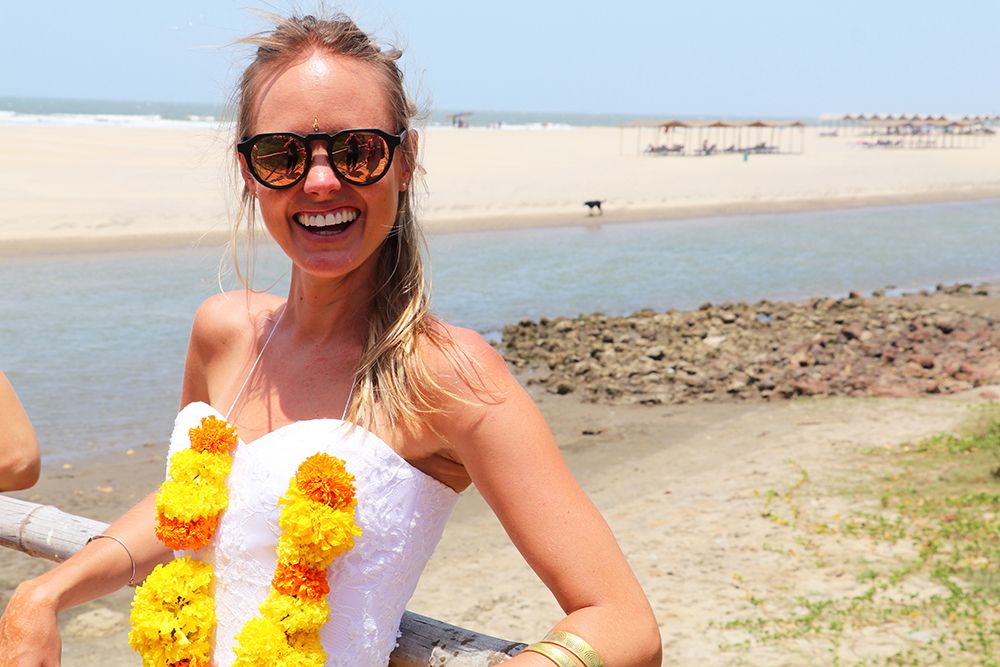 We ran back to Dunes to have a thirst quencher – because being an Indian princess bride is very thirsty work.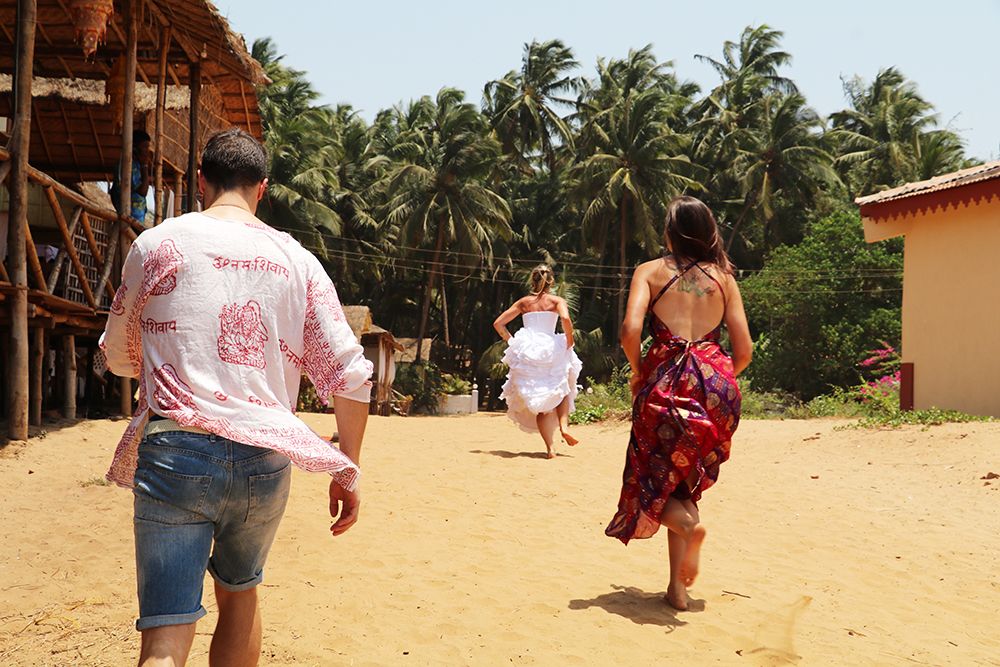 (This pic definitely does give a new meaning to the phrase runaway bride)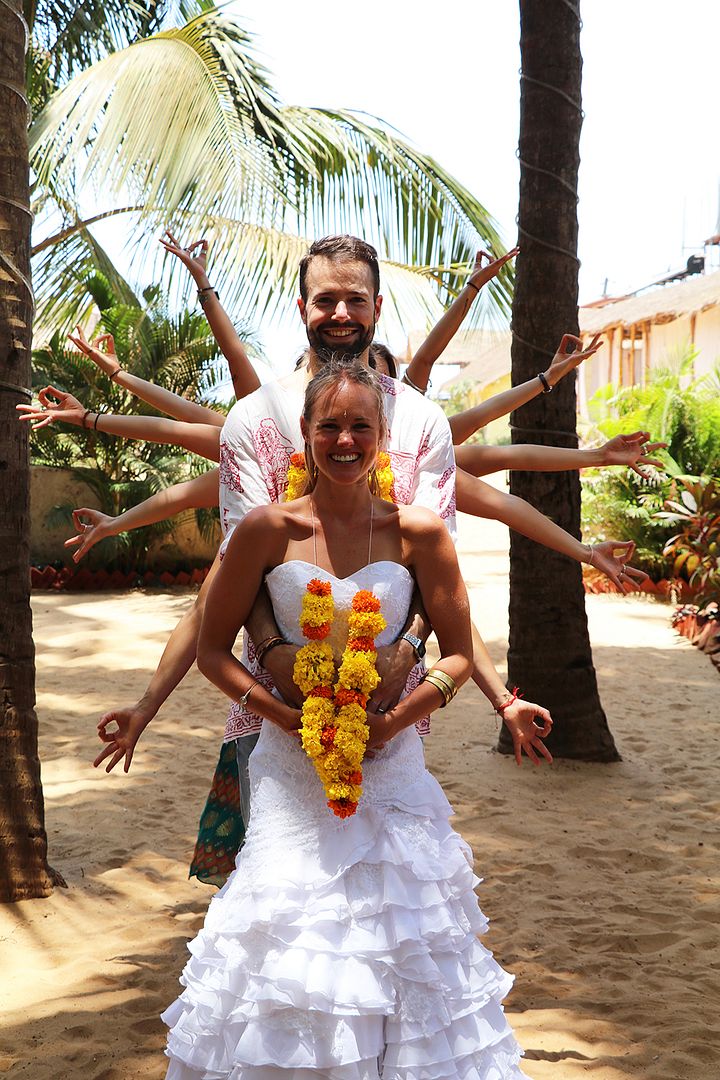 We finished off with some of my favourite pics yet –
Once we said bye to our princess bridesmaids – Warren and I headed back to the main street.
A few days before Warren arrived I had some henna done with my friend Rose who works at the little shop. I told her that my husband was coming and that I was going to put my wedding dress on and have "a wedding day" so that's why I needed some henna. (which didn't last very long on account of all the sweating I think!). I'm not sure if it was the broken english or the random-confusement of the story in general (it is pretty bizarre after all), either way, I'm not quite sure she believed me – so I promised I would come and take a picture with her –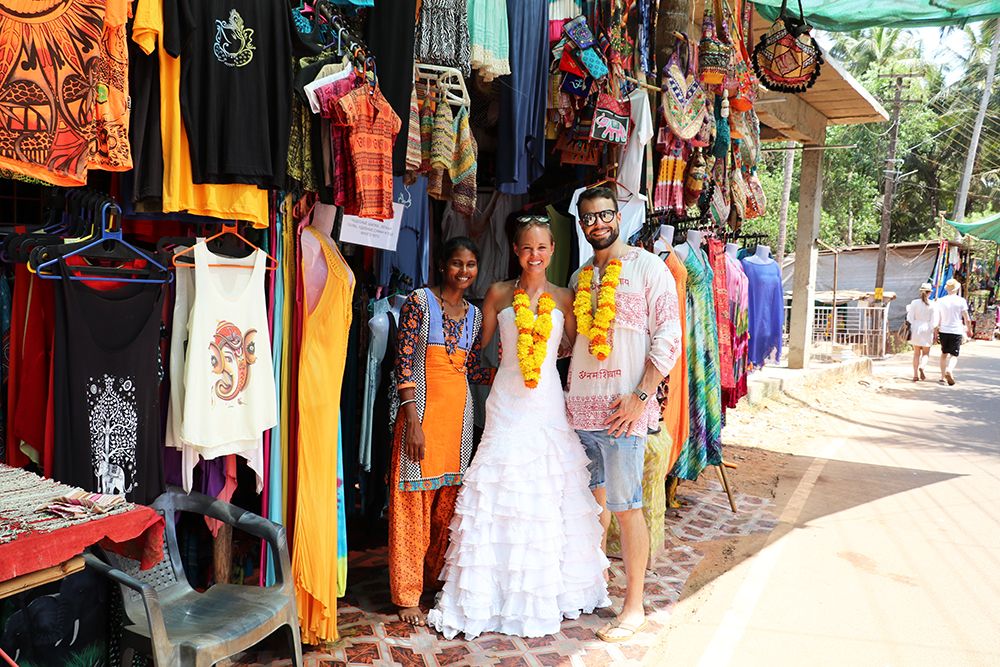 She was SO dam delighted that I had come back to get a picture she got her husband to come and take some pictures of us on her phone too. Then she also told me I needed to have a baby soon. Thanks Rose. Warr and I then headed to a local temple to take some snaps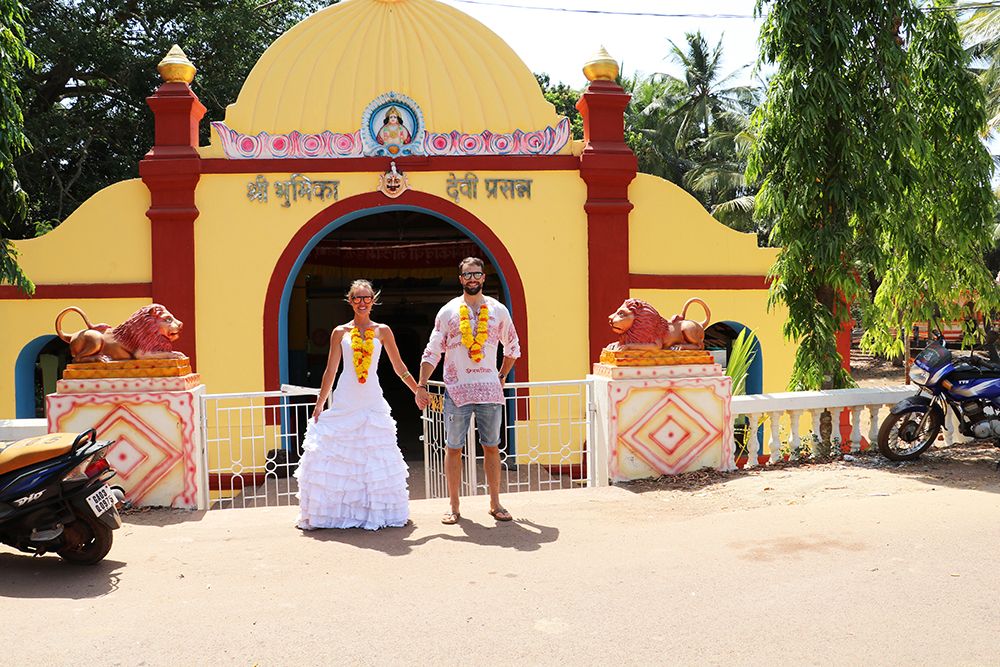 And finally back to the Himalaya Yoga Valley – where we got some pics outside the shala where we had been practicing every morning.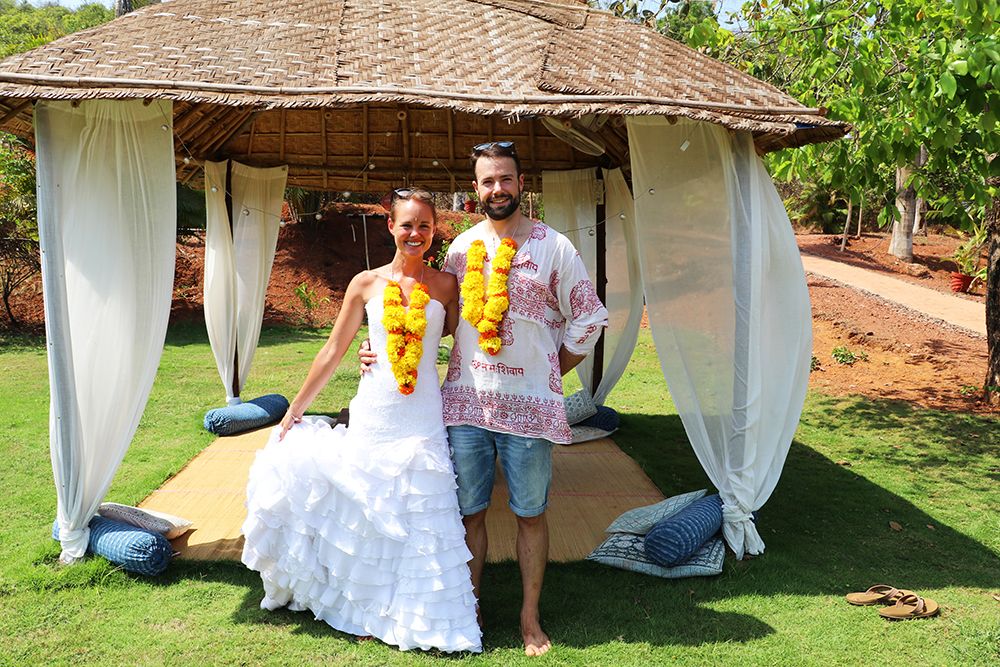 I'm not sure what this face is but it's pretty special –

(Thanks for the snap Bex!)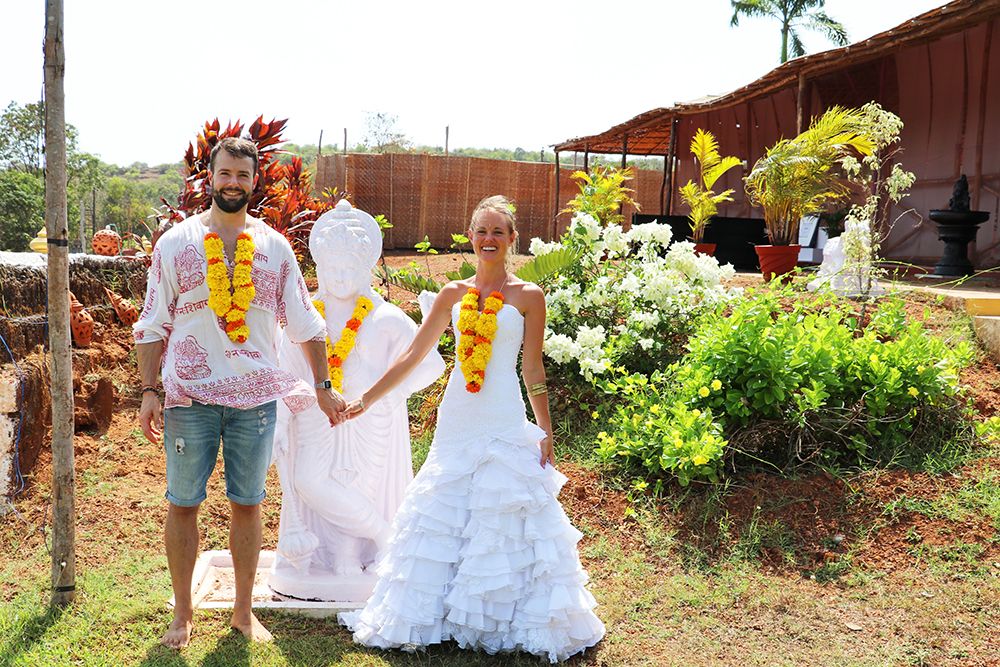 This indian adventure was one of my favourite ones yet! Maybe because of being in India and for it being close to a place that has been so special for me, or that it was the first time in over five weeks for me to see Warren again, or the big girl-gang of excited yogi-bridesmaids, or just the magical-ness of India in general, or maybe it's a combination of everything! I just love love LOVED it!
So much thanks and big love to all the gorgeous bridesmaids: Julia, Andrea, Marley, Mollie, & Adele! You gals were the best! And so much thanks and kudos to Simon and Dan who co-incidentally got roped into being professional photographers for the day! We appreciate it!
Looking forward to the next Wedding dress adventure already!
To see some of the past adventures – (Paris, Spain, Amsterdam, Sydney, South Africa, Northern Lights, Belgium, French Alps) click here or follow our "wedding dress adventures" instagram account.
To REALLY TELL ELLEN DEGENERES THAT SHE SHOULD HAVE US ON HER SHOW AND FLY US TO LA TO GET SOME ADVENTURES IN THE U.S of A THEN TWEET HER (repeatedly) HERE.