How to stay inspired: Friday Inspire Day – detox your drawer
Happy Friday ye folk of the internet!
Let me start this off by saying I am the first to admit that I am a messy cat. So today's little 'amp of inspiration' may be totally irrelevant to you, but my guess is that everybody has some teeny tiny little gremlin they can use to shake up the inspiration factor.
This week, I made an effort to detox my make up bags.
Yes, that's it.
Because here's the thing – the environment in which we exist affects us on a subconscious level – and although I'm not generally that bothered by mess (my husband, mother and all former housemates can fully attest to that) – MAN does it feel great when things are spick and span.
I decided to start small. And I'd encourage you to too for this week's challenge! I cleaned out my make up bags. There were three of them, overloaded with broken blush, pencil, smearings of eye pencil and generally pretty grubby, with loads of stuff. I cleared them all out. Washed out all the bags, hung them up to dry, threw away the rubbish and then ended up with make up that fitted into the one smallest bag.
This is the entire contents of my make up collection below – I have no idea if it is a little or a lot. If I was a beauty blogger, I would carefully label and highlight all the different products, but quite honestly I couldn't be arsed.
So my challenge for you this week is to freshen up a space. It could be a cupboard, a shelf, a bedside table, or it could even be as small as a handbag or makeup bag. (I don't know what the boy equivalent of that is – but we do have a man-drawer that is currently overflowing). SO that is the challenge.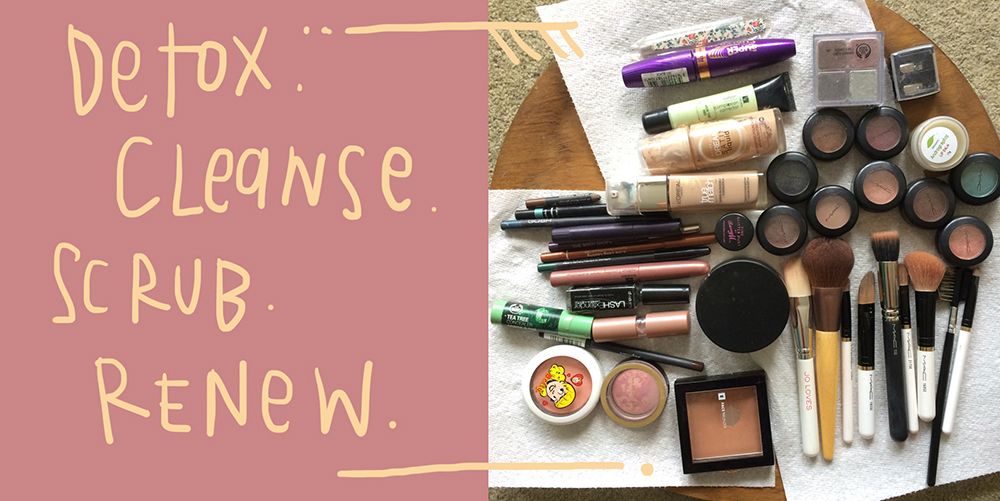 Physical Detox. A drawer, a space, a shelf, a zone. Clean out, clear out, get rid of unnecessary. Give away, throw away, make space for new. Wash it, cleanse it, scrub it clean. Wipe down, refresh, reset. Discover old things, discover long forgotten things. Use them, or toss them. Repack things, replace them in a meaningful, careful, intentioned manner. Start again fresh. – Pic snapped at home, Friday 3rd June 2016.

* * * * *
Sign up to the monthly mailer which is sending out later today!