How to make Protein Balls
Ah, Protein balls. They are all the rage aren't they?
Protein-packed-super-food-enriched-chia-seed-fiasco-nuggets. Of course they're all the rage.
So I've been wanting to try out some of these protein balls for a while now and in fact about two weeks ago we bought an entirely new kilogram of protein for this exact purpose. That weekend, Warren got his chef on and blended up some delicious protein balls – which lasted about 2 days. I have over the following two weeks casually dropped the line, "I really want to make some of protein balls again" meaning, "Please Warren could you make some of those protein balls again."
After two weeks of unsuccessful hinting (boys: clearly not good at subliminal messaging), I decided to take matters into my own hands. At this point it would be interesting to mention, many people who have followed my life online via my very first blog indieBerries will already know how shit I am in the kitchen but for those who have only really known me as "Ché-the-yoga-teacher" – see here for reference.
I knew (from observing the husband) that all I needed was a blender to make these protein balls. (Yay, less washing) So I put on my pink apron –  (since our blender tends to be quite messy ever since I accidentally blended the lid into my smoothie last year) and got to work.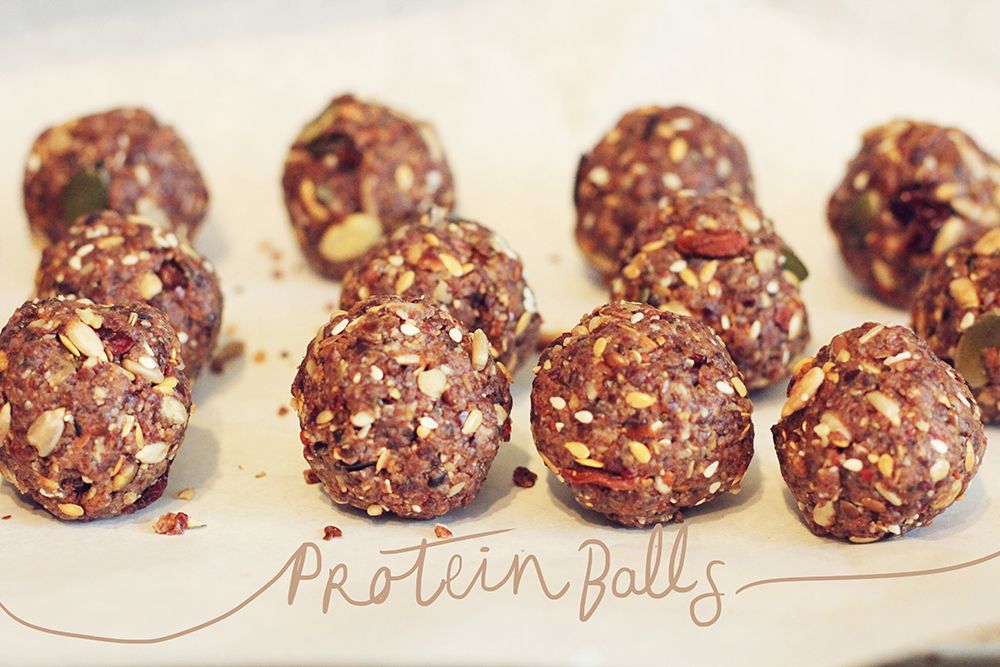 For anyone wishing to make PROTEIN BALLS, my first recommendation is – FIND A RECIPE.
I just went gung-ho and started chucking anything I felt like  into the blender – protein powder, nuts, sunflower seeds, flaxseed, chia seeds, coconut oil etc – which is clearly not the correct method.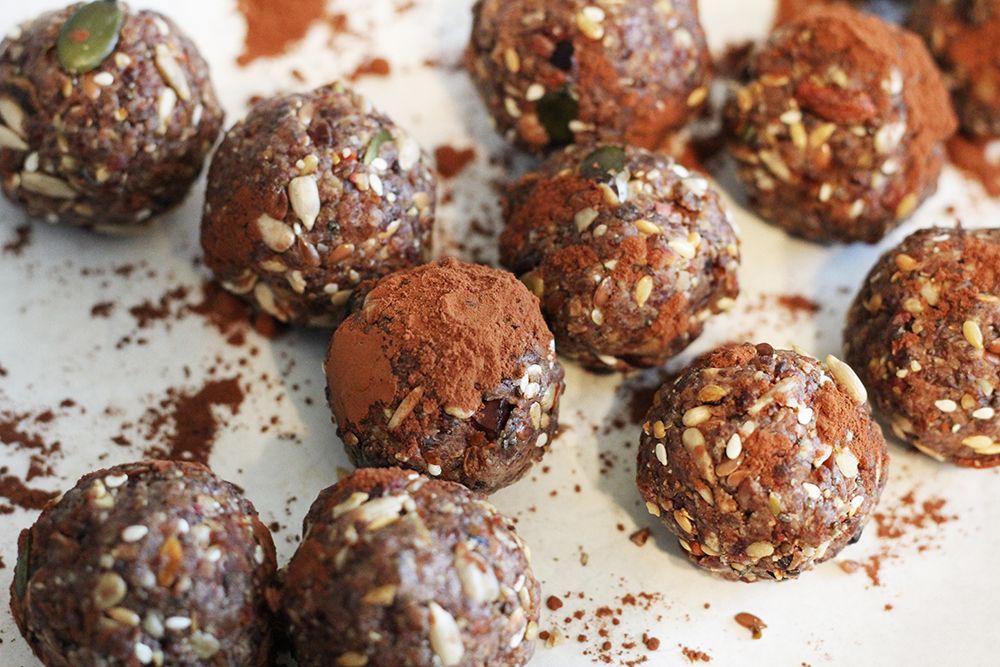 When I felt like I had added enough stuff, I thought, "ok, it's time to roll these bad boys" – only to stick my hand into the blender (switched off) to retrieve some mixture and find that it wasn't sticking together at all.
At this point, I tried to recruit the help of husband – who had suddenly become very intent and "busy" with trying to find something in the bedroom. Fine. Texted Lulu who suggested honey. Added in a few teaspoons of honey and half a bag of dates for good luck.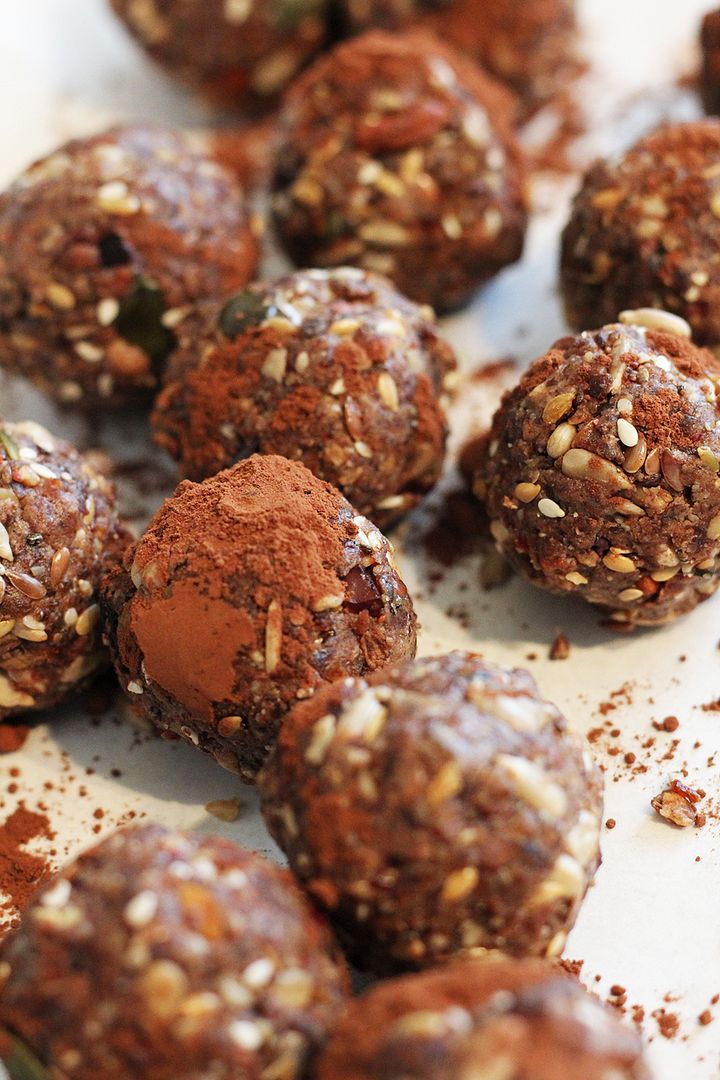 Eventually after more blending, they began to get little stickier and easier to roll although they weren't completely sticking together when I rolled them out – they have really firmed up and stuck together nicely now that they have been in the fridge for a few days! Once I had rolled them I dusted them a little with cocoa powder.
So here is my "recipe" (but I would suggest finding one that actually works):

Dates
Sunflower seed mix (I used this one from Munchy Seeds, both in the blending and then also rolling the mixture in so that some stayed whole)
Chia Bia Chia and cranberry mix
Linwoods Milled Flaxseed and Goji Berries mix
Two scoops of protein powder
3 walnuts that were hanging out in the cupboard, because what else are you supposed to do with 3 walnuts?
A sprinkle or two of pumpkin seeds just because I could reach them in the cupboard.
Coconut Oil ("fuck, this isn't sticking")
Honey (when times got tough)
More dates (as above)
Cocao Powder + a bit to dust over
Blend. Roll into balls. Put into Fridge. Eat. Feel Smug.
So really, what I discovered is that you can add anything you like to your protein balls! In my limited experience, I do have a few tips for if you'd like to make them at home (and trust me, if I can, you can):
Make sure you have enough sticky ingredients – these could be anything like dates, apricots, coconut oil, nut butters or (for when things get outta control) honey.
I would start with the sticky ingredients. I started with two scoops of protein powder and all the dry stuff and I ended up having to add quite a lot of dates to get it to bind. I would start with the wet stuff and gradually add the dry ingredients/seeds etc.
The mixture needs to be quite sticky, but it doesn't need to bind together completely – it will firm up in the fridge!
Find an ACTUAL recipe.
You can achieve this recipe with only using ONE blender. (HOORAY!) I was VERY proud of myself of having only one thing to wash that I refused to pour the mixture from the blender into a bowl – leaving myself to try and scoop the crumbly mix out the blender with my fingers to make balls, which actually inevitably led to way more mess to clean up than washing one bowl. Anywhoo. There you have my un-recipe for smug little protein balls. You're welcome.