Tips for moving house: How to keep your cool.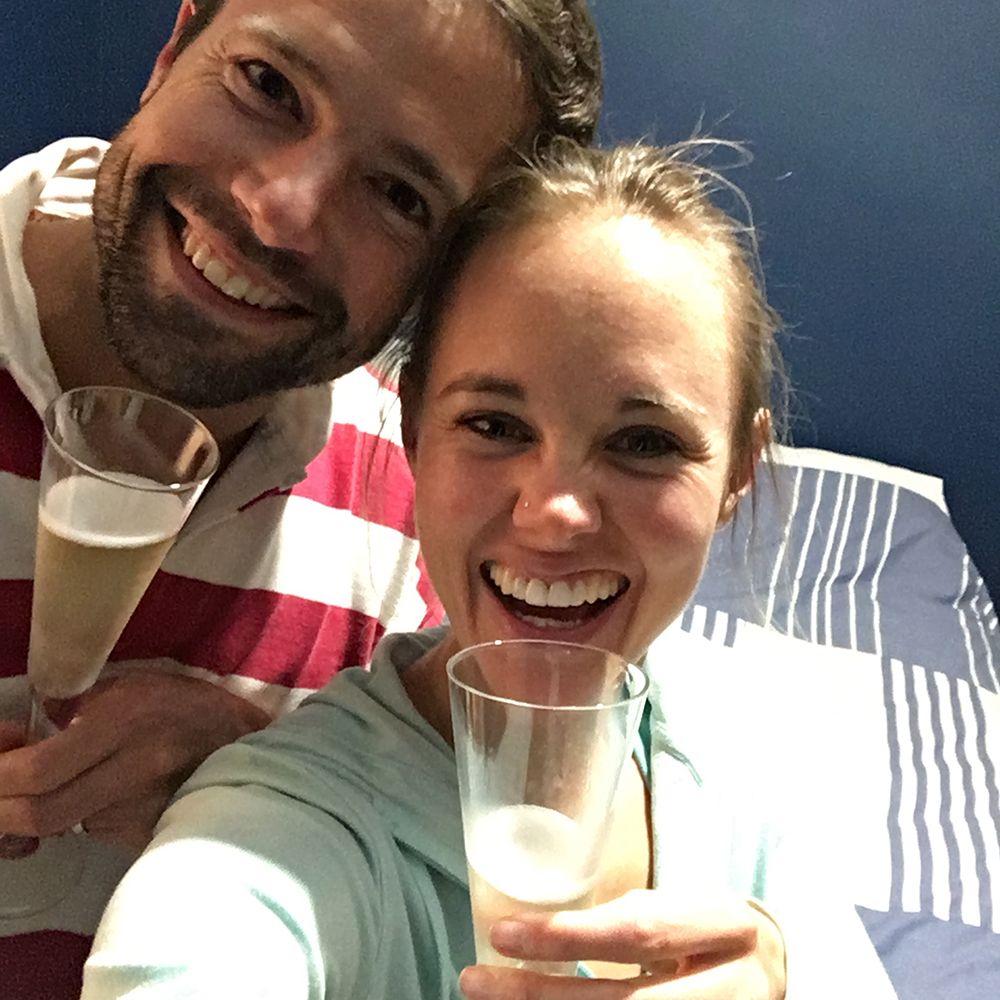 Warr and I have spent the second weekend together in our new house this weekend. It's been amazing to move into our own place. But it's also been hectically stressful.
I thought I was going to write a very long in depth post about "how to keep your cool whilst moving house" – when I realised that it's actually not complicated at all.
Meditation.
The answer is meditation.
And it is literally as simple as that.
Mediation has been the absolute greatest buffer for me in this change of environment, house, not-knowing-where-things-are, so much to do, not enough sleep, bad food, late nights fiasco. Meditation is the greatest buffer for creating some space between the current situation and the response to it. And to be honest I would never have had the same reaction (pause. breathe. little chuckle. make a plan) to things than if I hadn't been exposed to this type of practice. So since the answer is literally so simple: (meditate), I thought I would rather share a little thank you and note of gratitude to my good ol' dad.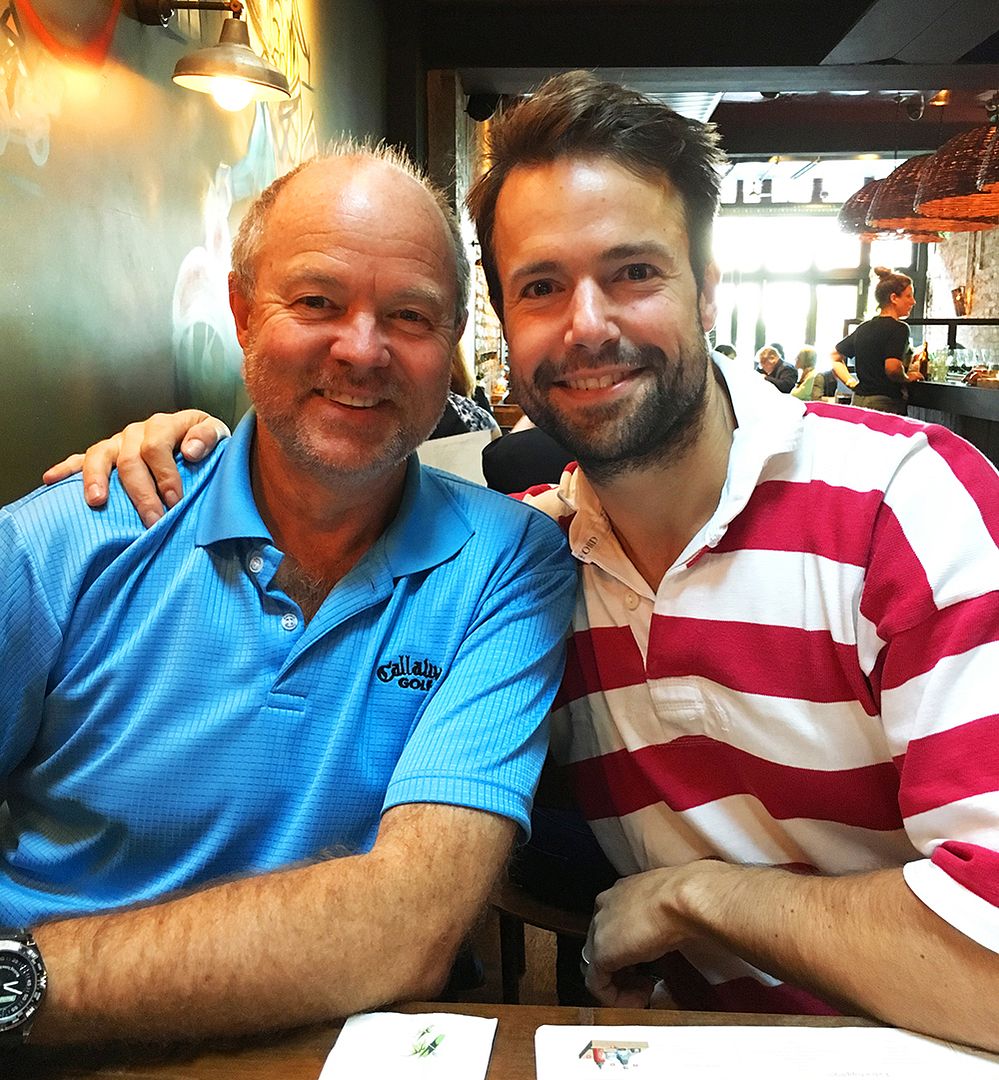 |
My dad got here on May 13th exactly one week before we were due to move into our new house. When he arrived on the Saturday morning we took him straight to our new house construction site and to be honest I think his initial (silent) reaction was "holey-cannnnoli… there is a SHIT-TON that needs to be done right here" I honestly don't think he expected *quite* as much work as what greeted him that fateful Saturday morning!
WELCOME TO LONDON DAD!! (heart emoji)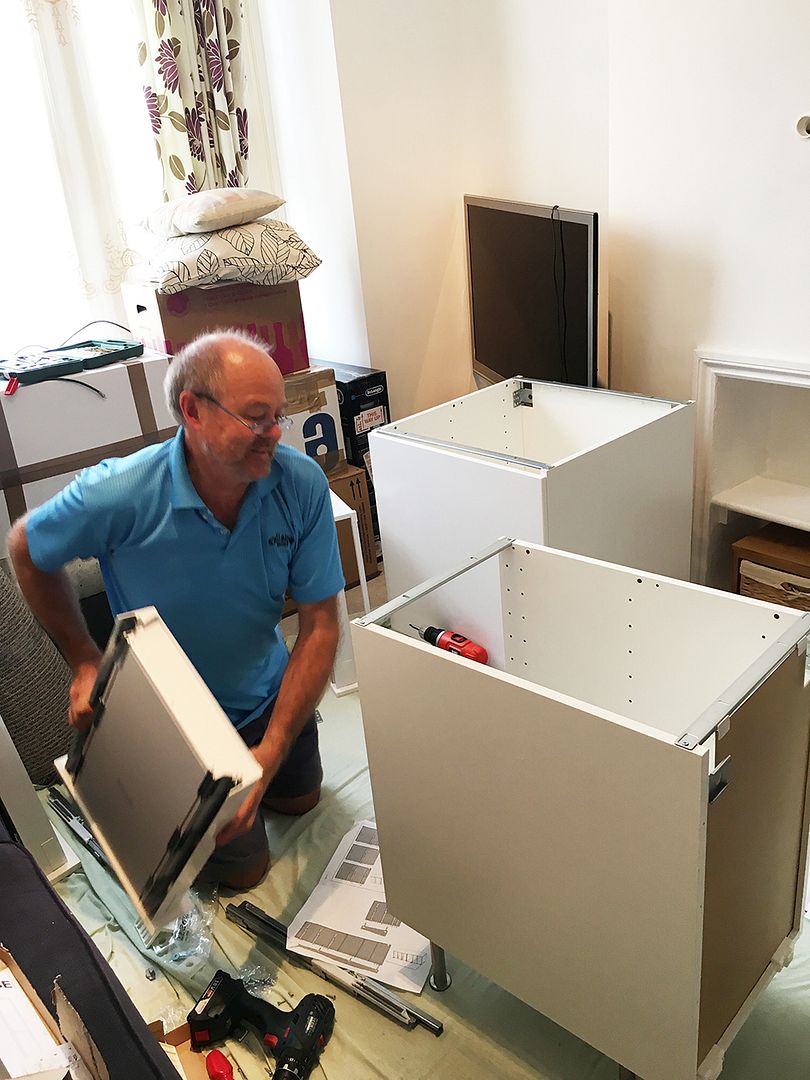 That very first morning he arrived – straight off the plane – he literally got to work and started sanding the skirting, painting the walls, and polyfilling holes in the plaster! And from that day it literally did not stop! And HE did not stop! Most nights he stayed up until WELL passed his bedtime – I would arrive to the new place after finishing a yoga class and getting home around 9:30 – to find he had just started on the evenings project! He worked probably until 1am every single night – and was awake early at 6am to get back on the grind!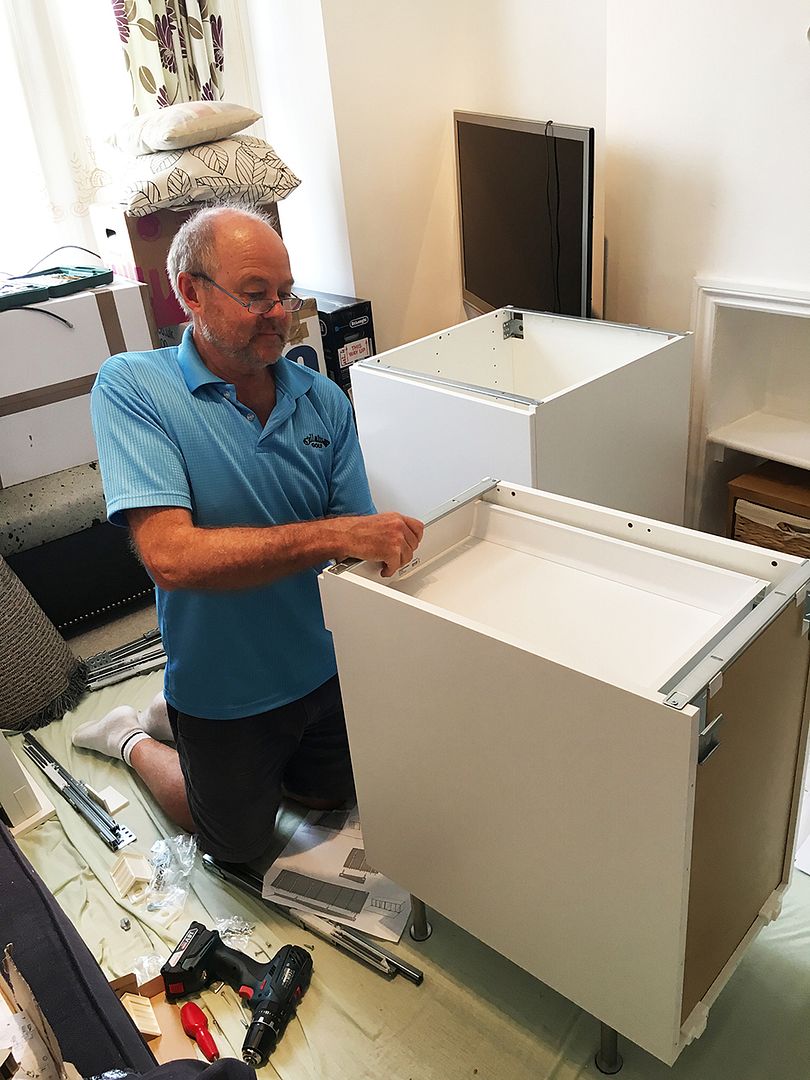 I will be honest there was a LOT to be done! Walls, ceilings and skirtings to be sanded, washed and painted, carpets to be laid, bathroom to be finished, cupboards to laid, old place to be packed, moved, sorted! It was SO insane. (CUE: MEDITATION). Some days we broke to eat an Indian takeaway dinner around 10pm when the paint was drying!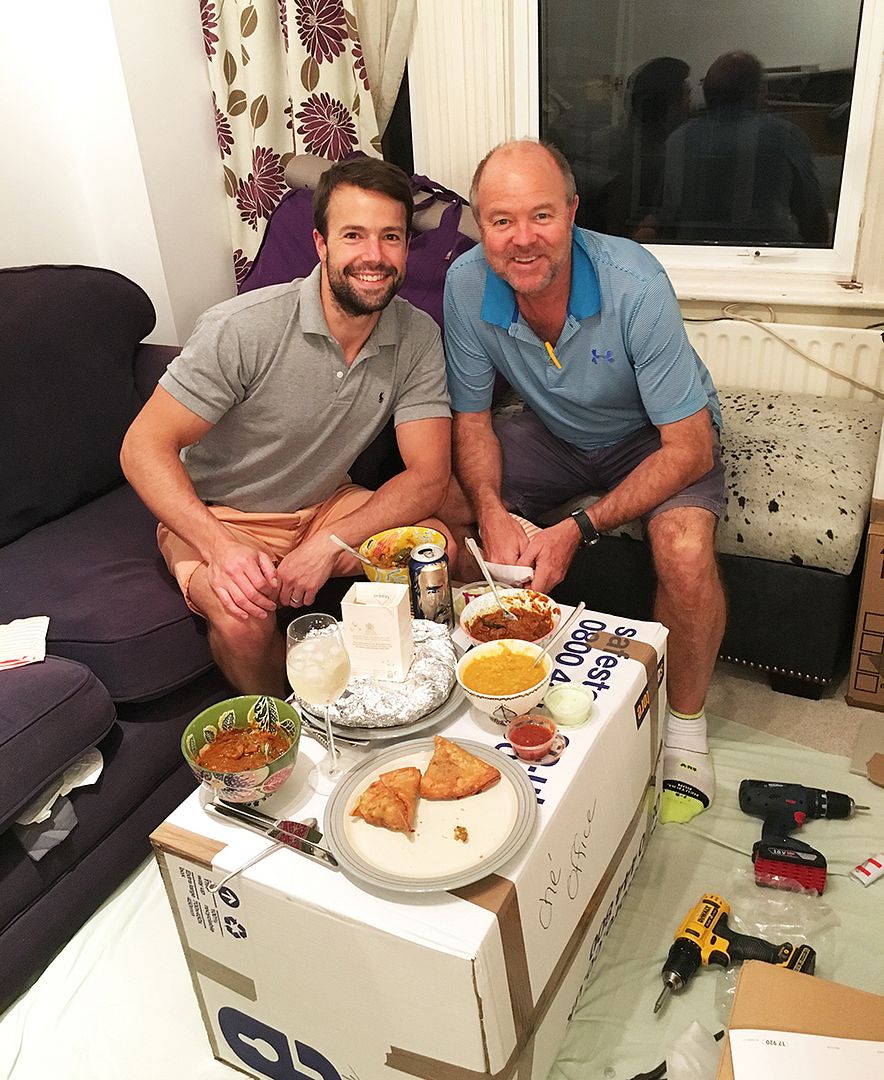 The following Saturday we moved house – which is an event in itself! My dad was there to help cart carry, clean, sort and box everything from start to finish! He was a literal life-saver! He did SO much to help us that I couldn't even really keep track of everything he was doing!! The first pic of Warr and him I posted in this blogpost is from the moving day – we met my dad for Pho on the Saturday of moving day – my dad wanted us to have our first night in our home alone together so he camped out in the old place with literally no furniture in it.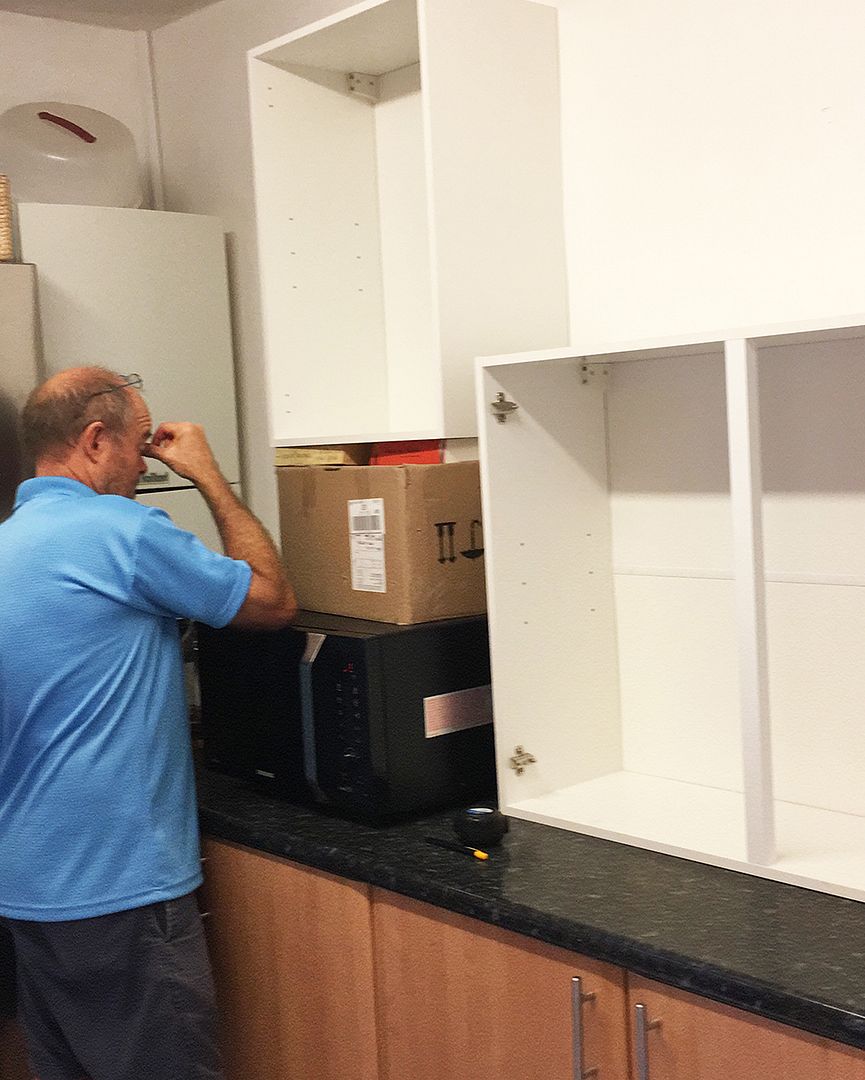 My dad literally did SO much for us and I'm SO incredibly grateful. He told me (whilst we were building something or other) that the week of unexpected disruption when I was born (2 months prematurely), his own father come to my mom and dads house and finished painting their entire house for them, while he was in hospital looking after my mom and me – so he told me, he's just paying it forward. I love that dad, and I promise I will pay it forward too.
We had such a great time together – and even played a few pranks on Warren when we assembled the shelving unit above and sent a message to Warren telling him we had been given the reject-shelving. LOL, dad joke. He also sent in a dedication to a South African radio station – which was aired on the SA radio while we were working together!
My dad has made the BESTEST BESTEST office for me and I can't wait to share the full before and after (you literally wouldn't believe it!)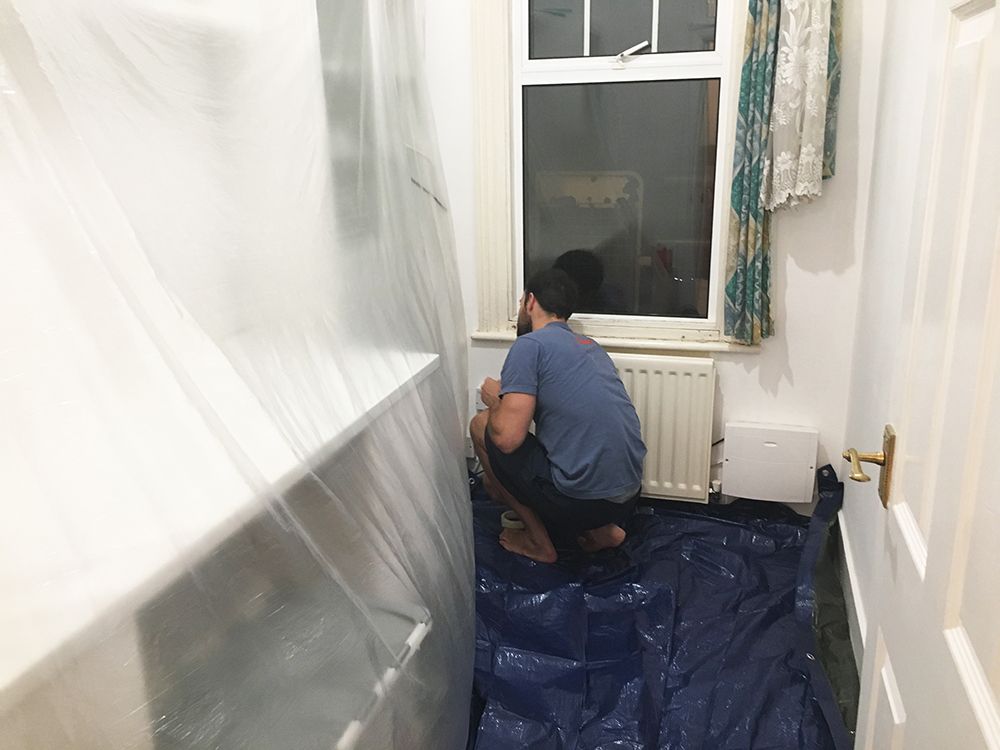 But actually that wasn't the only thing he did..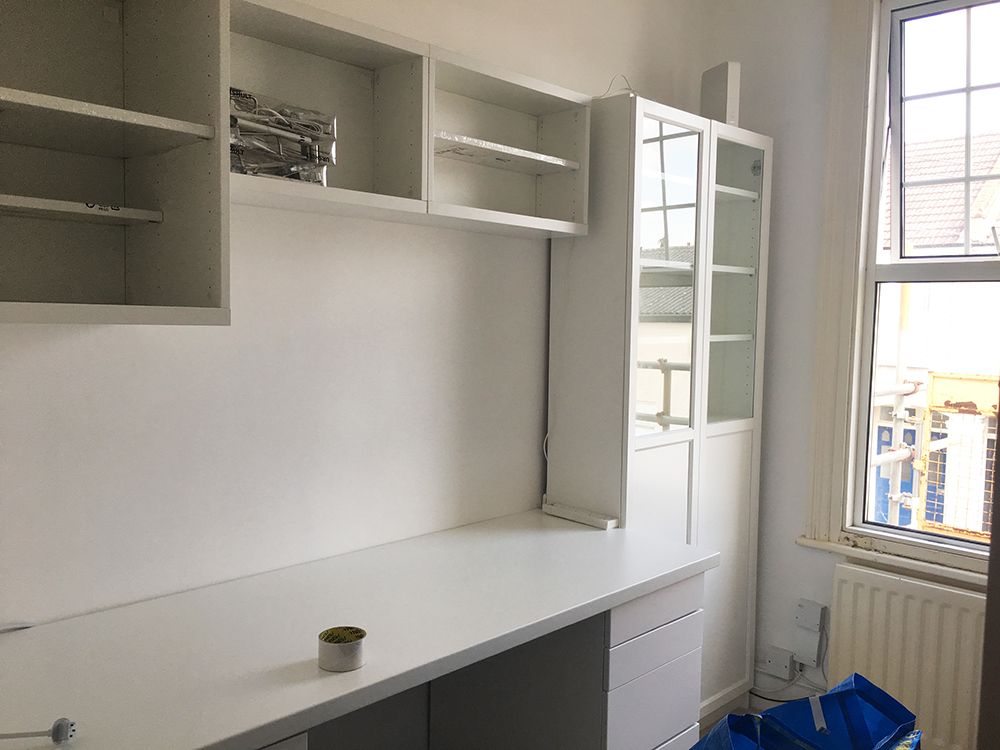 So, I decided to make a list of everything my dad did for us in those very short 10 days he was here (brace yourself):
Arrived straight to a building site.
Polyfilled the bedroom, office, lounge, spare bedroom, passage walls.
Fixed a giant pipe hole in the skirting board in bedroom.
Reattached a loose skirting board in spare bedroom (including sanding and cleaning).
Washed the walls of the bedroom, lounge, office, spare bedroom and passage (which required balancing on a ladder perched on a stair case.)
Painted the office walls, lounge walls, passage walls (balancing on a dodgy ladder), kitchen walls, spare bedroom walls.
Painted all the above ceilings.
Oversaw the fitting of the carpets.
Siliconed old bathroom grouting.
Vacuumed the entire old place,
Cleaned old place oven.
Cleaned old place windows, bathroom, spare bedroom, lounge (moving heavy furniture)
(Did two loads of washing)
Helped pack up furniture and boxes from old house.
Helped cart stuff into moving van.
Helped offload on the other side.
Took doors off fridge, and oversaw fridge delivery to get it through the door
Built a giant mustard drawer set from IKEA.
Built another set of four drawers
Assembled an enormous wooden lounge shelving unit weighing 150kgs
Measured planned and designed a home office space.
Assembled two different bedside units with 3-drawers each
Built and assembled an entire home office including two hanging boxes, a deep hanging box shelving unit, a four drawer set, a base unit cupboard and a desk top.
Built an office tall standing cabinet.
Fixed a broken shelf under the kitchen sink.
Built a double kitchen cabinet, a single kitchen cabinet and four open shelves.
Grew a trendy hipster beard
Made friends with the neighbors, and basically everyone else in the hood. (Not kidding, Linda still asks about you, as does David across the road).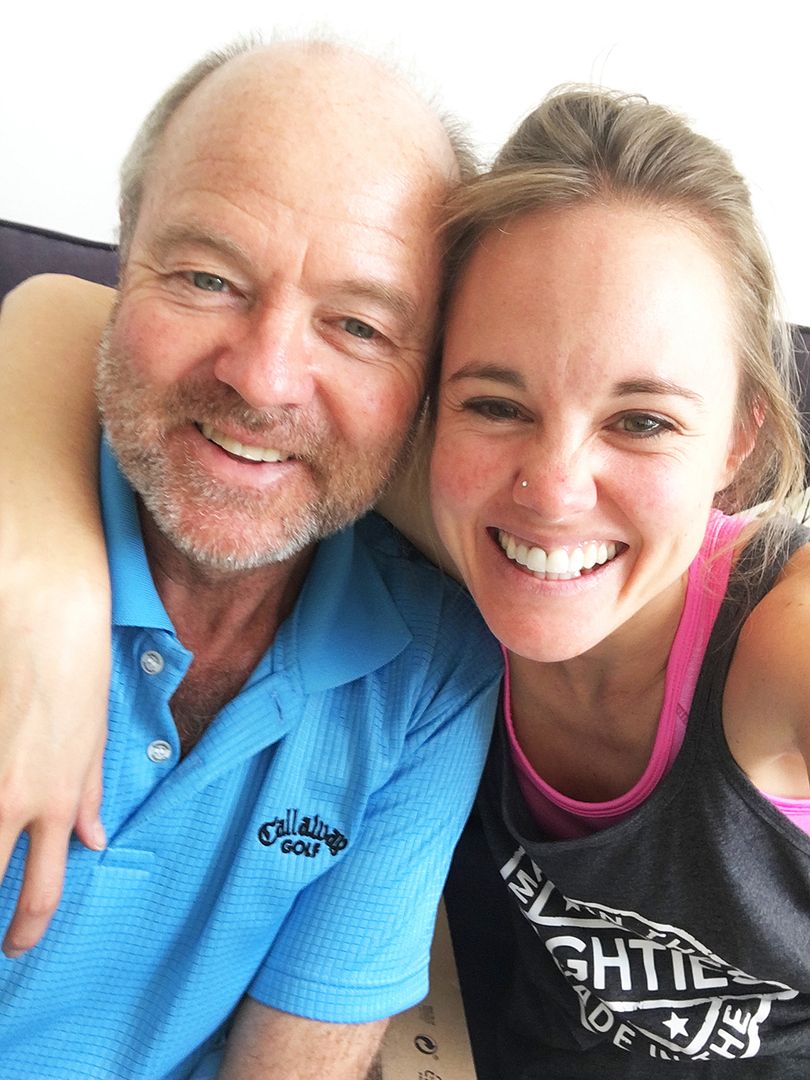 Dad I cannot actually get over how hard you worked for us! You poured your heart and soul and blood sweat and tears into helping us (and into our carpets! ha!) I will forever be reminded of you in this house – and I'm so grateful for that. Thank you. 😛
He literally worked up until the last fifteen minutes of him having to get into the taxi to leave for the airport. That is not even a joke!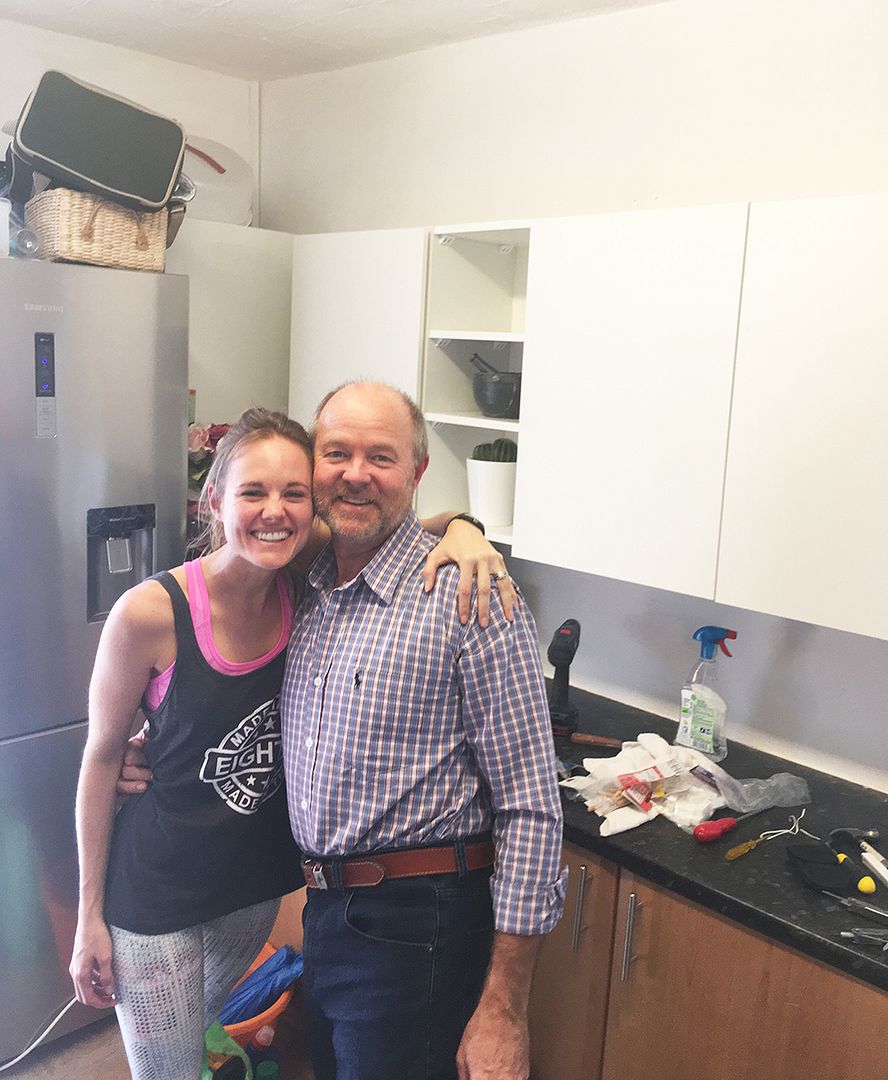 Dad posing in front of his new cupboards in the kitchen, after he stopped drilling to take a shower and change for the airport! I asked him to pose with his handi-work and this is what I got –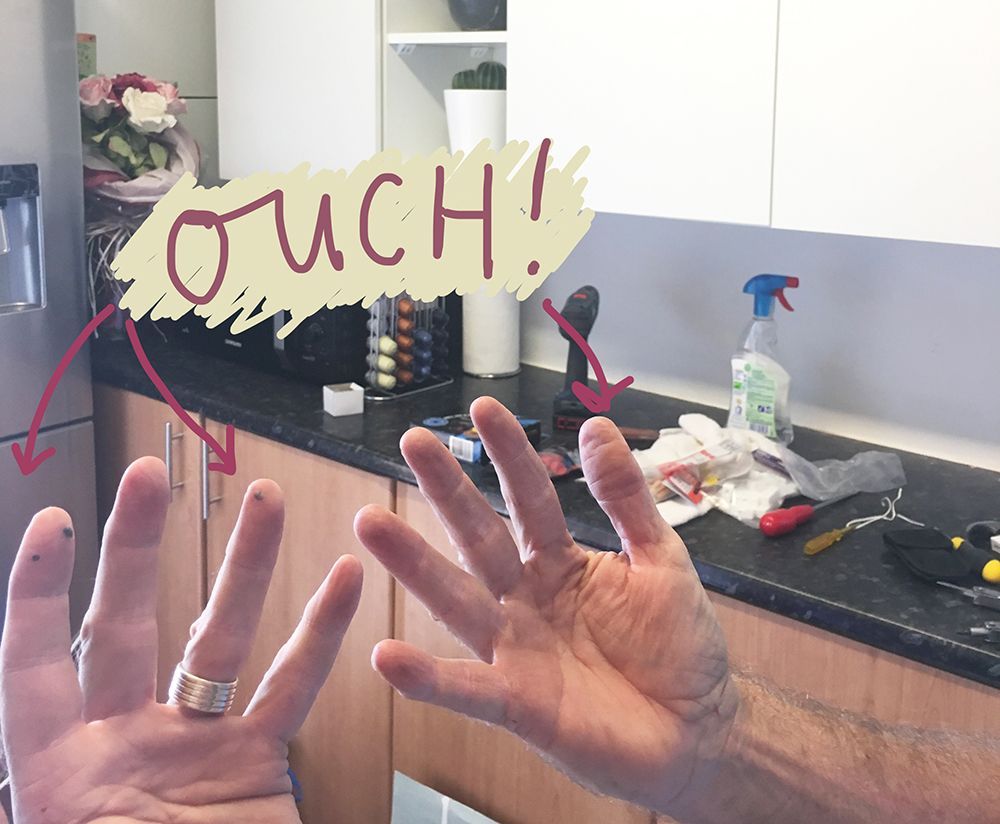 hahaha! SO many blood blisters – handy-work indeed!! Dad I don't think you've worked this hard physically in AGES!!! Thank you thank you thank you!!
I am so incredibly grateful – and I think you know exactly how much it means to me with how emotional I was with you leaving. You are such a great dad and I am so honoured to have you as my father.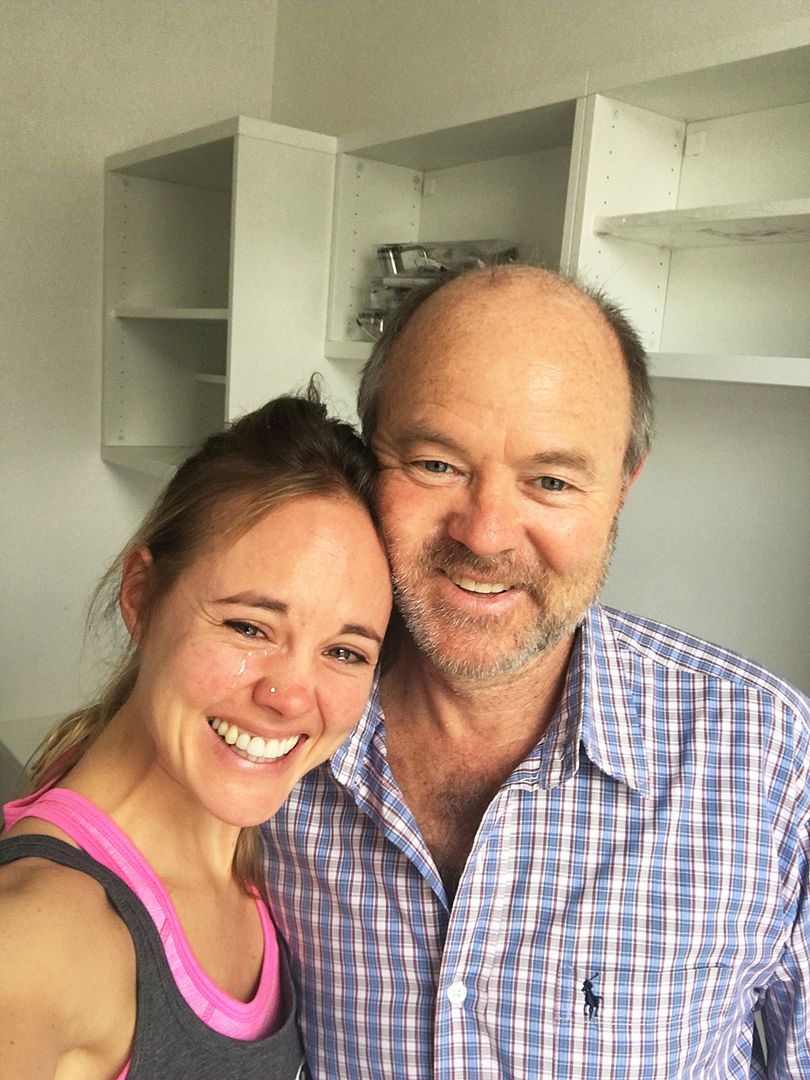 Thank you. Thank you. Thank you – for everything.
I can't wait to share some pics of my amazing new office (coming soon!)!  It's such a dream to be typing this blogpost from this amazing new office.
You have literally given us everything we could ever need or ever want – we are so grateful.
Thank you for working SO hard, for getting so epically stuck in to everything to help us! It was amazing to spend time with you.
So… please give Senses Spa a call to book a time slot-  you deserve it… and…. they are expecting you. <3
Love you
xxxxx