Happy Mother's Day to my amazing mom!
I thought it would be a good idea this Mother's Day to draw up a little cartoon dedicated to my lovely mom, because she's just the loveliest! <3 She's always encouraged us to give of our best, do our best, try our hardest, in everything we've ever done. I am truly grateful for that. I think that so much of what I have achieved, is due to the amazing grounding that she gave us. Having a school-teacher as a mom made being a school-kid that much more… interesting. School teachers, they just "know things", right. Like that one time when I was in Grade 2 and my class teacher marked my whole report card as "average" – well my dear mom walked STRAIGHT back into that teachers office just to remind her that I am NOT average.
I remember when I was about 10 years old, in Grade 4, we were assigned our very first "school project". I remember it VERY clearly: It was a history project, which I did in my purple-covered hard-backed book, where we had to research the San People. Your very first research project can be a very daunting thing. So much work to do. SO MUCH to do. I began the research work under the helpful guidance of my dear mom. She took me to the library (the old school way we used to do things) to get out some books on the San People. We checked out several books (and then, to be honest, I think my mom read every single one of them to 'inconspicuously' book mark all the relevant pages that I would find something good on). I then read the books and magically came across all the pages that very clearly answered all the research points.
Once I'd gathered all my research, I wrote out all my findings into proper sentences onto a test paper (as requested). Once my test paper was critically reviewed, revised several times (and appropriately approved), I was permitted to write it into my purple-covered, hard-backed history book. (At this point, might I add, I was becoming rather disgruntled with this entire "project" endeavour.)
FINALLY, it was time for me to write out all my findings into my book for "the real thing". So I wrote out all my research into my book (as quick as I could so that I could get onto doing something else more fun/crafty/drawing-related no doubt). Upon "official review", and seeing my ahem, "quick scratchings", my dear mom had some things to say about that…
It turns out, I was NOT so keen on this whole project thing after all.

So I did my sentences again. All of them.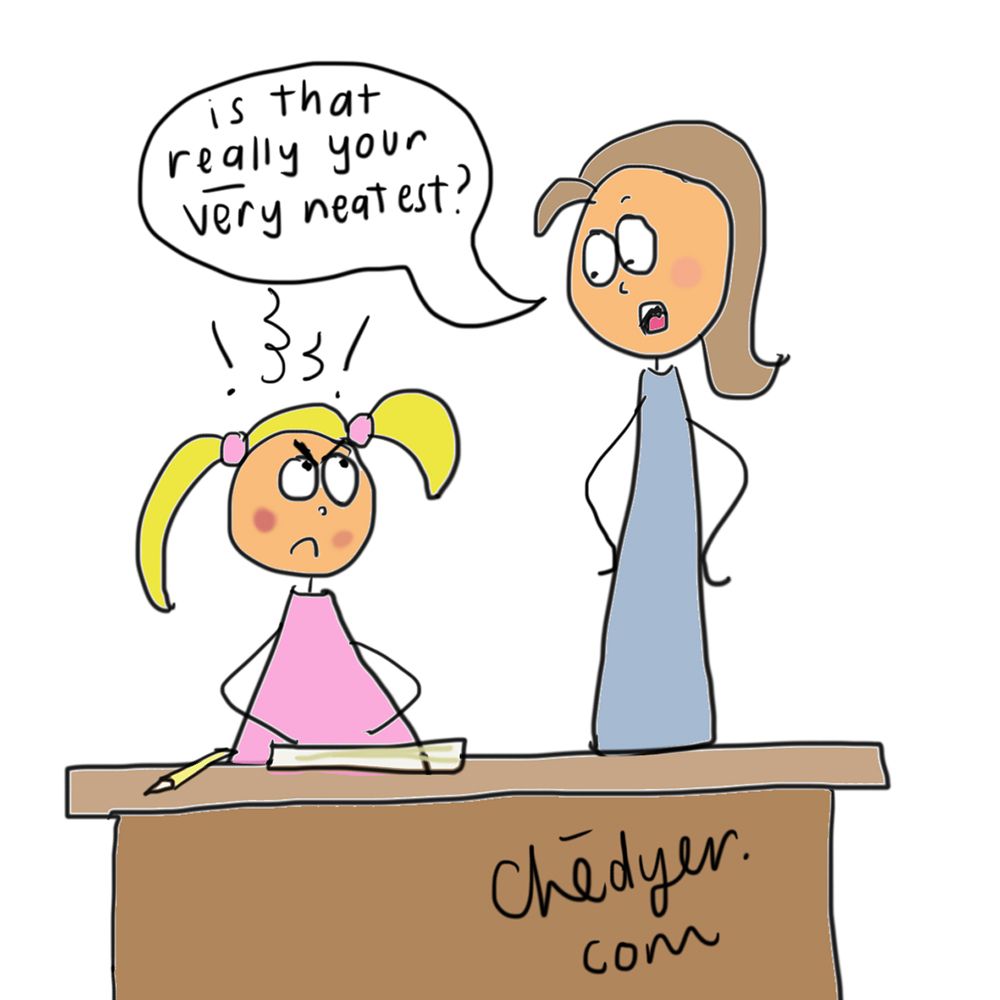 … and so, in a swift-eraser-swoop, 90% of my re-written sentences disappeared in a flash.
Ché did NOT like where this was going.
It became a battle of wills.
Write one sentence in the 10-year-old-ragey-hurry.
Sentenced is erased. *scowling*
Rewrite sentence in slightly less, but still rather ragey, hurry.
Sentence is erased. *more scowling*
Write sentence neatly.
Sentence stays.
Let me tell you who has more will power:
My Mother.
And so we completed the entire project in this fashion. Possibly by the end I started seeing the light and began co-operating a bit more to save myself (and my eraser).
I will be honest, by the end of that project, I was quite into it. And I will openly admit that

It was the greatest project ever. THE GREATEST.
There has literally never been a San project, and never will be, that has ever been as great as that project. It was SO neat and SO researched and SO beautiful and SO ALL THE THINGS.
I can literally still remember that, those little dots and lines and dashes in the margins – is exactly how I decorated my project. I also, funnily enough finished my project at least 3 days before everyone else in my class. (Which obviously did leave me time for the crafty bits I was rushing to get to.)
Finally, it was hand-in day.
And then, about a week later – we received our projects back.
I opened my book carefully, whilst sitting at my desk and flipped open to the teachers comment –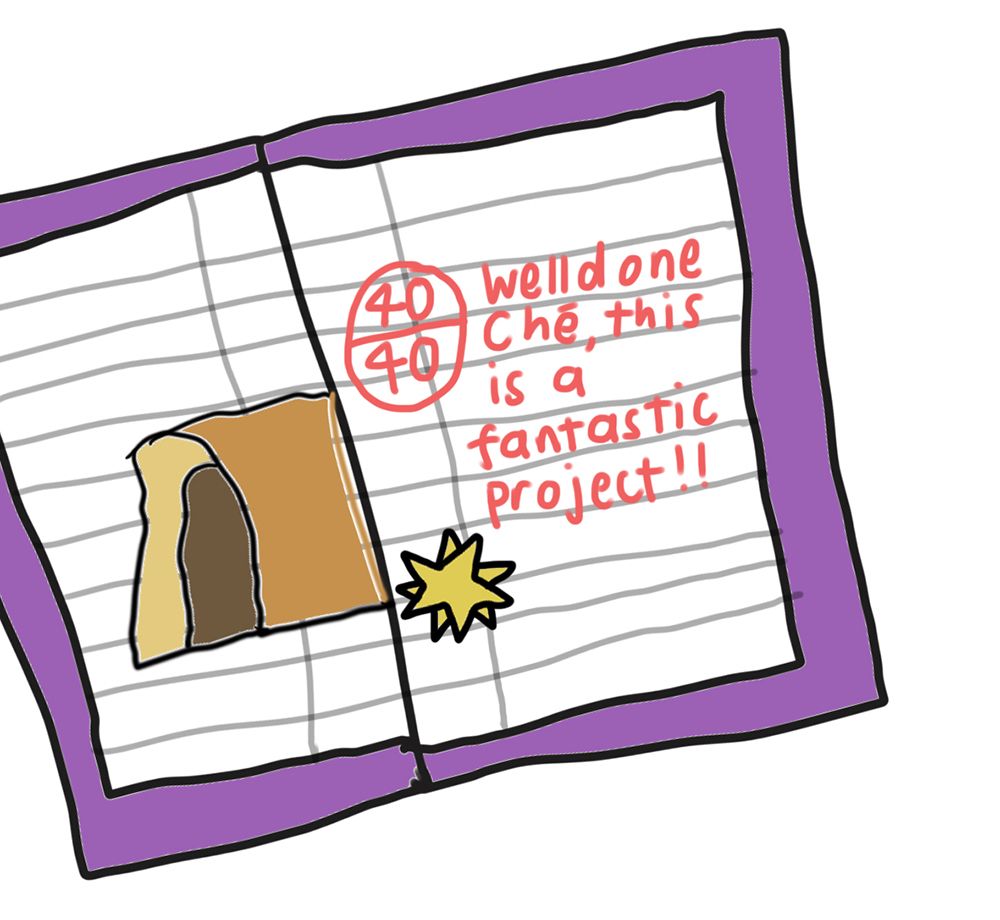 4o/40!!!!!! Right there in giant red pen – with a DOUBLE GOLD STAR!!!!! FULL MARKS!!!!! FULL. MARKS.
NEVER before in my life, had I EVER seen a DOUBLE gold star.
This was not just a regular gold star – the most highly acclaimed star of all – but this was a DOUBLE gold star. DOUBLE. Two of them. Right on top of each other. I was sent straight to the headmistresses office to be HIGHLY COMMENDED.

I showed everybody at school that day, which – in hindsight, was probably rather obnoxious.
But when you've got a DOUBLE GOLD STAR – you don't care about a dammed thing.
I was so proud I bought myself TWO frozen splashes from the tuck-shop that day.
(Side note: I tried googling "frozen splash" to see if international people would know what I'm talking about if I wrote that. I couldn't find anything conclusive or not but then I remembered: DOUBLE GOLD STAR, don't care.)
I was definitely the MOST excited to take my project home and show my mom:

I could just tell, something about her let me know that she was SO very happy about this project, I think it was because she had also never seen a DOUBLE GOLD STAR either…

Maybe…. 😉
Dear Mom
Thank you so much for caring enough to make us truly shine, in everything that we have ever done. Thank you for giving me the lesson of always doing things to the very best of my ability and encouraging me to go after all the things I've ever wanted. Over the years you have really given your whole life to Blake and I, and we are both so very grateful. You've put us first in everything and been the quiet force that's continuously lifting us up and up. Thanks for loving us so much to protect us and guide us and give us the very best of everything. Years of taking me to libraries and art classes and ballet lessons and gym lessons and swimming and helping with homework (and projects!!) and room decorating, and clothes shopping and tough times and happy times and celebrating achievements and being a shoulder to cry on in failings and laughter and runs and wine drinking. I know your heart is SO very connected to ours and I think that is what makes being a mother so wonderful and what can also make it so hard! I remember very clearly in grade 8 when I was first introduced to Algebra and I just could NOT figure this shit out (English is English, Math is Math – why now is English in Math?!!) – and you went and bought a blank book and wrote out my very own easy algebra rule book that I took with me everywhere. To this day, I make my own little exercise books for every new project that I start!
So much of who I am, my creativity, my love of learning, my love for blank books, my love of reading, my desire to be fit & healthy, my love of double-gold stars (which morphed into washi tape and pens and stationery in general), my love of Wimpy coffee, my wanting to do spontaneous nice things for other people is attributed to you mom (just a pity I didn't get your tidying-up gene). Mom I know how much you sacrificed for me and Blake – and I am forever grateful.
You've been such an amazing mom to the both of us.
Love you so so much!
x
Find me on instagram here.