10 things I learnt from yoga teacher training.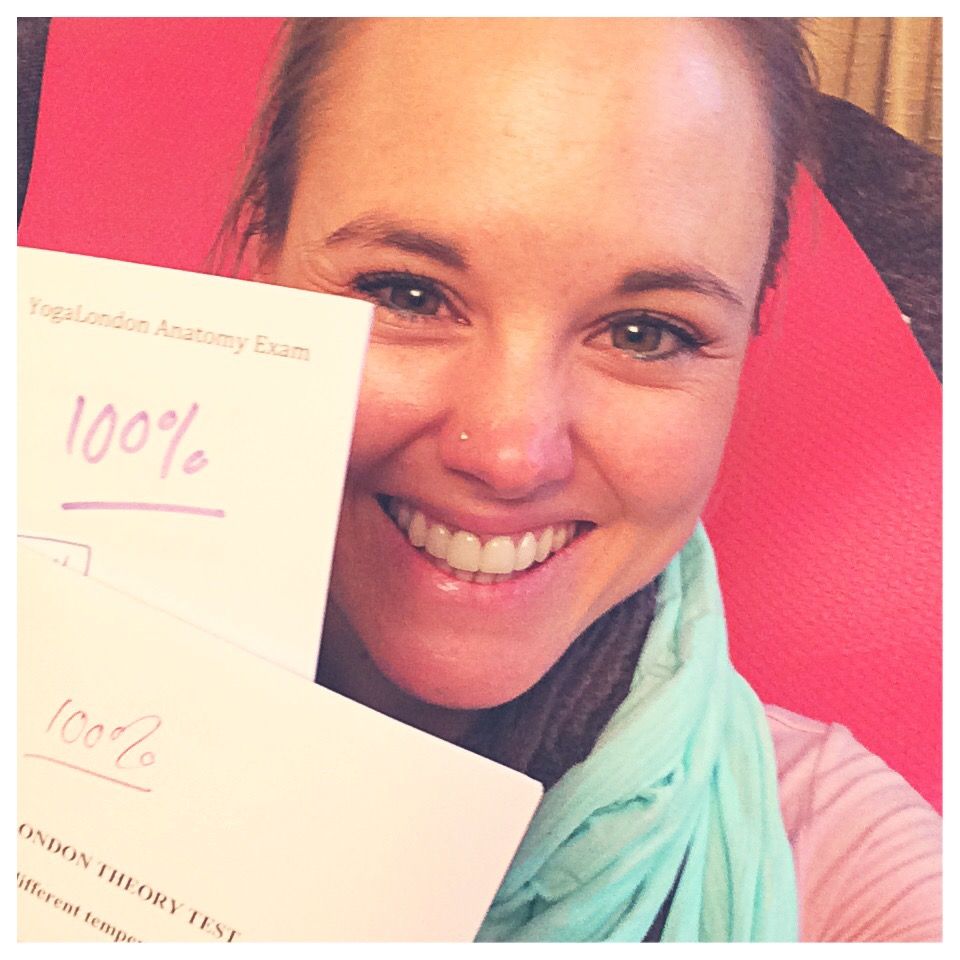 For those who may have seen on my yoga instagram account, I graduated from my yoga teacher training with YogaLondon last weekend. It has been an absolute whirlwind the last three months of training, learning and self development. Not only has my own personal yoga practice strengthened and my love for yoga deepened, but my desire to share it with everyone else has multiplied by a bajillion-thousand (which is a lot).
From the beginning of our training, the trainees set up a private Facebook group, where we have been able to share our insights, thoughts, helpful videos, links to pertinent articles , anatomy posts and generally create a private community of support for each other through this journey.
About half way through the training, I came across this article which I shared with the group.
I can honestly say that this article sums up EXACTLY how it has felt for me during the course of this training. I decided to write my own "10 things no one ever tells you about Yoga Teacher Training" (Bearing in mind that lots of my list below overlaps with the article I linked to above, but note this is not a case of plagiarism (we know how I feel about that), but these are just 10 things that I have truly personally experienced during this journey.
1. You will meet a community of life-changing people.
The people that I have met during this training and the friends that I have made are by far one of the biggest highlights of this training. These are people who just "get you". They get your vibe, they get why you are here, they get why you have come on this journey – because they have come on it too. You share something so deep, something that is way beyond, "what do you do for a living?" and "where are you from?", you connect on a level that is "why are we here". You want to nurture these friendships because they GET YOU.
2. Your body will change.
In the course of this 3 month training, I have noticed a huge difference in my body. What has probably been most surprising for me is the seemingly lack of EXTREME PHYSICAL EXERTION that you need to implement in order for these changes to become noticeable. Throughout this training, I went for a total of 1 run. Which lasted about 4km, and I stopped to "tie my shoelaces" several times. Yet, in spite of not spending hours pumping iron in the gym (jokes, I don't ever do that) or running Forrest Gump style – I have seen a noticeable difference in my body shape and tone. Which has really made me realise that daily mindful yoga, with a sense of calm, with control and a engaging of a 'quiet' power is all it really takes. Hallelujiah for that.
3. Your taste buds will change (or rather, your body wants different things)
With a daily yoga practice, it is inevitable that you will want to start eating healthier. I have no idea how this works, but it does. (Although, having said that, I would also like to add a disclaimer that in the past weekend, I have eaten a mini slab of chocolate, a gigantic slice of cake, 2 hot cross buns, 2 Chocolat Truffles and half a bag of Smartie eggs.) Anyway, I have definitely felt myself less and less inclined to eat meat – whether this is because my body just doesn't want it, or that I'm way more excited about other options on offer, or for reasons of morality/spirituality or of excess hormones/cattle breeding, or for eating more consciously – I am not really sure what to pin point it on – but I just don't really feel like it.
4. Synchronicity.
This is something that I have really begun to notice more and more. Synchronicity is one of those things that is difficult to explain because it's such an intangible concept. Over the past while, I have truly come to believe that the more I give out – the more that comes back to me. A few weeks ago, I walked out of the grocery store and saw a woman selling a Big Issue newspaper (a paper sold by homeless people allowing them to earn a living). I didn't want a newspaper, but I stopped to give her £5. Not because I'm Rockfeller, but because I simply have more than she does. A few days after this, I was contacted by a bloggers network to tell me that I had won a £50 Amazon gift voucher. I had entered a competition weeks ago – unfortunately I hadn't won the main prize but (get this), they loved what I had written so much, that the company had decided to create a second place prize – (which originally hadn't existed) in order for me to win it.
I'm not saying that synchronicity will always occur in such clear cut ways, but it will be there if you are open to see it.
5. You will irritate the f*ck out of your friends and family.
Thank goodness for Warren. I think any other man with any ounce less patience would have driven me and my yoga mat out to the Alps and left me prana-yammering with the mountain goats by now. The thing about yoga teacher training is that your whole being is filled with such incredible new knowledge, such life changing practices, such amazing experiences that it is very difficult coming home and not sharing it with the people around you. Some people will take this all on board very happily (Warren), but you will notice that somehow you manage to turn all conversations with your old friends into topics of prana, asana and chakras. Some people will think this is awesome. Some people will think you have lost your marbles.
6. You WILL lose your marbles.
There was one week in training where I hit a very rocky patch. It may have been to do with all the extra learning, new information, trying to process everything, trying to keep up my regular graphic design and stationery business, the overwhelmingness of it all. Or it may have been to do with the feeling of being led down a very different path from "your old life". It's a dark place and I remember thinking that I just couldn't wait for all this "STUFF" to be over – so that I could get back to my 'normal' life. Press on, it's just passed this phase where the light leaks in.
7. You will begin to use words and phrases that FREAK people out.
Suddenly your vocabulary changes and your wording shifts. You start speaking about "inner peace" and "energy" and "the universe". Some people will get it and others will not. But who cares if your thoughts on "the rising global consciousness" freak people out (and they won't mind telling you so either). If you are speaking from a place that is genuine and true to who you are – then you don't need to explain yourself to anyone else.
8. Your heart will shatter open into a million pieces.
Yoga teacher training is tough. Mentally, absolutely. Physically, obviously. Emotionally, definitely. I cannot tell you how many times I have cried on this training. Tears of happiness, tears of sadness, tears for being completely overwhelmed with gratitude for life and this journey. In the last few Sun Salutations of our teacher training, I had tears rolling off my face making a huge puddle on my yoga mat. Anyone reading this who has not done a teacher training, may truly think that I am a complete emotional basket case. For those others, with me in this training – they didn't need to ask why I was crying, or what was wrong, or if everything was ok – they just came over to hug me, and they understood – because they had tears in their eyes too. (See point 1.)
One of the girls in our training said something that I thought was so amazing (and to paraphrase) – "Yoga really teaches us to speak what is on our hearts. Not many people do that these days. In fact, they tend to put up barriers so much so, that when they see other people expressing what really is on their hearts, it's easy for them to become judgemental and critical." This journey has taught me that I don't need to justify myself and my feelings to anyone. I am who I am and I feel what I feel. See above.
9. An overwhelming sense of gratitude.
Throughout these last three months I have cultivated an extreme sense of gratitude. Gratitude for this journey, gratitude for this life, gratitude for freaken being alive. On the day of our practical exam, I was scheduled to teach at 2:30pm. I decided to catch the train to Waterloo with plenty of time to spare and then hopped onto the tube ready for the three stops to Bermondsey. I jumped on the tube, found a seat and waited for the doors to close. More people jumped on the train, and more people jumped on after that. The doors didn't close. My watch ticked over to 1:45pm. The train driver announced that the train was being held underground and that he had no further information. More minutes passed. I could feel a little bit of nervousness creeping into me – since missing this prac exam would mean deferring every thing I had done in the past 3 months – to the next exam slot in another three months from now. More minutes passed and I began calculating the time it would take for this train to make three stops, then adding on the 12 minute walk from the station to the exam venue figuring out the minimum amount of time I had left. My heart started pounding and I quickly needed to make a decision of staying on this train (which may, or may not, move in the next 5 minutes) – or get off the train, run back up two escalators and find an alternative route. I decided to get off the train, run up two escalators (heavy yoga mat in tow), heart beating, searching for an ATM to draw money for a cab, asking random strangers where I can find one ("right behind you") drawing money, running out trying to find a taxi – having no luck, asking someone on a cigarette break where to find a cab ("back upstairs, round the corner"), running up the stairs to see a long queue of taxis followed by a long queue of people with suitcases and luggage, joining the back of the queue, seeing my watch tick over to 2:07pm. Finally getting in a cab, getting stuck in traffic, hitting 11 out of 12 red traffic lights and finally arriving at The Bermondsey exam location, flustered, with 4 minutes to spare.
It was SO interesting for me to note – that my reaction to this entire situation was, "WOW. That was INTENSE." Followed by, "Now that I have experienced this absolute adrenalin rush this morning, any nerves of teaching a yoga prac exam are SO chilled compared to what I just went through! Thank goodness for that!" Went in and taught the most awesome, calm, clear headed class. You have a choice to be grateful, you have a choice to experience gratitude – use it.
10. Nothing scares you any more.
This is not to do with the course work being frighteningly difficult or the training being insurmountably daunting. But rather from the sense of real inner power that brews within you during this training. You leave with a sense that nothing is unconquerable, that you are more powerful than you will ever know and that you truly can achieve anything.
There are a thousand more things I could write about this teacher training journey. There are a thousand more hippy-phrases I could whip out and a thousand more emotional-laden examples I could have spewed at you. My only advice is that if you are even just thinking about doing a yoga teacher training – go for it.
This is your sign.