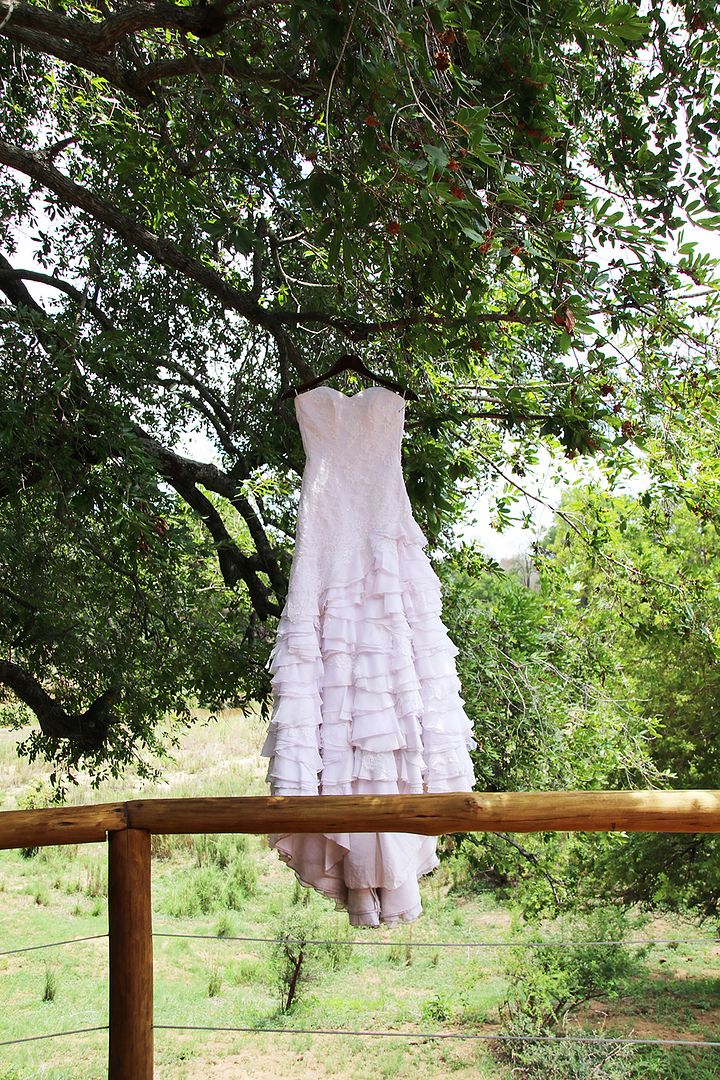 For those who have been following along in our wedding dress adventures – we are SO excited to bring you the next big edition! (And it's a good one!!).  Our Wedding Dress Adventures first started in 2013 when we lost all our professional wedding photos. After hearing that terrible news (and crying for a few weeks), I sporadically announced to Warren that I was going to be taking my wedding dress to the music festival in Belgium to "get some wedding pictures". Thinking that he would have a chuckle and then talk me out of it – his very first response to my spontaneous outburst was, "Cool, what should I wear?". (And that's when I patted myself on the back and said "well done self") And so, the #weddingdressadventures were born! Back then I was blogging on indieBerries (my very first blog) and many people were following our story. Sometimes as a blogger (particularly in recent years where there tends to be generally less blog engagement in favour of social media) it can be really uncertain as to who is still actually reading the content you are putting out and if in fact there is still anyone interested in what you are up doing in the online world.
And then popped an email into my inbox from Claudine who is in charge of digital marketing for Lion Sands in the Kruger National Park. She told me she had followed the story of our wedding adventures and wanted to invite us to continue our wedding adventures by coming to stay at their gorgeous Narina lodge. Warren and I jumped at this awesome opportunity to stay in one of their luxury suites overlooking the Sabi River. So whilst packing up to head back to South Africa at the end of last year, we made sure to pack up our wedding kit for another big adventure!
We had two nights stay at the Lodge, the first night we settled in, went for an evening game drive and had some sundowners in our private plunge pool – leaving our wedding kit shoot for day two!
Whenever we've been anywhere else alone –  Paris, Spain,  Amsterdam,  to "shoot our wedding album" – there is always usually a lot else to contend with: All the people, tourists, hustle. As well as where to change into our kit (let me tell you changing into a wedding dress in a public toilet is NOT a piece of cake), who is going to take the photos, who we could ask, where to leave all our stuff, where will we change out of our kit etc. This time on our "wedding shoot" everything felt just so wonderfully calm and relaxed. Maybe it's to do with being in the African bush and that deep calm zen-feeling it brings you, maybe it's to do with having WAY less people to try navigate or maybe it's the fact that the guys at Lion Sands just said, "No problem – we'll pick you up around 11 with a guide who knows his way around a camera". I mean. What a treat! That left Warren and I just the job of getting ourselves ready for "wedding day" ;P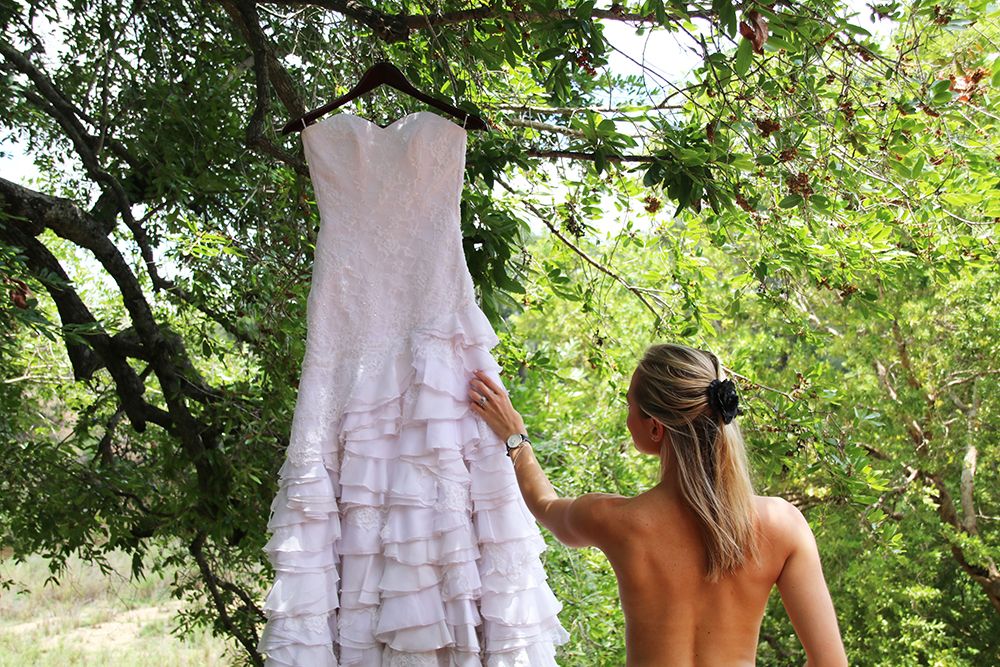 Each of the luxury suites has an amazing view of the Sabi River and each deck (with plunge pool) is completely private and secluded (although you may have a few Ellies gazing at you from time to time!) Below is the view from our outdoor shower.
Once we had scrubbed up and got our kit on, Dumay (the-guide-with-the-photo-skillz), picked us up and took us out into the bush to snap some pics!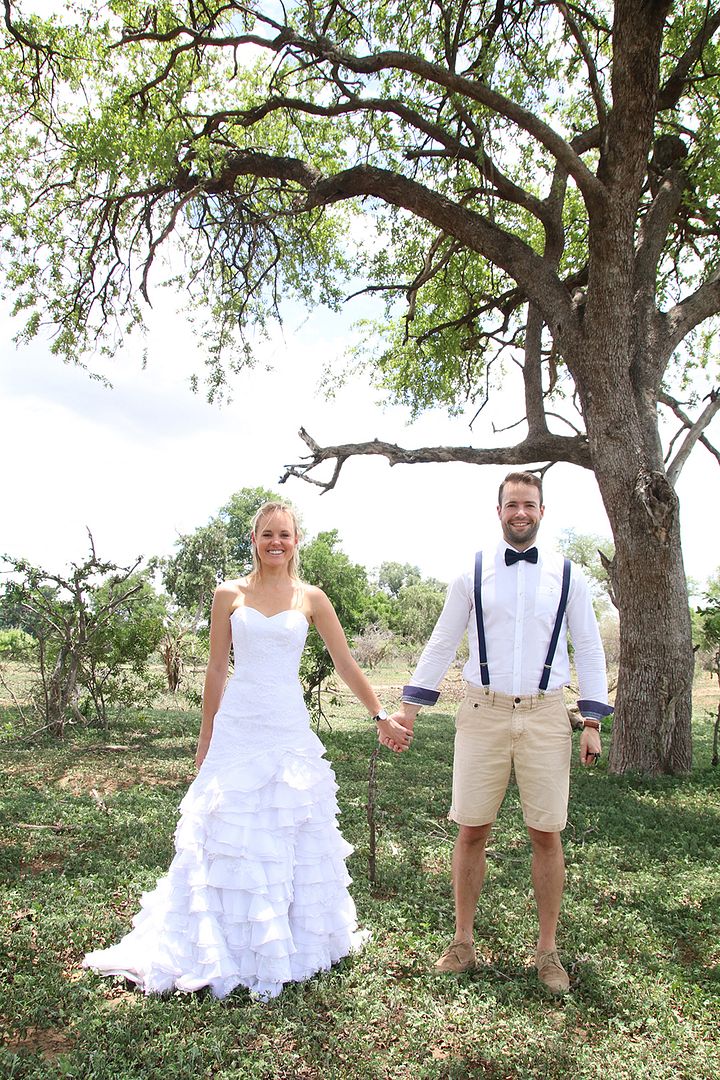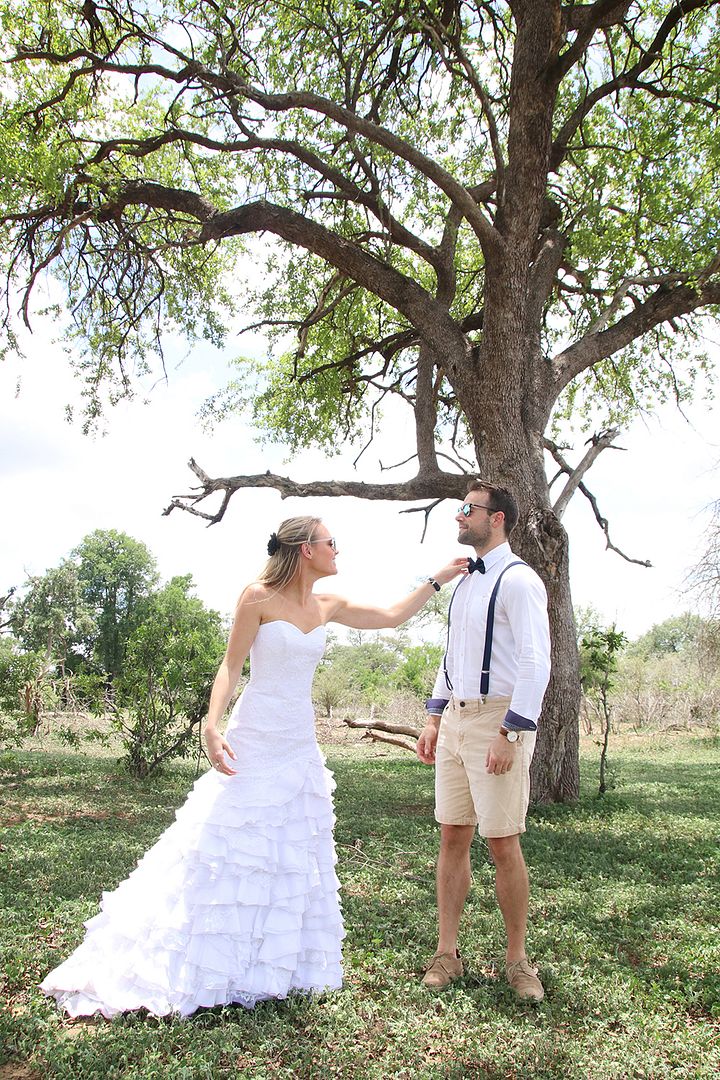 It is a wife's job to ensure that her husband is suitably attired, or so I am told. (AS you can tell by my lobster-claw hand, this is not a staged pic)
Warren and I debated long and hard about his attire actually and in the end decided that we needed to bring the Veldskoen back.
Dumay was so great at pointing out cool locations for photos and jumping in and out the vehicle to take some snaps of us!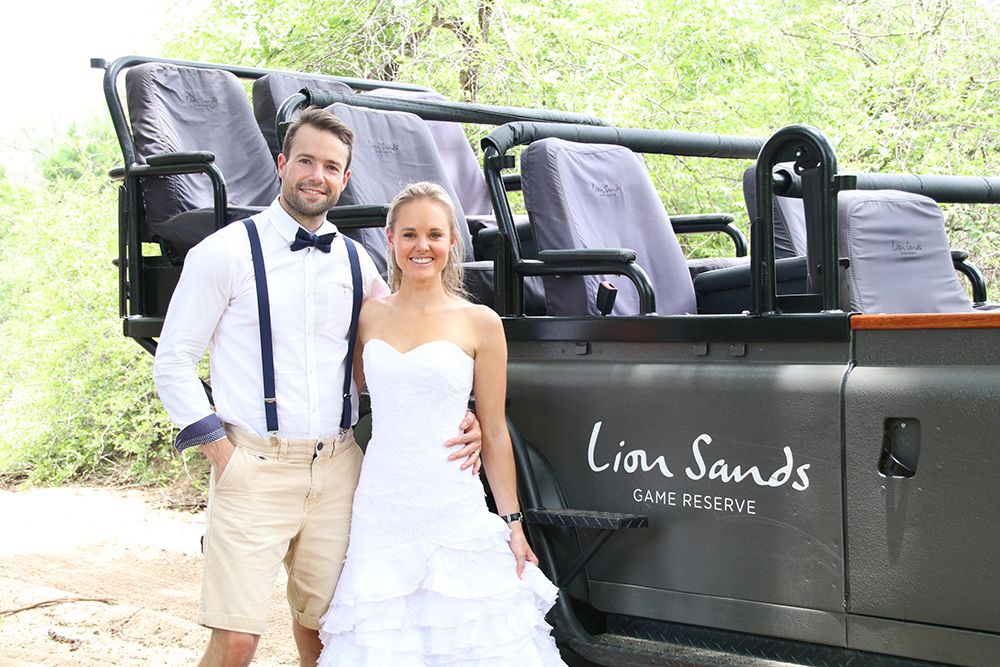 The guides and trackers are all so knowledgeable and even more than that really passionate about what they are sharing – which makes the whole experience even more enjoyable!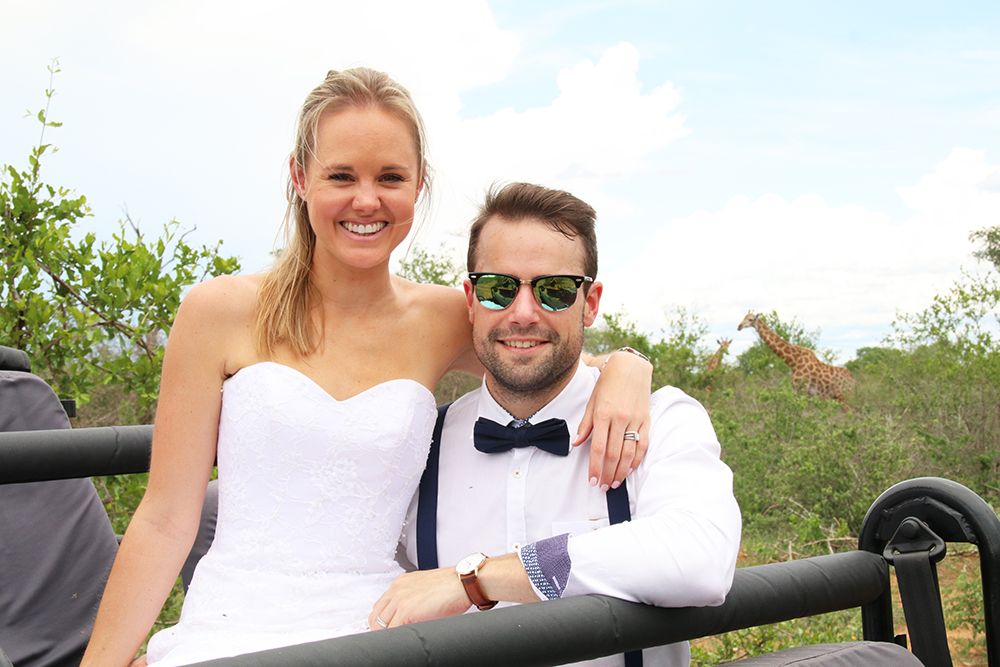 For each location that we've taken our wedding kit – there is always one photo that is the "favourite" which we have printed out to frame for our house.
I'm still undecided as to which is my favourite is but the one below is a hot contender!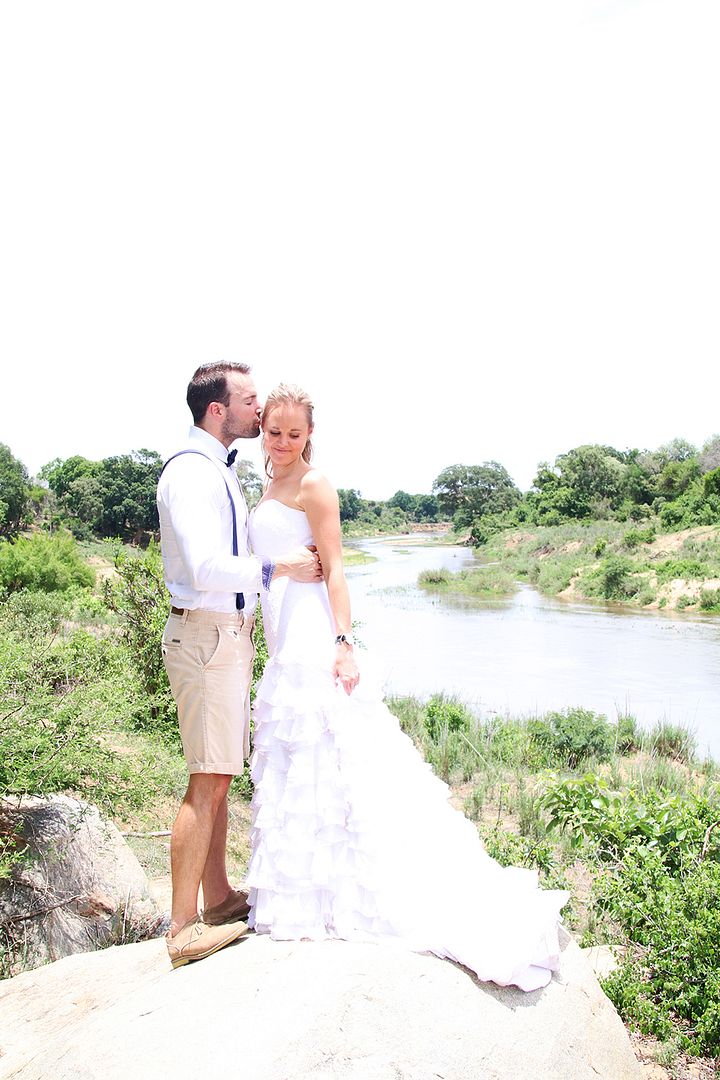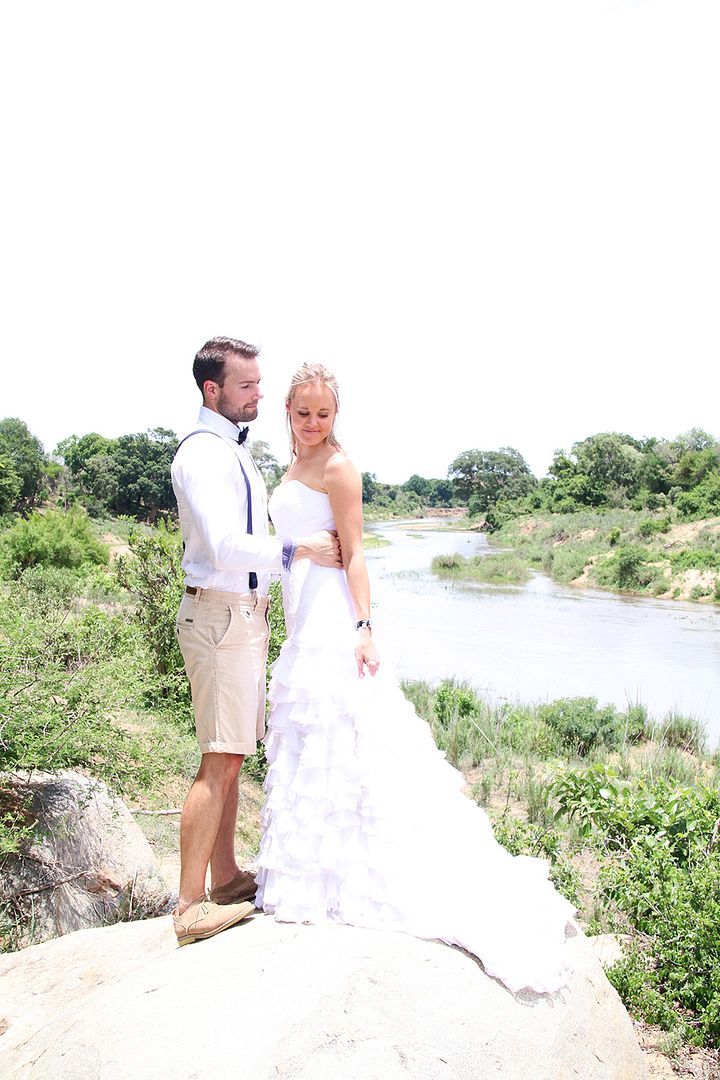 And then –
Oh you know, just hanging out in our wedding kit in the middle of the Game Reserve waiting for a leopard to pounce on you.
Act Casual.
Such an amazing spot!
We decided to get another bit of terrain into our snaps so Dumay also stopped off in a more wooded area –
We arrived back at the lodge just in time to have a quick freshen up before lunch out on the main deck –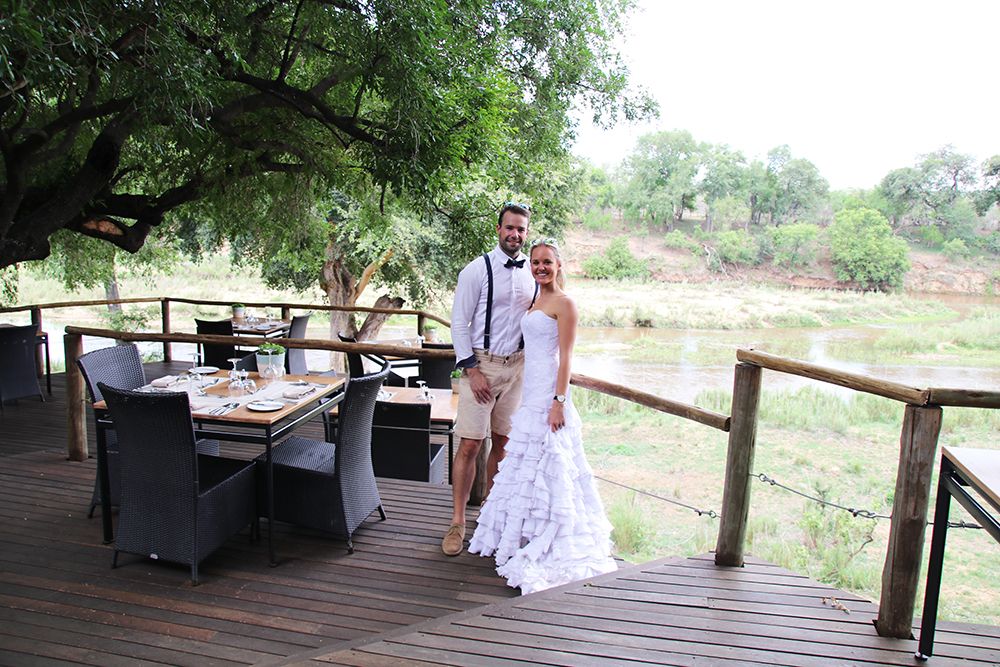 And don't even get me started on the delicious food! (Breakfast was clearly my favourite!) Although I will be honest the pasta dishes were incredible and Warren even sampled some crocodile!
A few Elephants meandering their way down the river…
The Lion Sands staff are really like family – they get to know your preferences and tastes very quickly and are so helpful at making your feel right at home! As soon as we arrived back at the Lodge we were welcomed with some delicious African Bush Cocktails –
We took our cocktails back to our suite and enjoyed them in our private plunge pool –
NB Note: when setting up a self-timed picture, one should always ensure that one is not giving oneself a pineapple face. (Next time then).
After our little plunge pool – we had a quick rinse off in the outdoor shower (and yes it was hot enough outside for me to not be a ninny-about-it), ready for lunch!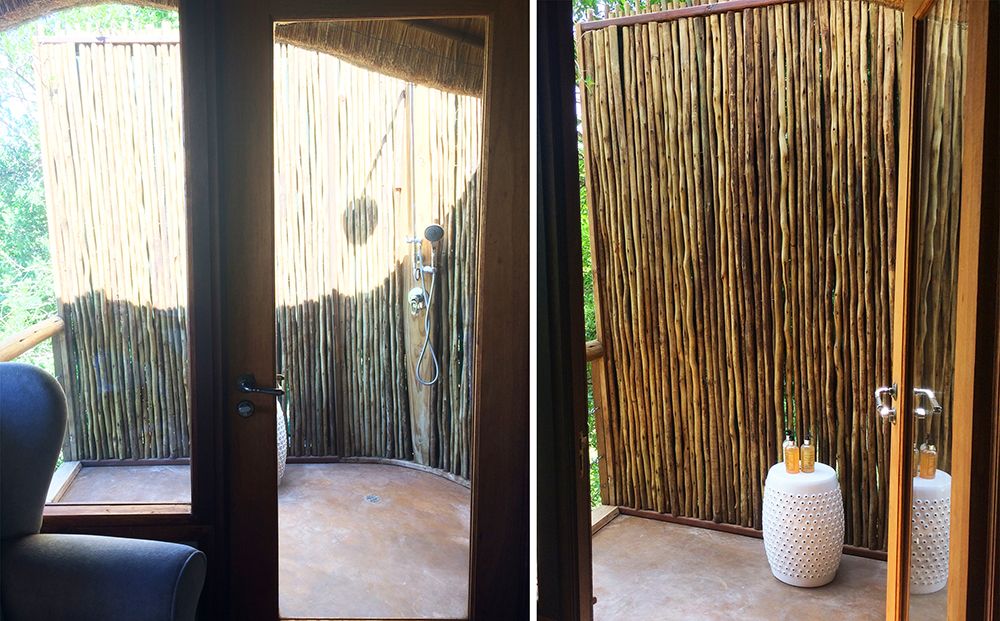 Lion Sands had another treat lined up for us – One of the most unique features of the Lion Sands Lodge are their gorgeous open air tree-houses, which give you the chance to literally sleep under the African Stars.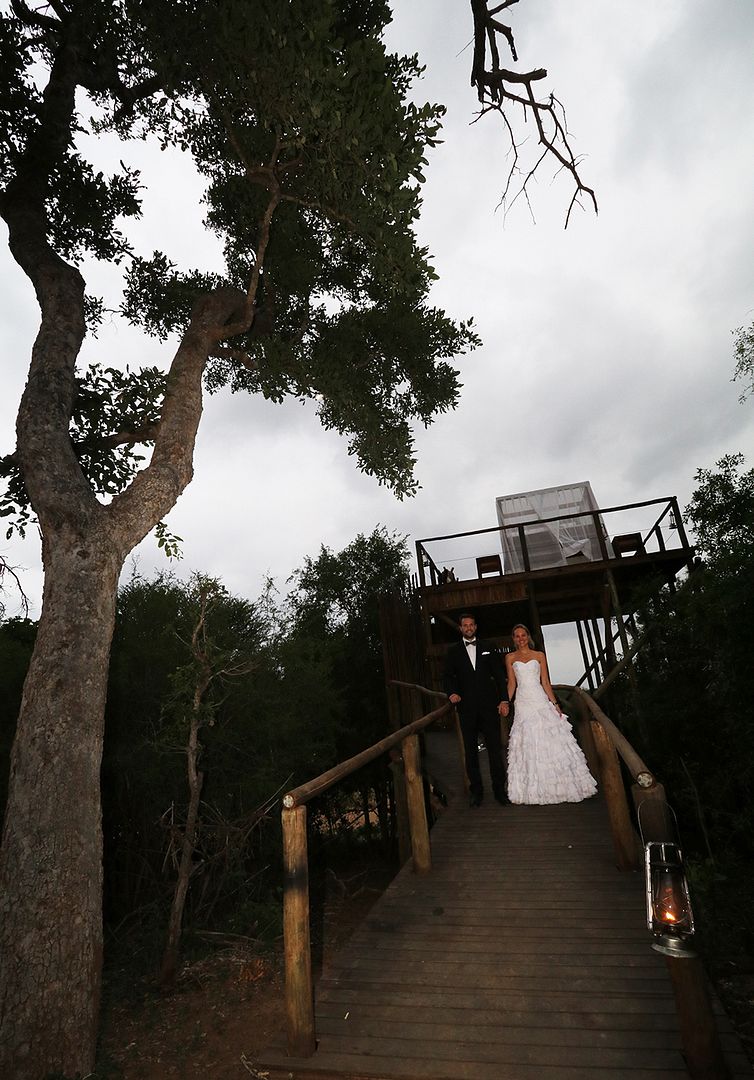 So we kitted up again (Warren in his tuxedo this time) ready for our night under the stars

We were greeted with our dinner table laid out with a hippo from the river coming out to join us –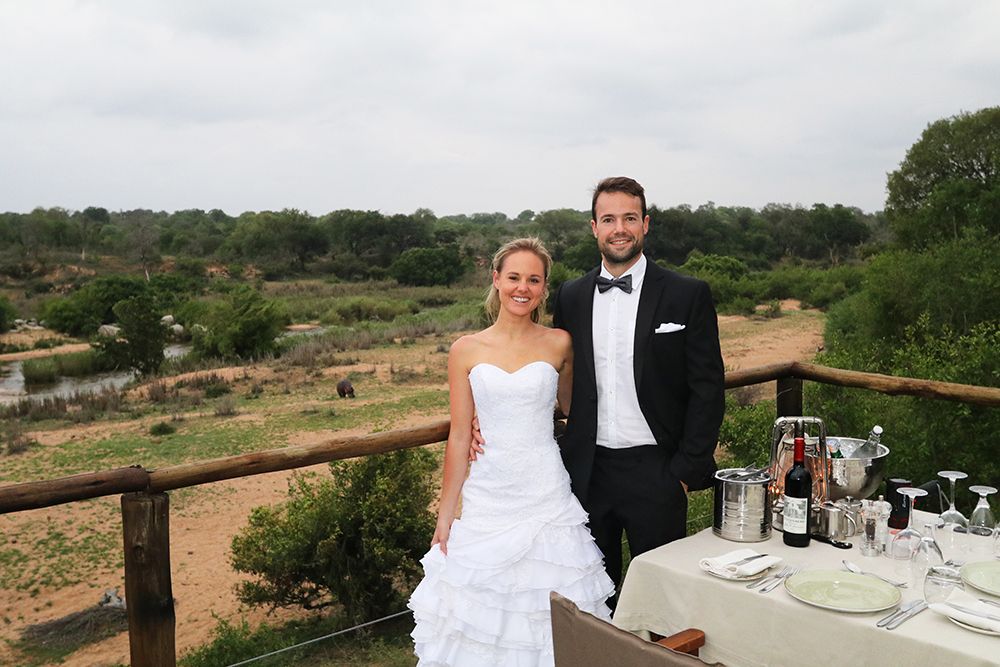 Our bed for the night –
Above: The view from our bed!
We had some drinks and our starters and then decided to have a little dance on the deck –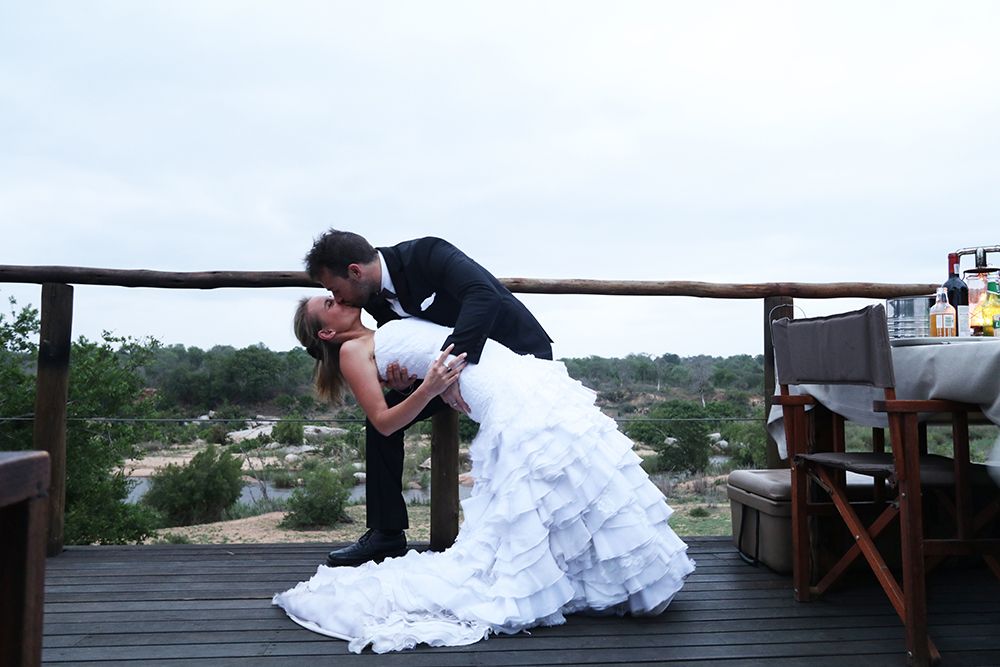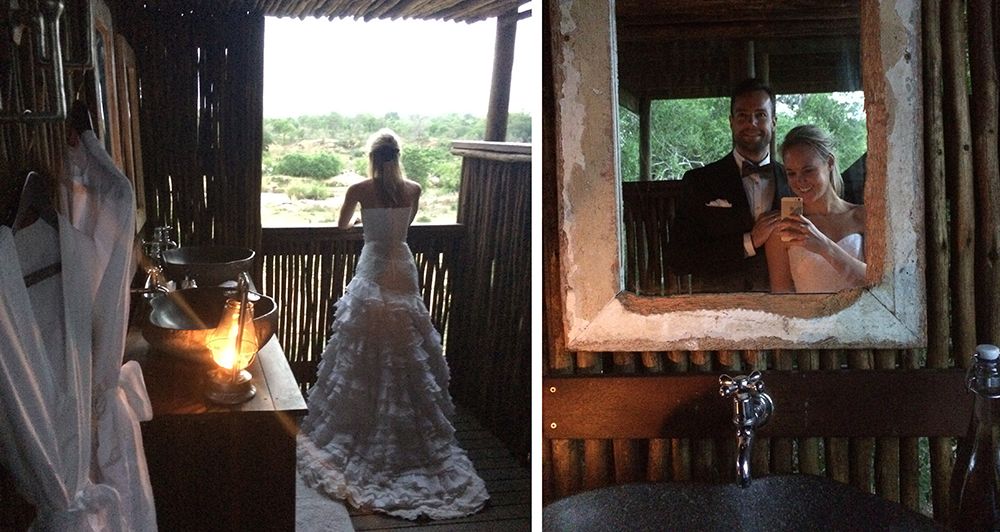 Above: the bathroom under the deck.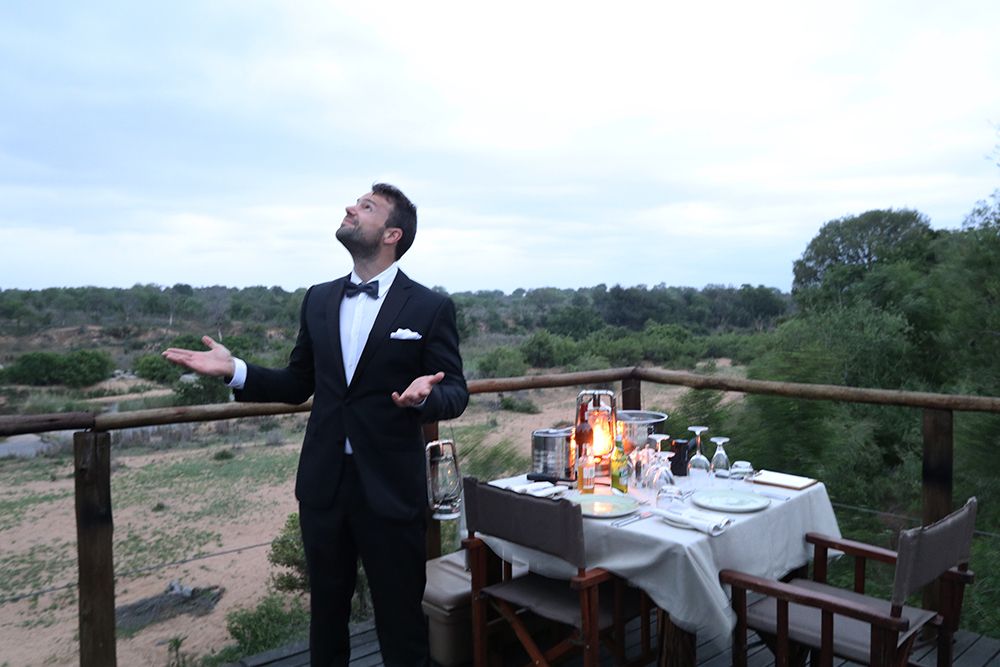 Unfortunately, just after we had sat down to our starters and drinks, it began spitting with rain. We were determined to sit through it! We climbed onto the bed which had a little bit of shelter from the rain due to the muslin shades. But the rain just got stronger and stronger! Eventually it began storming and as a safety precaution the guys at the Lodge radio'ed us on the walkie talkie they had left us with to tell us they were coming to collect us. By this stage it was pretty windy too – so we tried to help pack up our dinner into the picnic basket and tried to help take some of the bedding and dinnerware to the bathroom deck so that it was under cover.
They came and collected us as two little drowned rats and took us back to the main lodge –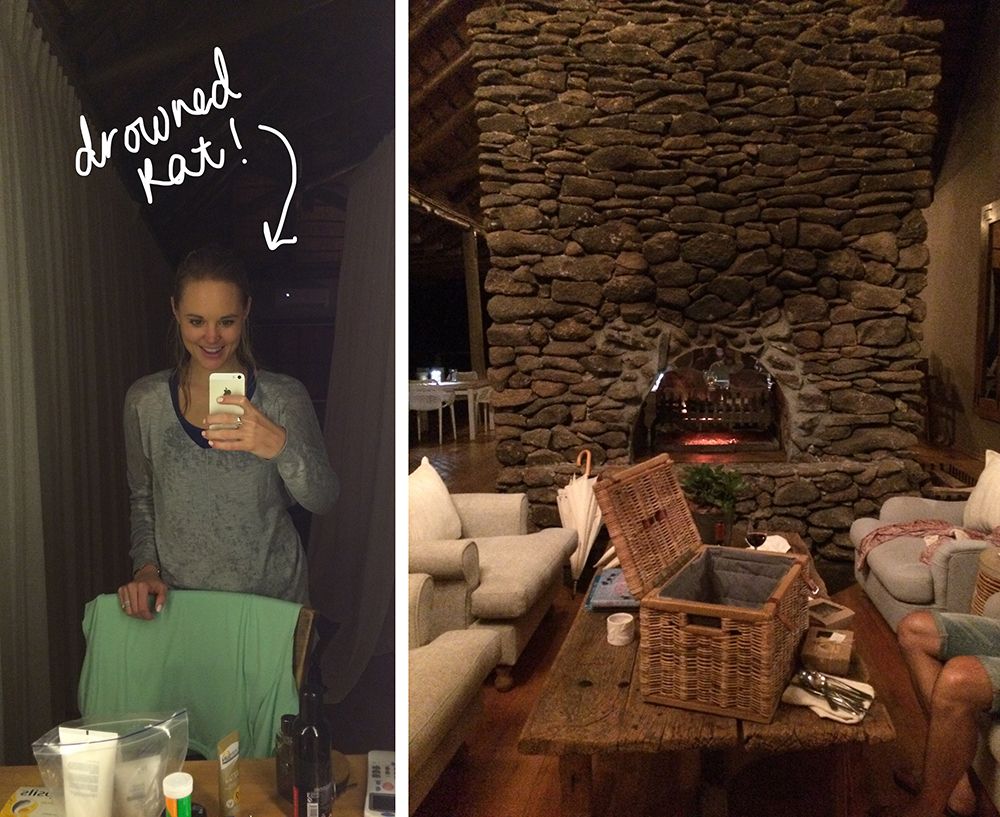 We warmed up with a hot shower and then decided to have our picnic on the main deck next to the roaring fire as we watched the most beautiful thunderstorm out over the reserve.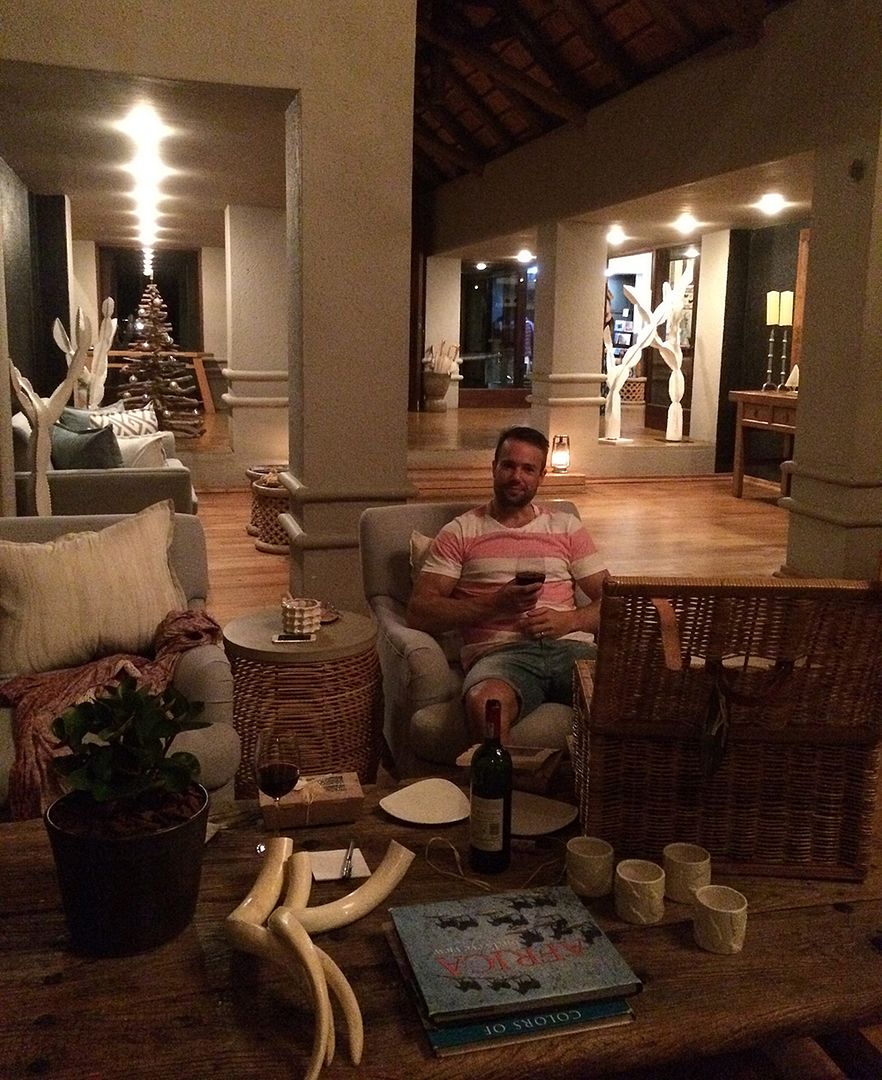 The attention to detail was just gorgeous!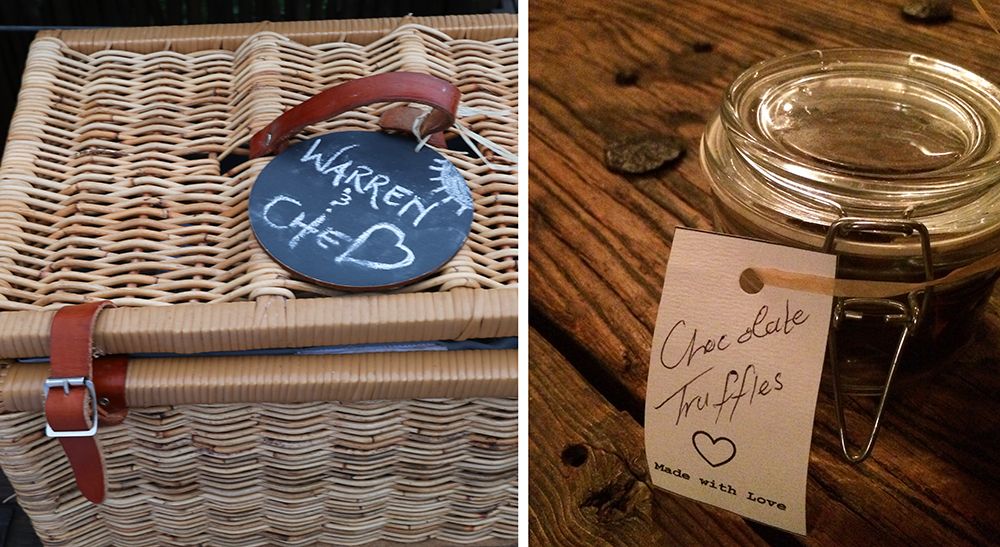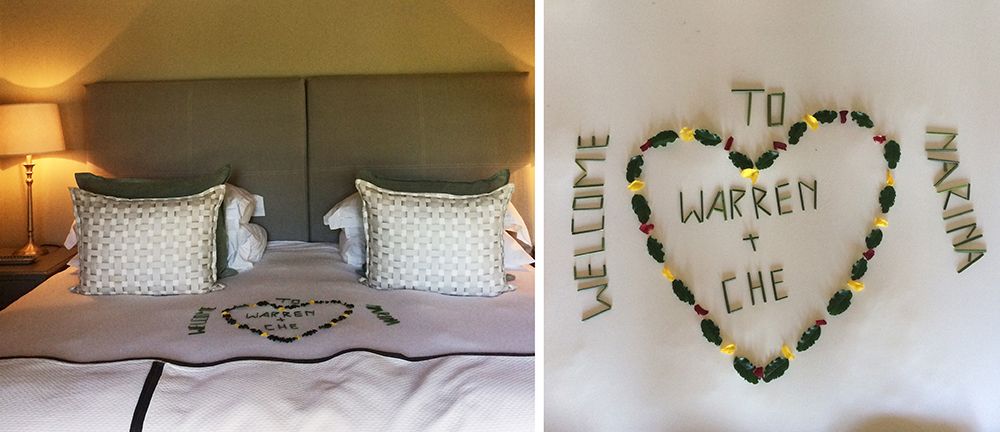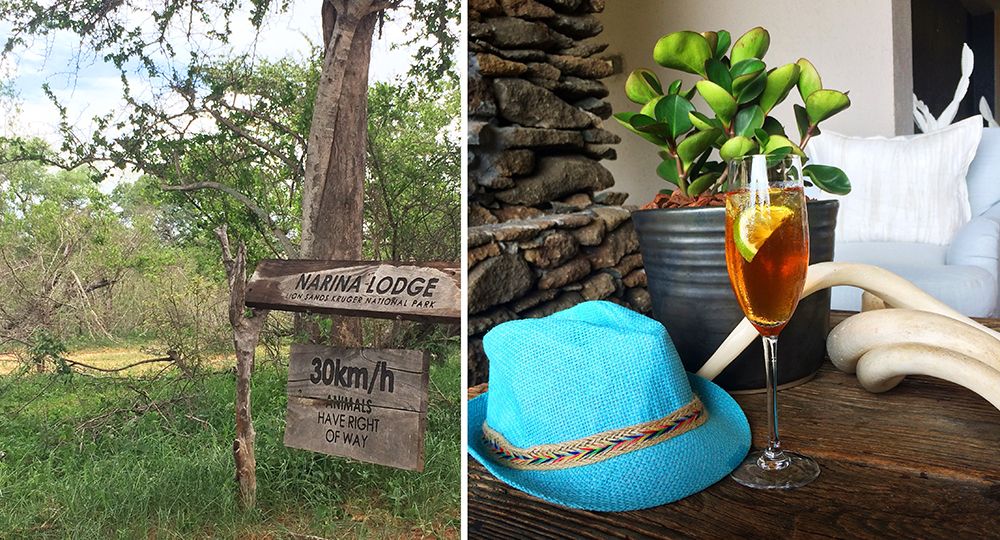 It was such fun to dress up in our wedding finest and dance under the African skies
…. and then this is what Cinderella looks like at 5am when her chariot has turned back into a pumpkin:
We had such a great time and on our second game drive we saw all of the big five (Lion, Leopard, Buffalo, Elephant and Rhino!) plus hippo, baby crocodile, giraffe, zebra and warthog!
Of course my favourite was all the cool-cats we spotted: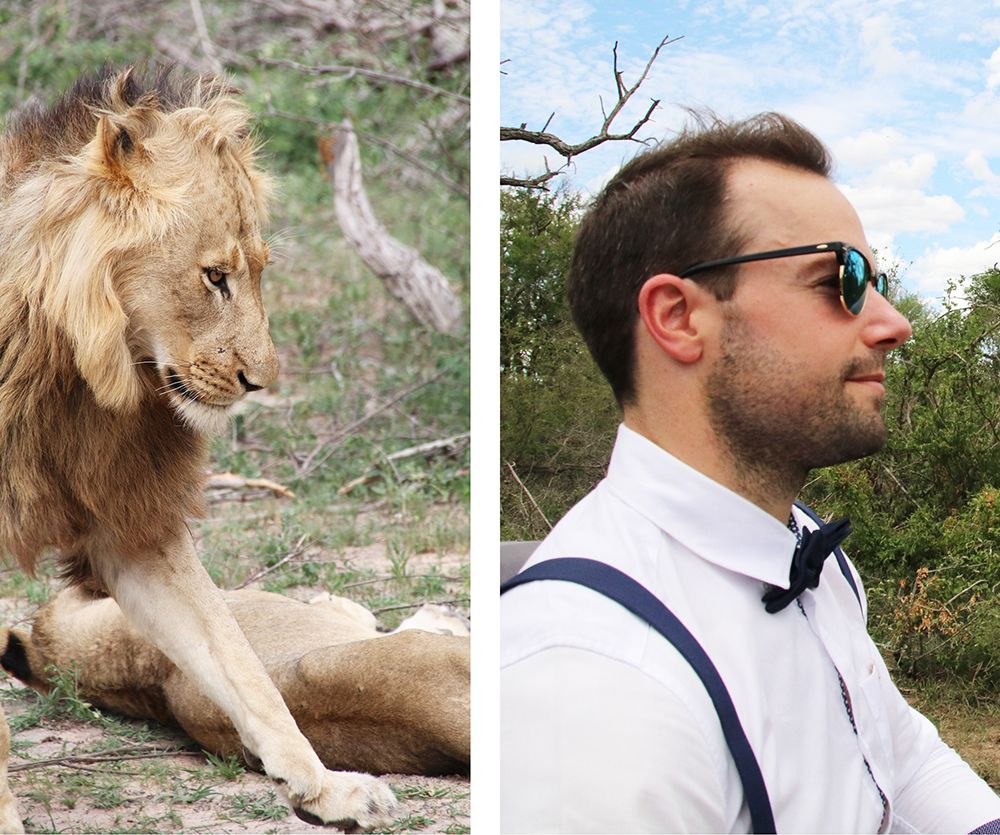 Thank you SO much to Lion Sands and all the awesome staff that made our stay so wonderful. It really made us feel like we were on honeymoon again which was an amazing start to our holiday.
In fact if you are looking for a honeymoon or a holiday where you can totally relax and let everyone else take great care of you – then this is it!
Where should we take our wedding kit next?!
I'm still waiting for Ellen to invite us onto her show! (Ahem). 😉