A few months ago, I sent a tweet out sharing our wedding dress adventures in Australia, near the Sydney Opera House. In these shots, The Warr is wearing his Daniel Wellington watch, which I bought for his birthday three years ago, so I decided to tag @Daniel Wellington in the tweet telling them our wedding dress story and showing them how cool their watches looked. Immediately someone tweeted me back and asked me to please email their team. And so I did!
Warren and I both love the Daniel Wellington watches – I had already bought one for him for this birthday (this one) and then he bought one for me for our 3 year leather anniversary (this one). It actually made a really good gift for Warren as two years ago when we spent Christmas in Australia – I had to think of something that I could buy for him that he would really enjoy and that would be easy enough for me to take in my suitcase to Australia – and a new watch strap fit the bill! The watch bands are all interchangeable and they really completely change the look and feel of the watch completely (see the Australia pics here). I know this sounds super promo and cheesy me saying so, but I really do think they are super trendy and versatile!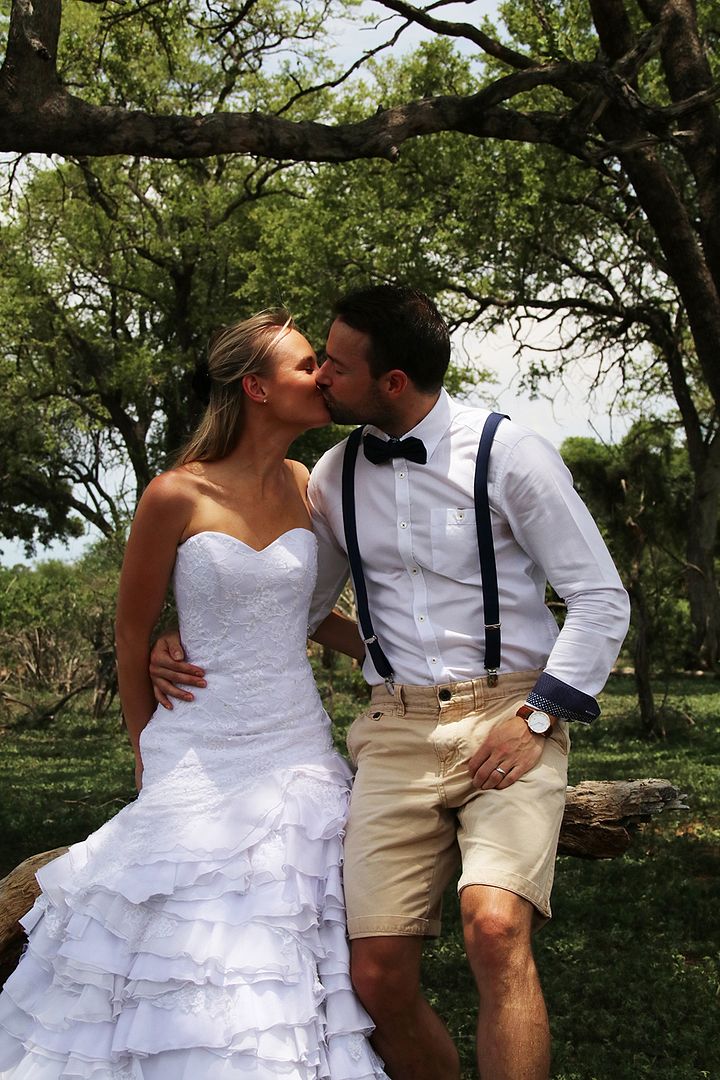 After seeing how much we loved their watches the guys at Daniel Wellington offered us both some new watches to take on our adventures to Lion Sands – (you can see more of those pics here). I was so excited because when Warren first bought me my watch I debated long and hard between the one I ended up getting and the silver faced one with little Swarovski diamonds. So it was a no-brainer that I picked that one! Warr went for the Durham watch with the blue hands and tiny date stamp for something different. They came out so well in our "Safari Shoot!"
Having had this entire "Wedding Dress Adventure" really arise from something not so great, (losing all our wedding pics) – it has been really amazing to see what has come to us through us deciding to just go out there and make the most of it! People have asked us how long we will keep doing this for and the answer is – we don't know! Probably as long as forever, but who knows?! I'm excited to see where it will take us and the adventures it will bring us.
Thank you so much to the guys at Daniel Wellington for being part of it – we just love our watches and can't wait to take them on our next adventure – wherever it may be! (If anyone reading knows of some place cool – let us know!). I see also that Daniel Wellington have also added some gorgeous bracelets to their collection… hmmm…..and speaking of which for those who want to get their own paws on one of these watches or a silver bracelet, I've been given a code to share with you for 15% off – use CHEDYER if you want to also get some cool arm candy to wear on your "wedding days" 🙂