I was asked this question a little while ago and I thought it would be a good idea to discuss it more of a blog format as I think it's something potentially many yoga teachers have "inner turmoil" over. I'll just get straight to it –
Can you be a Creative (artist/illustrator/painter/writer/knitter/songwriter/etc) and be a yoga teacher at the same time? How do you brand yourself then? How do you create a niche? How do you do it all? CAN you do it all?
First off I'd like to say that these questions have caused me many sleepless nights (see here) so I thought I would just share my personal journey and my thoughts and views on the idea of being both a creative and a yoga teacher. Straight off the bat, I would like to also say that I think there is a very definite link to creativity, spirituality (whatever that means for you) and yoga. The very word "INSPIRATION" is defined as "the act of drawing in  – particularly air into the lungs" ie yoga, and the word INSPIRATION is the very same thing used to describe creative sparks. I don't think that they are as separate as we like to think they are.
In fact, humans have a VERY lovely way of needing things to separate into lovely neat little boxes –

We are either a "yoga teacher" or an "artist" or an "illustrator" or a "blogger" or whatever your particular boxes may be. These boxes try to keep these facets of ourselves as separate entities, in a tidy package.
Because we as humans like things to be neatly boxed as small and efficiently as they possibly can be  -we create even more boxes inside boxes –

This is what is known as "finding your niche" – and there are many books and hours and hours of content online that will tell you how detrimentally important this is. It's not enough to just be a "yoga teacher" you have to be a specialised vinyasa-power-yoga teacher or a "restorative yoga teacher", or it's not enough to be "an illustrator" – you have to be a "illustrator that works with bold lines, bright colours, permanent marker and humour". Now I am not saying that this is not important as finding a niche is often closely connected with your personal style or affinity for a specialised area in what you do, and that is great as it gives you focus and direction in your chosen field.

HOWEVER, the problem with categorising yourself in to a certain box or very specific niche is that it may leave big gaps in your life feeling unfulfilled –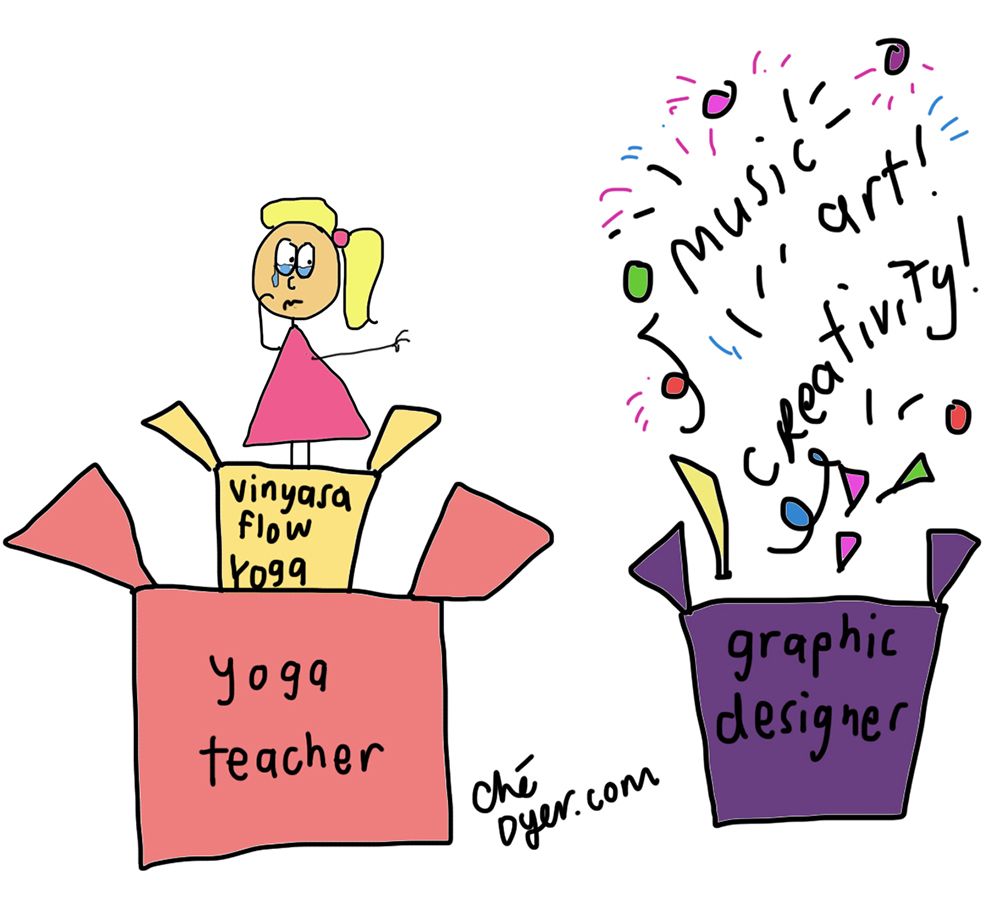 And I think this may be particularly relevant to yoga teachers who also feel they categorise themselves as creatives, illustrators, song writers, bloggers, designers, artists, bakers, seamstresses etc. And who want to make a living doing both. I am very lucky in that I am able to both teach yoga and create illustrations, art work and graphic design for clients – but for a long time the question of "how to brand myself" and "how to run everything all at once" was a big issue.
MY STORY:
I first began writing a personal cartoon blog indieBerries – which then morphed into me creating custom illustrations and art works for people. Which then led to a stationery range and selling products on Etsy and Not on the High Street. Soon after that I did my 200 hour yoga teacher training and began teaching yoga classes. I also then started chedyer.com (where you are right now) – which I thought would be a yoga-focused blog/website. In my mind, (as conditioned by society-boxes, pictured above) I thought it would be great to have a completely separate space "indieBerries – for illustrations, art commissions, personal stuff and a few fun cartoons" and "Ché Dyer – the serious yoga teacher all about the GOOD HEALTHY LIFE". And for a while that is how I ran things.
Over time though, I started feeling like I was wasting time with trying to create two separate pieces of content, because at the end of the day I am ONE person. One multi-faceted person. One person who loves yoga, who loves healthy living, but one who also loves illustrating, creating and getting out the red wine and going crazy with paint and canvases. For me it made sense to ask the question can I bring this all together? How do I brand myself as a yoga teacher AND a creative?
The most helpful/useful thing for me was to define or brand myself according to my PURPOSE. This is different from branding yourself as 'a yoga teacher' or an 'illustrator' – this is branding yourself based on the WHY rather than the WHAT.
What is your PURPOSE in being a yoga teacher? (If it's just to 'teach people yoga' – I think you need to search a little deeper).
At the same time what is your PURPOSE in creating the art that you do?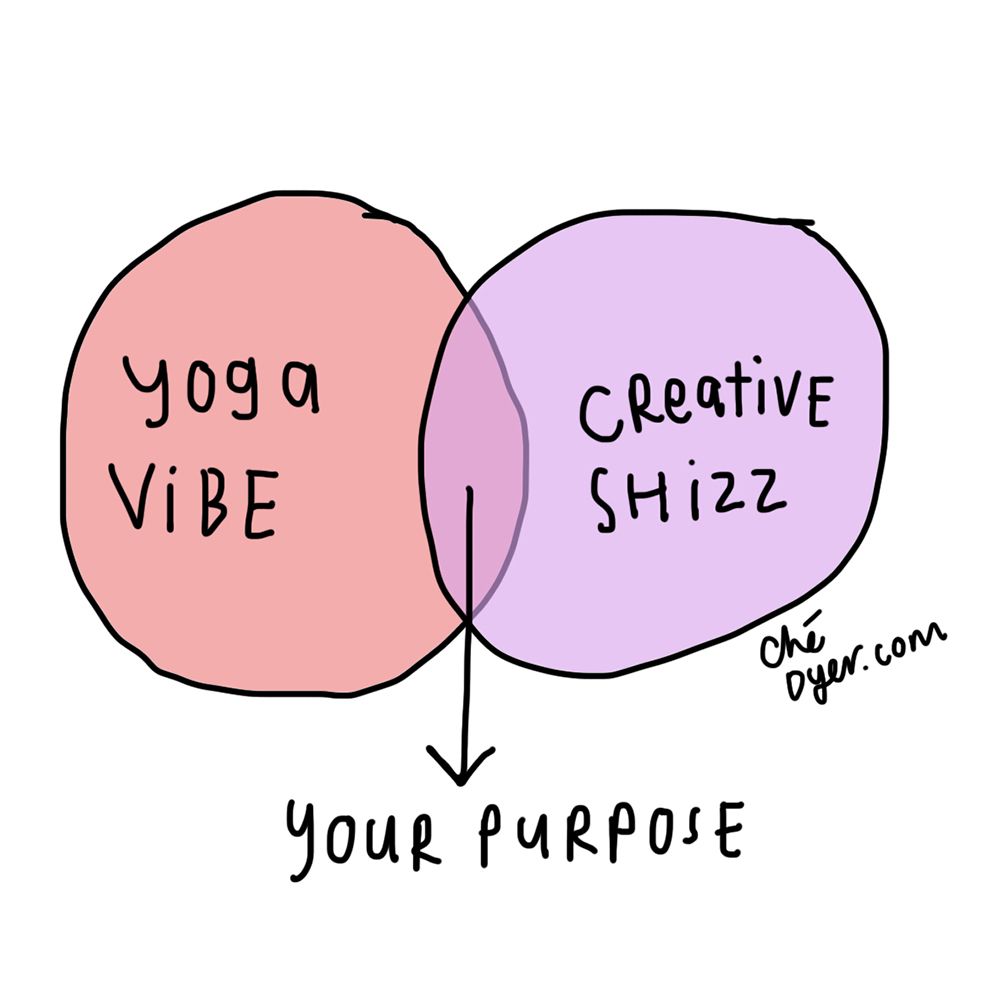 For me, in a very broad and super simplistic answer to this question – My purpose is to make people happy.
To unpack it a little bit deeper – in the yoga aspect – this is about getting people to reconnect back to themselves, to find that inner joy and peace that gets lost in the busy-ness of every day. 'Happy' may not be the best word to describe it – but it's about finding that calm, present, embodied sense of well-being. In the creative/art world, this is about making people laugh, about doodling funny things, creating humorous stationery that gives a good belly-laugh between friends. And when you think about it like this – it really is all the same thing. The Feel Good Factor, inside and out. For any yoga teacher currently debating this over and over in their minds (been there) I'd really encourage you to do this exercise. Maybe you will realise that things for you really are very separate in which case – it would make sense to have different platforms and domains and be completely different in tone and brand. For me, it works to have everything all together.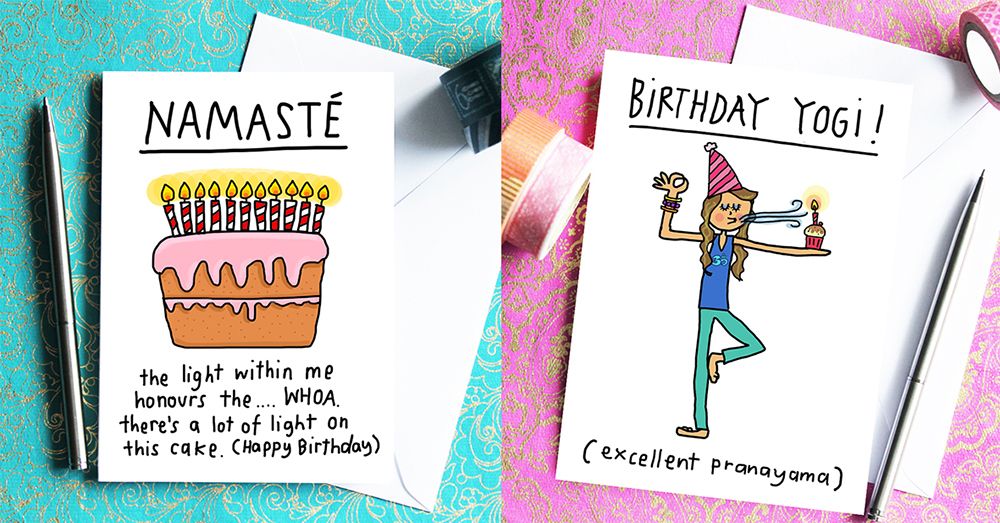 At the end of the day, as a yoga teacher YOU are the brand – and if you are a creative/arty person that will no doubt infiltrate into your classes and teachings – so why not let it happen? As I've begun to merge the two worlds together – my creative work has also been infiltrated by my yoga teaching – and my offerings have changed and shifted slightly – I now have a range of yoga-specific greeting cards, and I offer graphic branding packages specific to yoga teachers.  Even the yoga information I share on this blog are infused with creative cartoons and illustrated bits and pieces.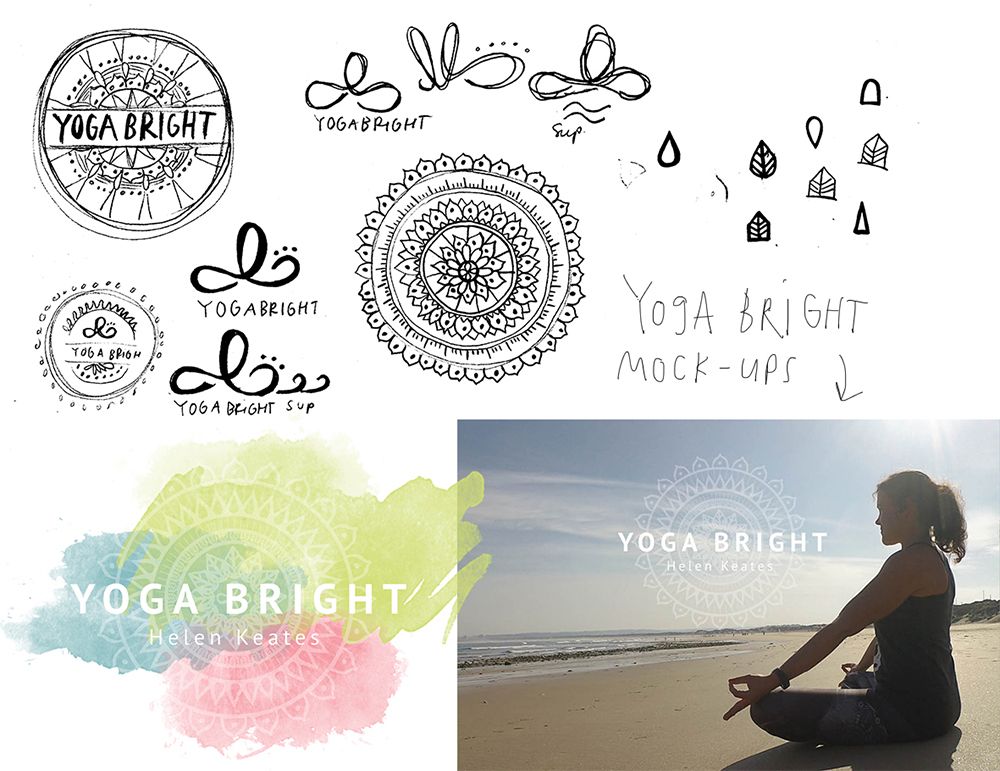 Above is some of the recent work I've done for a rebrand for Helen Keates – a Kent based yoga teacher. By allowing my graphic work to flow towards the yoga world, it feels much easier for me to keep all my offerings in the same area of focus. I still LOVE working on non-yoga related creative work (I'm busy working on illustrating a tongue-in-cheek university guide for potential publication to give you an idea!) As in the previous example – for those instances I think it is important to have SOME distinction in the place where you direct clients. For example I am in the process of creating a design-portfolio-only site under indieberries.com -because I think that it is important that if you have a new (non-yoga) client asking about the work you do, it's useful to be able to direct them to a place which showcases your work without them having to sift through yamas and niyamas. But for the most part my different services and offerings as both a yoga teacher and a creative are very much intertwined.
If you are set on keeping everything separate and distinct I do think it is possible – but it does require a lot of time management and structure into your day. (I think this is useful even if things are blended like mine and you are doing more than one "job"). I tend to block my days off into mornings that are for graphic work, illustration, client work, wedding guestbooks etc. Then in the afternoon I prep for my classes and teach in the evenings. If you are set on making a living through both then it does take some proper time management and being selective about the work you do and classes you teach. Rather than teaching every single yoga class that comes your way -ask yourself it will genuinely leave you with enough time to keep working on your craft. Remembering that teaching yoga for one hour – you also need to factor in the travel time and the prep time for each class. I teach yoga regularly every week day – this includes evening classes, kids yoga and private sessions. I LOVE the classes that I teach, and I've still been able to hold enough space for the creative work I do, by not over committing myself one way or the other. I brand myself as a (multi-faceted) PERSON first. Everything else flows from there.
At the end of the day – YOU are the freelancer and FREE-lancer means you are FREE to make any choices that feel best for you! Honestly, who cares about conventional ways of doing things if you are aligned with your purpose and serving those that you need to be? Do it your way!
For those yoga teachers who are also creatives, what are your thoughts on this? How do you brand yourselves? Do you keep things as separate as possible or do you mash it all up?
For those yoga teachers who have enjoyed reading this – I've created a 7 part series with all the things that I have learnt (the good, the bad and why IKEA will save your life) from my first years of teaching yoga, specifics on branding, on marketing and advertising, how to keep things going when you hit a slump and what I really wish I had known and done. It may be of some use to you! You can sign up below: